Palmolive Ultra Dishwashing Liquid, Original, 90 Fl Oz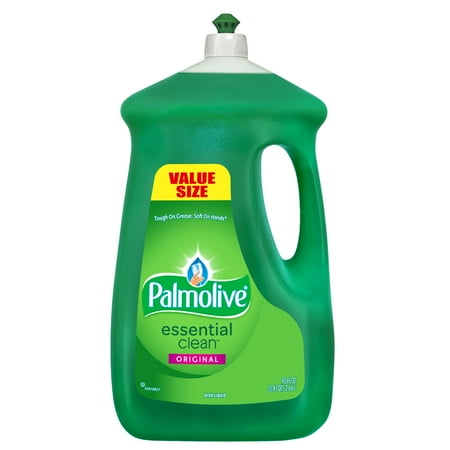 MSRP :

$59.09





Sale :

$4.57

Sold & shipped by Walmart
Product Description

Additional Information

Reviews
Product Description
Remove stubborn food grime and particles from your plates with Palmolive Original Liquid Dish Detergent. It contains a formula designed to be tough on grease while remaining soft on your hands. This phosphate-free dishwashing liquid is suitable for tackling even your hardest-to-clean pots and pans.
Additional Information
Dish Liquid, Original, Value Size
Tough on grease, soft on hands. Original scent. Removes tough grease and cleans even the most difficult dishes, pots, and pans, delivering a residue-free sparkling clean. Tough on grease, soft on hands. Phosphate free. www.palmolive.com. Save water. www.colgate.com/savewater. Made in U.S.A
Reviews
yosmurf
review
I purchased this item because we normally purchase huge economy sized containers of everything. This is small, portable, concentrated dish soap that I use to effectively wash dishes. It's worth noting that it's apparently small enough to fit into my brother's toolbox. He indicates a cup of dish soap left over night in a clogged toilet will fix this issue. That's his thing. I do know he borrowed my little bottle of dish soap for this reason because of it's convenient size. My daughter also tells me a few drops are sufficient in a large bucket of water when hand washing the car. The bottle is a convenient size. The dish soap is concentrated so it doesn't take much to do practically any job. I actually haven't had to refill it yet. But I've noticed I can since the top screws off so I can easily fill it from the economy sized bottle that no one ever wants to haul around. I'm happy with this purchase. Comment| One person found this help [This review was collected as part of a promotion.]
mjean14
A Little Goes a Long Way
After our event, there were a lot of dishes left for me to clean. I decided to use the Palmolive Ultra Strength that I received for free on the dishes and silverware. I have used this is the past and, and like the past, I was not disappointed! Upon applying the just a few drops of Palmolive Ultra Strength I immediately noticed that the grease quickly melted away from the dishes. The smell was absolutely amazing and made my kitchen smell so delightful. When I went to actually clean off the mess with a sponge, it was very easy and took minimal effort. Doing the dishes was a breeze, especially considering the amount of dishes that were in the sink. I'm truly still shocked at how little I had to use to thoroughly clean a sink full of dishes. I look forward to using Palmolive Ultra Strength in the future and would recommend it to anyone who does dishes. [This review was collected as part of a promotion.]
ILuvNOLA
Palmolive Ultra Strength Dishwashing Detergent
The dishwashing detergent that inroduced me to the world of Palmolive and there was no turning back after that and with good reason! Palmolive's Ultra Strength Dishwashing Liquid Detergent is great for everyday dishes, cookware, pots & pans. It cleans beautifully cutting through the grease & grime with ease to leave your dishes looking super clean and sparkling after every wash! I love that I have a dishwashing detergent that I can trust to give me the clean that I can be proud of and to be honest, I find myself showing off to family and friends at dinners and special occasions thanks to Palmolive's Ultra Strength Dishwashing Detergent!! #Messipes are a thing of the past with Palmolive Ultra Strength Dishwashing Detergent! #PalmoliveHouseParty #Sponsored [This review was collected as part of a promotion.]
heatc2004
Palmolive Greatness
I think this is the strongest and we can use less of it to get the dishes clean. I loved that it cut threw the grease and made it so that my dishes looked clean and felt not greasy. I didnt have to wash my dishes right after every meal I was able to wash them the next morning or had my kids wash them when they got home from school. I also loved that it didnt have a odor it was great to make it so that when I wash them the plates didnt have a smell that stayed on my dishes and that if the dishes had a smell before washing it took it away while it cleaned it at the same time. I was so happy that HOuseparty picked me to review this product for free because I am now a huge fan and cant wait to continue washing my dishes with Palmolive. [This review was collected as part of a promotion.]
HollieNewlin
IMPRESSIVE!!!
To just say Palmolive® Ulta Strenght™ dish washing liquid is tough on grease would be an understatement! It's more like grease's worst nightmare! To really put it to the test, I cooked up the messiest #Messipe I could think of - my homemade sausage and hamburger, three cheese lasagna! And after it was all devoured by my guests at the #PalmoliveParty, I let every pot, pan and dish sit overnight! I was absolutely Amazed at how easily they came clean the next day! The Palmolive® Ulta Strength™ powered through the stuck on food & grease like it was nothing! Getting my dishes cleaned was effortless! I didn't have to scrub over & over or keep re-soaking my dishes just to break up all the grease & dried on food like I usually do! Just one squirt of Palmolive® Ultra Strength™ in my dish water was all it took to get everything squeaky clean! I loved that this dish detergent foamed up so well and that just a small amount goes a long way! It rinsed off clean and didn't leave any sticky residue behind on my dishes! Plus it was super gentle on my hands & smelled fantastic! Impressive indeed! I would highly recommend Palmolive® Ultra Strength™ to anyone! #sponsored I received a free sample to test and review compliments of House Party. All opinions are 100% my own. [This review was collected as part of a promotion.]