Memorex 700MB 52x CD-R, 100 Pack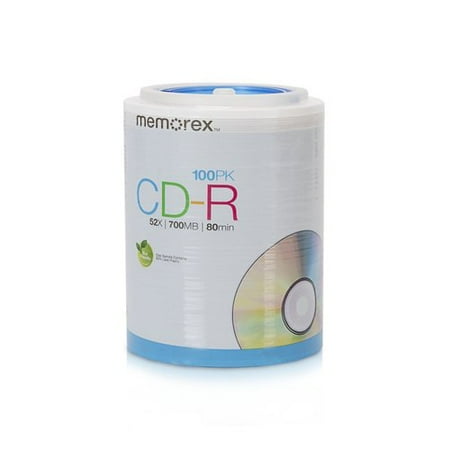 MSRP :

$39.9





Sale :

$22.88

Sold & shipped by Walmart
Product Description

Additional Information

Reviews
Product Description
Memorex CD-R offers 80 minutes of audio recording time or 700 MB of data storage, available in 1x-52x write speed compatible and can only be recorded on a Computer CD Writer.
Additional Information
Memorex 700MB 52x CD-R:
700MB capacity
Write speed: 1x-52x
80 minutes recording time
Compatible with CD players and CD writer drives
100-pack of Memorex CD-R discs
Record your favorite music or store data
Reviews
cucgotsee
THE BEST, BEST PRICE
I've bought nothing but Memorex for years. Never had one fail. And the faces are open; that is, no graphics to clutter, leaving lots of space to write on. Also, without the clutter of graphics, stick-on labels look cleaner, with no show through of cluttersome graphics. The only complaint I have is about the latest packaging. Luckily I kept a few of the old plastic canister-type covers that screw on to the spooled base. These new spools are just spools with only the packing wrapper surrounding the stack of CDs. The top has a handle, but you have to screw it, like 45 turns on and again off. And once you remove the wrapping, and the stack starts to dwindle, dust gets in there, and you have to clean that off of a CD before you insert it into your burner. I suppose you can just tear off a little at a time of that wrapper, But that gets to be too bothersome. As I say, I just transfer the stack to the old canister type containers.
cucgotsee
Great CDs, great price
I burn a lot of CDs for my Oral History Audiobooks project, and since I try to use brand name CDs, these are the best I've seen at the best price, plus pick up in store means I don't have to spend $50 for free shipping. The only way I could beat this price would be to buy a pallet load of CDs from China, and I don't use THAT many! Plus I get a kick out of picking up two or three spindles at under $13 per and then walking through the Entertainment section and seeing the same product on the shelf for $28, it's like somebody's paying me to go to the store. Not that I would pay $28 for 100 CDs, but on many occasions I've paid between $15 and $17 and felt like I was getting a bargain, and these cost way less than that. Thank you, WalMart.
jammer29
Be aware of the packaging
I was aware this is a zero excess package product. I purchased it on the site for pick-up at the local store, so no problems with loose items or damaged discs. However I agree STRONGLY with others that the description needs to CLEARLY state this is a no cover/case pack. It is a wrapper around 100 CD-Rs on a spindle, that's it. Final word - great product at a great price. EXTREMELY BAD DESCRIPTION by Wal-Mart.
bsperoz
Best Quality For A Budget
Plenty of CDs (100 pack) that will last a few years for an average user. 52 write speed is above the 48 average so writes the CD A BIT faster (no quality loss), standard 700MB BUT has no issue playing on any CD player (as long as you burn the CD normally. DO NOT USE THESE FOR MP3 CDs That would just be a waste - use .wma or if using iTunes burn .mp4 or .m4a if unprotected - if not unprotected iTunes won't let you burn it) Best for Music. Ironically despite being a lossy conversion I did (to .mp4 NOT loseless m4a) it STILL SOUNDED BETTER than the other CD I had used. Granted that had been an MP3 CD but still...If you use iTunes even smaller files should sound good on these and work on any player just remember to NOT burn track names unless using a compatible player (like a car or DVD player...older CD players might get confused but all CD-Rs are that way...)
tiredgrandma
Horrible packaging
I ordered these shipped with Wal-Mart's new shipping system that is supposed to compare to Amazon's shipping. Problem is, Amazon puts paper, bubble wrap and other protection in their packages, this came in in a huge box, just the spindle of disks. It left CA on Tuesday and was delivered in AR on Wednesday, so you know it went by plane. The spindle was broke from tossing around in the box, about 20 of the disks were just loose in the box. The spindle storage is useless as once I finish taking the plastic shrink wrap off, there is nothing, no spindle, to hold them together. I am lucky in that I have an almost empty one to put these on. I would have given them 5 stars if it wasn't for the horrible manner it was shipped. The item deserves 5, shipping deserves negative 10.