Princella Cut Sweet Potatoes Cut Yams In Light Syrup, 40 Oz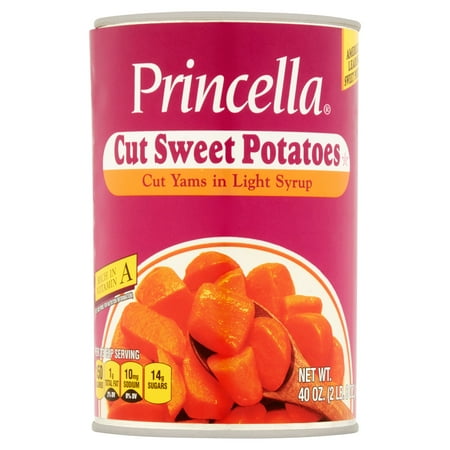 Sale :

$2.62

Sold & shipped by Walmart
Product Description

Additional Information

Reviews
Product Description
Princella Cut Sweet Potatoes in Light Syrup can provide a delicious and nutritious dish or recipe ingredient to your familyâs dinner table.
Additional Information
Shelf stable vegetableYams in light syrupReady to heat and servePerfect as a side or in a casserole
Reviews
Grandma52
Perfect size pieces and priced right
This 40oz size can is perfect when feeding a crowd. The piece sizes are also exactly the size needed to use for so many dishes No one can beat the price for this much precooked, ready to use yams
Tofatiam
First Time a Can Nearly Exploded.
The expiration date was Dec 2019. The can was sitting for a couple days so what happened when I opened it was surprising. I have been buying this product for years and never have had this problem. I got the can opener to initially puncture the top of the can. I heard a little hissing and water releasing and when I turned the can opener a rotation the contents exploded through the slit from the opener and I had water and sweet potato everywhere within two feet. And the smell!! Yech! Due to being shipped in trucks I can image the temperature was 90 degrees+ for 72 hours or so but this should not have been enough to cause this problem. No injuries but quite a mess to clean up.
lucado1111
princella sweet potatoes.
bought 40 oz. can, but what I got was a can of water with very few potatoes. the potatoes were also stringy. I had to pull the strings off before I could cook them. The taste was good though.
elwash
Very Good
These taste very good, much better than the Bruce's yams I normally buy. I was skeptical at first, and bought the small can to try, and they were delicious, today I purchased 2 40oz cans.
catwoman12
my favorite
Much better than Bruces they are very mushy, these are not . Serve them every thanksgiving and Christmas, but they are getting harder to find. My husband loves them year round.