Oster Blend-N-Go Pink, 1.0 CT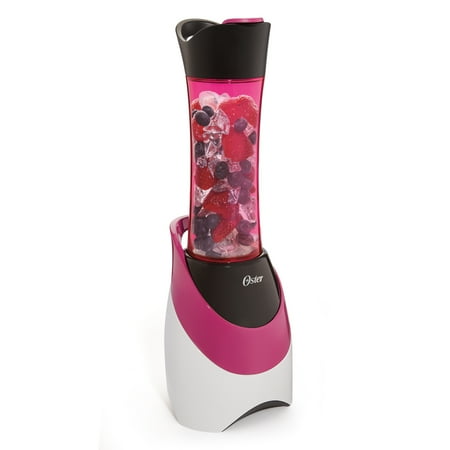 MSRP :

$19.99





Sale :

$18.19

Sold & shipped by Walmart
Product Description

Additional Information

Reviews
Product Description
Get healthy drinks on the go when you buy the Oster MyBlend 20-ounce Personal Blender. This Oster MyBlend blender features a sleek, industrial design base, a stylish travel sport bottle and an ergo-friendly lid. A powerful 250-Watt motor turns ice and frozen fruit into your favorite smoothies, shakes and health drinks. The Oster blender's quick and convenient one-touch blending functionality of this stainless steel blade blender saves precious time in the morning or any time of day. When in use, you replace the blade with the drinking lid, so you don't have to drink with the blade still in the bottle. Simply fill the MyBlend sport bottle, blend and you are ready to taste your favorite smoothies and beverages. If you want health without hassle, invest in the Oster MyBlend 20-ounce Personal Blender.
Additional Information
Oster® Fresh Blend-N-Go™ Green.
Make It Fresh™.
Perfect for: Smoothies.
On-the-go.
Pre & post workout shakes, whole juices & so much more!.
MyBlend®.
3 year satisfaction guarantee.
Fill, blend, go, reuse: 20 oz BPA-free sport bottle to take a smoothie on the go.
Easy extraction: For daily dose of vitamins and nutrients.
400 peak watts/250 base watts.
Stainless steel blade.
One-touch blending.
Reviews
LBoogie
Good for Margaritas, Bad for Apples/Veggies
My household has had this blender for years. We initially got it as a gift for my mom and as my siblings and I grew up she gave it to us for college. The blender itself doesn't have the strongest of motors so it works well with semi soft foods like fresh fruit, spinach, margarita mix, etc. More solid foods, like carrots and apples. Do Not blend as well with this blender. You can expect to chew your smoothie a bit if you blend a carrot in this. Given that we've had the blender for so long it has lasted relatively well. The motor occasionally has problems if the liquid seeps through the container while blending but generally the product has been fine. We bought a Vitamix for more intensive blending but this is a good basic college apartment blender.
Houston
Long Lasting and Durable
My mother bought this for me when I started college in 2012. Today, 26 January 2018, the bottle got a microscopic hole in the bottom. I just bought placed an order for some replacements, but it is definitely worth the money. I make a lot of protein smoothies for my workouts, so it is used everyday during the weekdays. Considering I have had it for 6 years, which I did not think it was going to last that long, I would recommend to anyone. I see some people say theirs last only 4 months or w/e the case may be, it is probably due to a bad batch of blenders or poor handling/care of the blender from that person. It also holds the perfect amount for me! It is also very easy to clean.
LoveMyBlend
Awesome! Best Find Ever!
I purchased the My Blend Blender with the bonus sports bottle and absolutely love it. Fast and so easy! No problems blending ice or frozen fruits. Sometimes I want the smoothie thicker and don't put as much liquid in. All I need to do is pulse/ blend a few seconds , remove and shake a bit and finish blending. The blades don't jam or anything. I am surprised at the power and how well it blends. I would not want a different blender but if I could enhance the My Blend Blender 1. it would have measuring marks on the sports bottle...I know after making a few smoothies about how to "eyeball it" but marks would be nice (not noticeable ones but like the 20 oz mark that is on the sports bottle (2,4 ,6 oz etc). 2. A reusable straw would be nice or straws made for the blender...... I use a straw but it is tricky to find one long enough to use with the top on the sports bottle. I am so glad I made the purchase. ( I also purchased 2 more for gifts which are a big hit )
NorthernNJ
Great Little Personal Blender
I love the Oster My Blend 20 oz Personal Blender. The key is it's a personal blender. It is great for making protein shakes or frozen fruit smoothies (Tip: add at least 4 ounces of water before adding the frozen fruit.). Follow the directions about which ingredients to put in the cup in which order and it works very well. I gave it a four because the motor smells like it is really straining sometimes, and sometimes it jams and I have to remove the cup and shake vigoroulsy before replacing it and continuing to blend. I've had this for a couple of months and use it several times a week. I'm very happy with my purchase and think it's a great value for the money. I highly recommend it.
wifeoftaxman
Love the blender but...
I bought this blender YEARS ago, and I do mean years. Actually I bought two. One was supposed to go to college with my son. He never took it. Well, I have been using one of them at home to make smoothies. I give one warning. Do not mash frozen fruit in it and then push it down with the blade. I have broken the seal of two blades doing just that. I did not think I was putting much force on the blade AT ALL but apparently I do not know my own strength. I am a 50 yr old woman that doesnt exercise much. I have been able to get replacement blades inexpensively and I always have the extra blender blade for the second blender my son never took. So, in the end, I would definitely recommend the blender. It does the work of more expensive blenders for a lot less, at least as far as making smoothies, even dealing with kale and other really fibrous fruits. I am really happy with it. Just be careful with the blade. It isn't very hardy.