Igloo 10 Gallon Water Cooler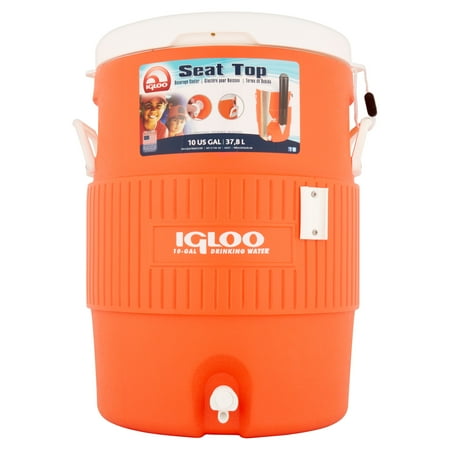 MSRP :

$9999





Sale :

$67.42

Sold & shipped by Walmart
Product Description

Additional Information

Reviews
Product Description
Quench your team's thirst with the Igloo Beverage Jug - orange and white. This Igloo beverage jug keeps ice for up to three days, so it's perfect to have on hand for hot days. This Igloo water cooler also has a flat lid that keeps the contents secure, while making an extra seat. The angled, drip-resistant spigot makes spill-free beverage dispensing a breeze, whereas the lid loops help lock the lid to the side handles. It also includes a cup dispenser for added convenience while dispensing chilled beverages. Easy to clean, this Igloo Beverage Jug - orange and white can be conveniently carried along wherever you go. The Igloo water cooler is great for parties and church or school events, too.
Additional Information
Igloo 10 Gallon Water Cooler
Reviews
skyjunky
Super fast cheap deliver great product for price
I totally am using this for making beer and its awesome.
pulsarair
Great for Brewing Mash Tun
I just bought this Igloo 10 Gallon Igloo Orange and White Beverage Jug. I plan to use it for my beer brewing hobby as a mash tun. Right now I am installing a Stainless Steel Spigot to the cooler along with a Stainless Steel False Bottom. Here is the important point I would like to make: When you remove the original plastic spigot, you will notice the wall thickness right at the spout area is 1/8th inches thick on this cooler. (The wall tapers down to 1/8th inch at the spigot area). This means the new metal nipple has to be a 1/2 inch CLOSE nipple. (CLOSE nipple means the threads nearly meet in the middle or are threaded across the entire nipple). A non CLOSE nipple will maybe have a non threaded 1/4" to 3/8th" area in the center of the nipple. If you can't crank the nuts and fittings on each side of the nipple down to around 1/8th inch, you won't be able to secure your new spigot to the cooler and have a water tight connection. Different brand coolers have different wall thicknesses bye the spigot. This one is around 1/8th inch. So I hope this helps other home brewers out so you can buy the proper nipple for your cooler. I bought all my SS fittings as a kit from: www.bargainfittings.com A kit for a metal vessel will fit this cooler better then their water cooler kit as the nipple provided is not a CLOSE one for their water cooler kit. Most likely an ice chest conversion would require a nipple larger then a CLOSE one. This cooler will make a great Mash Tun. At 10 gallon capacity, it easily will be able to handle any 5 gallon batch and some not wee heavy 10 gallon batches. It's a really great product! One last thing, the cup holder you get with the cooler is rmovable as you won't need or use it with the cooler used as a mash tun.
DJEIII
Nice cooler, great mashtun.
I use this cooler for a mashtun when brewing beer. In my first mash it held temps much better than expected. The spigot is easy to remove for installing a ball valve as well which is nice. I'm sure it would work great as a regular cooler too.
brewdude
Outstanding value
This cooler was $10.00 cheaper than anywhere else. Makes a great Mash tun for the home brewer. Holds temp, lost only 1 degree in one hour.
seamonkey13
Awesome Tun for a Home Brewer
My other one finall met it match so i had buy anither onem this Unit is perfect