20" Cat Scratching Post with Sisal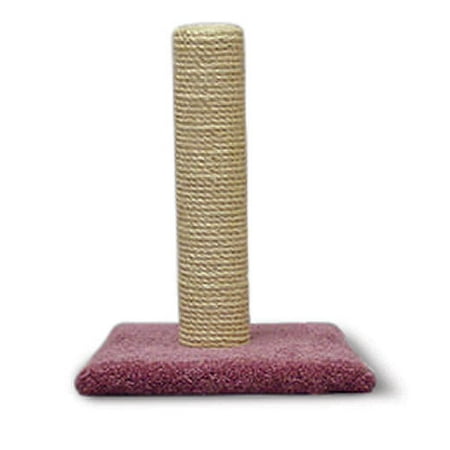 Sale :

$22.74

Sold & shipped by AlotOfHome
Product Description

Additional Information

Reviews
Product Description
You will never get your cat to stop scratching completely, so try giving your cat a variety of surfaces to scratch. This 20" Sisal Cat Scratching Post offers a carpet base and sisal post to help sharpen your cat's claws and keep him or her from scratching your furniture and rugs. The sisal on the Sisal Cat Scratcher lasts twice as long as carpet, and your cat will love the texture of the rope material on the post. This Sisal Scratching Post is good for smaller spaces such as apartments or play rooms.
Additional Information
20" Sisal Cat Scratching Post:
Carpet base
Sisal rope material on post
Sisal lasts twice as long as carpet
Keeps cat from scratching furniture and other surfaces
Perfect size for smaller spaces
Reviews
lovemypetz
thumbs down! here's why:
i'm a veterinary assistant and pet groomer so i am pretty experienced when it comes to pets and their needs. the most common complaints of clients is that they have several scratching posts BUT their cats STILL use the couch. logistics of it is- in order to scratch how nature intended cats need to be able to stretch out their entire body to claw -which is why the back of the couch is so tempting. a 20" post does not allow them to claw naturally so they show no interest in it. i would say save your money and get something sisal covered and TALL so your cat can fully stretch out to claw. another good item are those cardboard blocks you can buy and place on the floor though they have to be flipped over and regularly replaced. it may be pricey to buy a strudy tree with tall sisal polls but in the long run your cats will get lifetime enjoyment and it may just save your couch!!! cheers to you all.
hrare
A real tom cat scratching post
My Main Coon loves this. Nothing fancy, just heavy duty scratching bliss. The kind he prefers to carpet, upholstery or clothing!
CatPost
The Cat Loves This Scratching Post
Great scratching post. The cat loves it. I bought two of these scratching posts. I will buy more when the cat has destroyed these. They really help prevent the cat from scratching the furniture or the carpet. I like the neutral color of the carpet covered base of the post. It complements the carpet in my livingroom.
Buy1Online
My cat loves it
I've been buying sisal scratching posts for 13 years. My cat loves it. I ordered it online because it was no longer available in stores. This one is a liitle taller than the ones I've purchased in the past which is great. I've tried other products and this is the only one that works. The cat is happy and so am I.
CyberStealth
Kitten loves it, great value!
My kitten loves this scratching post. I've had it for several months and it is holding up strong. Sisal is definitely the way to go -- it is has a great texture for cats' claws and is quite durable. (All-carpet posts, on the other hand, encourage cats to tear up carpeted floors [Bad Thing]). My cat actually has the habit of climbing up and perching himself on the top, lol. I ordered this online through the Site-to-Store option (free shipping to the local Walmart), and it arrived in a few days. Smooth transaction all around. This is a quality scratching post at a wonderful price. I only wish that it were a little bit taller (however this is the standard scratching post height)