Mack's Pillow Soft Silicone Putty Earplugs, 6 Ct.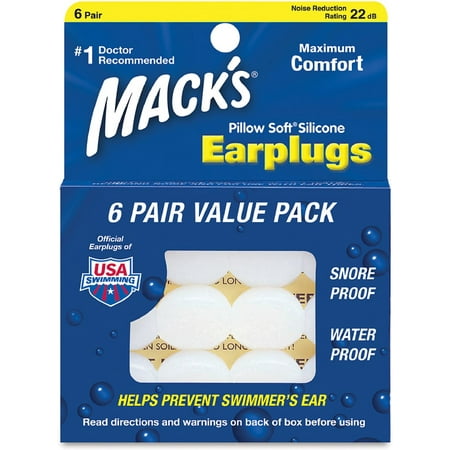 MSRP :

$4.7





Sale :

$3.96

Sold & shipped by Walmart
Product Description

Additional Information

Reviews
Product Description
America's original and number-one-selling moldable silicone earplugs, Mack's Pillow Soft Earplugs mold very comfortably to the unique contours of any ear. The Doctor's choice for sealing out water (helps prevent swimmer's ear) and reducing noise with a noise reduction rating (NRR) of 22 decibels. They're great for swimming, sleeping, studying, bathing, work, travel, loud events, flying discomfort and more. A plastic carrying case is included.
Additional Information
Mack's® Pillow Soft® Silicone Putty Earplugs.
Noise reduction rating.
#1 Doctor recommended.
Maximum comfort.
Official earplugs of USA Swimming®.
Snore proof.
Water proof.
Helps prevent swimmer's ear.
Reviews
avemaria92
good but not for me
I usually wear the foam earplugs but saw these and thought i'd try them out as the others were out of stock.. the concept is good and they do work for blocking out noise, but I have a few problems with them. Firstly the size of the 'plug' material is a little too much for me and you're not supposed to shove it into the ear canal.. so this leaves a bit of it outside the ear, which isn't comfortable laying on a pillow with it.. they tell you not to but you can pull some off to make a smaller 'plug'... the second problem I have is that they don't 'breathe' like the foam plugs.. so it's a little odd feeling after waking up with them on overnight because due to the size of it, you cover most of the inside of your ear.. and lastly the value is a little less for the amount you get and the length of time they last for.. supposedly you're only supposed to use them five times before switching out.. so they work ok but for what i need them for and for what i'm used to, these just aren't for me.
Ixil
Mack's silicone earplugs saved my life!
Don't bother with the foam earplugs. They don't block sound and if you sleep with them in your ears, they come out as soon as you turn your head. Mack's silicone earplugs have saved my life. I'm a missionary in Guatemala, and the village barking dogs, roosters, wailing drunks, and blaring music would have kept me awake for twenty years if it hadn't been for Mack's ear plugs, a fan, and a pillow on my head. Mack's silicone drowns out noise better than any foam. You have to get them shaped right for your ear. If you feel they are hurting your hears after awhile, then they are not shaped properly. Once they are pushed into the shape of your ear, you should not feel any discomfort whatsoever. One pair lasts me about a week or 10 days.
pjfrch
Mack's silicone earplugs saved my life!
This product works great. They fit into the ears very nice and snug. They really do help keep the noise out when trying to sleep, etc. I recommend them highly. I've used other types of earplugs, but these are the ONLY ones that truly do the best job.
Shanna8675309
The best silicone ear plugs I have used!!
I live in a very noisy Apartment Bldg. and neighborhood and silicone ear plugs allow me to get a good night's sleep(foam are awful and not worth the money). I have tried 2 other brands but by far these are the best!! I can wear a pair much longer and they don't get caught in my hair as much as the other brands. If you are a fan of silicone, buy these!
nince021
Finally!
I finally found earplugs that work great -much better than foam- AND don't cause pressure to build up in my ears like the foam ones do, so I can wear them all night and not wake up with earaches/headaches. I'll never go back to foam ear plugs again.