Texas Instruments TI-84 Plus CE Graphing Calculator, Black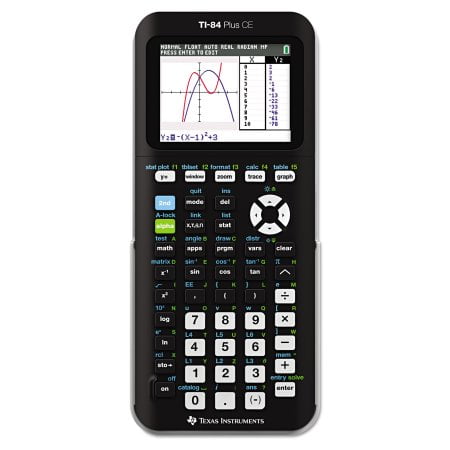 MSRP :

$149





Sale :

$132

Sold & shipped by Walmart
Product Description

Additional Information

Reviews
Product Description
Introducing the newest member of the TI-84 Plus graphing family of calculators. It features a full-color, high-resolution screen — now with a new sleek, slim look.
Additional Information
Real and complex numbers calculated to 14-digit accuracy and displayed with 10 digits plus a 2-digit exponent
Graphs 10 rectangular functions, 6 parametric expressions, 6 polar expressions, and 3 recursively-defined sequences

30% lighter and thinner than earlier generation TI-84 Plus models
Vibrant backlit color screen
Powered by the TI Rechargeable Battery (included)
Pre-loaded Apps and Images
MathPrint functionality
The TI-84 Plus CE is approved for use on the following exams: PSAT, SAT, ACT college entrance exams; AP exams, IB exams
Color: Black
Reviews
Diamonddiana
Great Calculator for Business and Science
I purchased this calculator for my sister who is studying for her finance degree and being an owner of many Texas Instruments calculators, I highly recommend it to both business and science students. It is user friendly and someone who is not a "math person" can learn to use it. There are other calculators out there that are less expensive but you get what you pay for and Texas Instruments will not let you down. Mine have lasted for many years through many uses and with new ones coming out in fun colors I find myself giving them away so I can purchase a new one in a fun color! I am a science and math teacher in a community college plus I have a tutoring business. these are the only calculators I use for the high school and college students. I have purchased Texas instruments calculator for younger students and for myself as a basic calculator. You will be pleased with the calculator plus Walmart makes it easy to afford it with their great prices.
XXXMLGPROXXX
Wait until the price goes down to $88
This calculator is usually $119, however, if you wait it will go on sale and you can purchase it for $88 like I did.
Drew
The best calculator
I bought this calculator for college and its honestly the best thing ive bought its easy to use and its a very good calculator ive used it so many times and ive hadnt had to charge it yet so the battery life is very good!! Would recommend to anyone who needs a calulator!!
Cambridge7
Fantastic sale price, but RANDOM colors
This gold standard calculator was on sale here and cost barely more than the TI-84, so I had to jump on it. There was a nice magenta color which my daughter would have loved, so I thought I selected it. But when I picked it up, it was black. Disappointed, I realized that all the various colors had the exact same SKU and webpage. In other words, you have no control of the color. I think this is a bad business decision for Walmart. No one wants to be surprised like that anymore, in this day of computerized inventory. Just list the exact color, or else there will inevitably be some disappointed customers who hoped it would be one color or another.
jgdiva
Thanks!
Thanks Walmart . We were able to get an excellent rollback price on this required calculator. Our middle son now needs one for Algebra class this yr. This is our 2nd graphing calculator from the TI84 family. The 1st is 3yrs old, has been very dependable, and has held up great to daily use during the school yr. The new calculator will be a battery upgrade. Hope it does not disappoint. .