Texas Instruments TI-30XA Student Scientific Calculator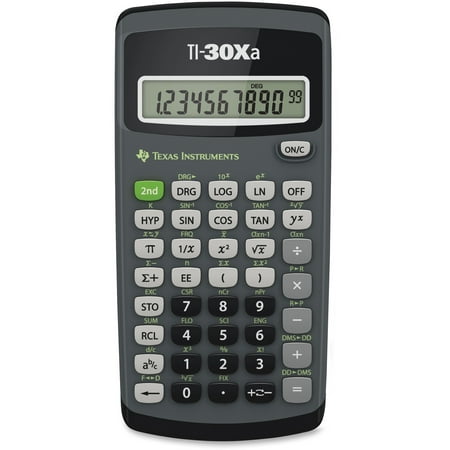 MSRP :

$8.96





Sale :

$8.69

Sold & shipped by Walmart
Product Description

Additional Information

Reviews
Product Description
The Texas Instruments TI 30XA Scientific Calculator makes it easier for you to perform operations for math and science classes. It features a large, easy-to-read LCD. This student scientific calculator's slide cover protects the buttons and screen from damage caused by drops and impacts. It's suitable for use in most high school and middle school classes.
Additional Information
Texas Instruments TI-30XA Student Scientific Calculator:
10-digit display; for general math, pre-algebra, algebra 1 and 2, trigonometry and biology
Performs trigonometric functions, logarithms, roots, powers, reciprocals and factorials
Also add, subtract, multiply and divide fractions; 1-variable statistics (mean/standard deviation)
Conversions: fractions/decimals, degrees/radians/grads, DMS/decimal/degrees and polar/rectangular
Texas Instruments scientific calculator is battery powered; includes slide case
Reviews
Kelbers
One word AWESOME!!!!
This calculator has been in my family since my mom was in college. It is no longer in the family due to its dead battery but my dad didn't know how to open it at the time lol, but the battery that was in it lasted 14yrs! Anyway, back to the review. it is an awesome calculator for any need to pay bills, math problems, or just plain messing around with it. also awesome for anyone who is going into algebra or even college. The display is big. There are many scientific calculators out there but this one has to be the best of all. its even made by Texas instruments. this is the best you can get so if you ever need a scientific calculator and a cheap price and most of all last your many yrs. then the Texas instruments TI-30Xa Scientific Calculator is for you. Hope this helped, Kelbers.
Dave
Good calculator, probably.
This review does not concern the calculating quality of the TI-30Xa, but rather the physical construction combined with the lack of instructions for removing the back of the unit beyond Texas Instrument's instruction No. 2 to "...remove screws..." and instruction No. 3 to "pull off back case", both of which instructions are probably obvious to all except morons. What TI does not tell you is how do you "pull off back case" without destroying some locking tabs which hold "back case" to front case. I just bought this TI-30Xa yesterday so why, might you ask, would I want to be removing the "back case"?...because TI doesn't bother to give you battery replacement information in their documentation and therefore I wanted to access the battery in order to buy a spare at some future time. I am returning this unit with the two destroyed locking tabs. Even after seeing the locking tab arrangement I am not sure that I could "pull off back case" without destroying a tab or two. Poor construction and poor instructions. But you all do get the benefit of my experience...the battery is marked LR44.
Mia102
One of the best!
I originally had this calculator starting in 5th grade. I used the same one until my 11th grade year when I then had to switch to a TI graphing calculator. I gave the TI 30xa to my younger sister, who used it for 2 yrs more until it finally bit the dust! I am now going back to this very calculator for a job required exam. I think the TI calculators in general are easy to use, can definately take a daily beating in the bottom of a backback or in a student locker, and are worth every penny. I cannot say enough good things about it!
Auntiematt
Texas Instruments TI-30Xa
I had this calculator 18 years ago when I was beginning middle school. Back then the calculator had great features which made life easier in my math classes. When I was buying school supplies I noticed that the calculator was still for sale, so I ordered it. Upon arrival I was using it on homework and I noticed that they added some great new features. I am so happy with my purchase.
CocoaColored
Must've Gotten a Bad One
Must've gotten a bad one. I've used TI calculators all throughout high school and never had a problem, so I know they make good calculators, but this one is just horrible. First, I couldn't pull it out of the cover without breaking my nail. And then right in the middle of a quiz it just stopped working. I pressed a bunch of numbers and even the Off button and it just displayed a zero. It did this a couple of times while taking my quiz. I have an accounting exam tomorrow morning and now I'll have to run to Walmart real quick to return it and get something else. I wouldn't take the risk of it pooping out on me in the middle of the exam.