Camp Chef Sushezi Sushi Maker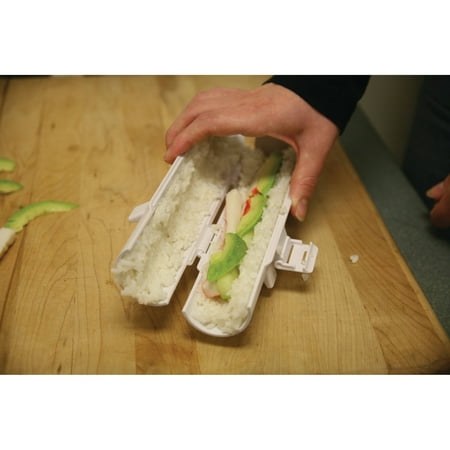 Sale :

$21.49

Sold & shipped by OutdoorCooking.com
Product Description

Additional Information

Reviews
Product Description
With easy-to-follow instructions, this Camp Chef Sushezi Sushi Maker creates well-formed sushi quickly and reliably. Using your own choice of imaginative fillings, the Sushezi Maker will enable you to make delicious sushi quickly and easily at home. The Camp Chef Sushezi Sushi Maker can also be used for a variety of dessert items, such as walnut rolls, fudge rolls, cake rolls and biscuit cookies. The cooking tool enables you to create well-rounded roll shapes for a variety of recipes and cooking styles. It also works as a biscuit maker and features a cylindrical design that opens up in two halves, so you can easily place the filling inside and close it tight to compress the mixture into shape. The durable material of the Camp Chef Sushezi Sushi Maker can be cleaned quickly and easily.
Additional Information
Camp Chef Sushezi Sushi Maker:
Make sushi, biscuits, candy rolls on the run perfectly every time
Quick and easy clean-up
Reviews
Fit2fight
Great product, but takes some time getting used to
Bought 2 of them so my daughters could make their own. Needless to say watching all the youtube videos on this product made it look real easy. Well once I purchases all I needed to make the sushi, after 2 attempts the sushi feel apart. I followed the instructions and I think the problem I ran into was the rice. I used the Japanese rice (jasmine) and it came out sticky. I packed the rice into the sushezi and to a disappointment it fell apart once I pushed the sushi out. I think (since I will not give up on it) was that I need to use the sushi rice. I need the rice specifically made for sushi. I will say the ideas of making your own sushi is endless (buffalo chicken, chicken ceasar, beef bugolgi and shrimp teriyaki). I thought this would be a great lunch for my kids to keep them full until they get home. School lunches now a day aren't really good and fulfilling. So I will give it another try and if I remember will come back and give an update.
BuckyFan2012
Quick and Easy
The Sushezi made a quick perfect shaped roll on my first use! It was very easy to use, clean, and kind of fun (I'm sure that will wear off, though). Although it is so simple and should be less expensive, I believe that it was worth it.
S12i
Quick and Easy
I have been using a bambo mat to make sushi for years. My husband bought me the sushezi for Christmas. It seems like a silly gadget, but I love it. It is so easy to use even my kids can make their own rolls. We have sushi at least once a week now because the sushezi makes it so fun and easy! We have since bought another one for us and one as a gift. We have done sushi night with friends and they all want one now too. (Walmart.com was the cheapest we found the sushezi)
missbunkie
Great Sushi Maker
I purchased this as a wedding shower gift and was so impressed with it I am going to get one for myself. I went on youtube.com and watched several video's of it being demonstrated on how easy it is to use. It made sushi making even for the beginner easy to do. And it can be used for making cookies, sausage rolls, etc. I also purchased the cookbook "Sushi for beginners" to go with the gift and highly recommend this book to go with the sushi maker. It can also be purchased at Walmart.com. I love shopping at Walmart.com because it is easy to do and it comes to the store near where I live and I don't have to pay for shipping.
SushiMommy
SUSHI ARIGATO!
So I'm an avid sushi lover, and i have to say this is the EASIEST method to make them. I am really glad I purchased this. Also it's the cheapest price I found compared to online stores.