Camp Chef Sushezi Sushi Maker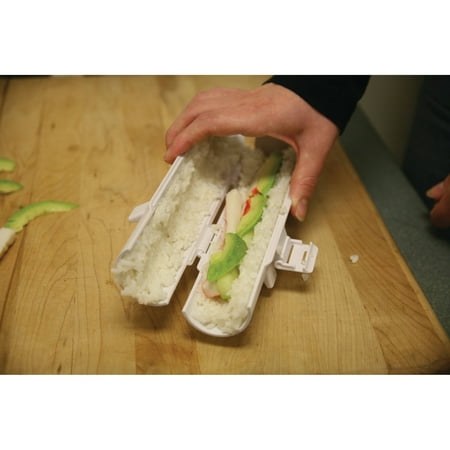 Sale :

$13.49

Sold & shipped by Walmart
Product Description

Additional Information

Reviews
Product Description
With easy-to-follow instructions, this Camp Chef Sushezi Sushi Maker creates well-formed sushi quickly and reliably. Using your own choice of imaginative fillings, the Sushezi Maker will enable you to make delicious sushi quickly and easily at home. The Camp Chef Sushezi Sushi Maker can also be used for a variety of dessert items, such as walnut rolls, fudge rolls, cake rolls and biscuit cookies. The cooking tool enables you to create well-rounded roll shapes for a variety of recipes and cooking styles. It also works as a biscuit maker and features a cylindrical design that opens up in two halves, so you can easily place the filling inside and close it tight to compress the mixture into shape. The durable material of the Camp Chef Sushezi Sushi Maker can be cleaned quickly and easily.
Additional Information
Camp Chef Sushezi Sushi Maker:
Make sushi, biscuits, candy rolls on the run perfectly every time
Quick and easy clean-up
Reviews
Fit2fight
Great product, but takes some time getting used to
Bought 2 of them so my daughters could make their own. Needless to say watching all the youtube videos on this product made it look real easy. Well once I purchases all I needed to make the sushi, after 2 attempts the sushi feel apart. I followed the instructions and I think the problem I ran into was the rice. I used the Japanese rice (jasmine) and it came out sticky. I packed the rice into the sushezi and to a disappointment it fell apart once I pushed the sushi out. I think (since I will not give up on it) was that I need to use the sushi rice. I need the rice specifically made for sushi. I will say the ideas of making your own sushi is endless (buffalo chicken, chicken ceasar, beef bugolgi and shrimp teriyaki). I thought this would be a great lunch for my kids to keep them full until they get home. School lunches now a day aren't really good and fulfilling. So I will give it another try and if I remember will come back and give an update.
Jax
Great product, but takes some time getting used to
Not as good as shown on the video and want to eat a whole lot of rice.
BuckyFan2012
Quick and Easy
The Sushezi made a quick perfect shaped roll on my first use! It was very easy to use, clean, and kind of fun (I'm sure that will wear off, though). Although it is so simple and should be less expensive, I believe that it was worth it.
Pru
Quick Rolls!
Makes perfect sushi very easily! Only thing is I wish it came in a smaller size as well. The roll gets large once to add toppings to it. But well worth the money:)
Chuck
Works as advertised.
This is so easy to use and much easier than the traditional bamboo mat for rolling. Comes out perfect every time! Quality product, easy to use and clean, good price and fast delivery.