Arm & Hammer Advance White Baking Soda & Peroxide Stain Defense Toothpaste, 6 oz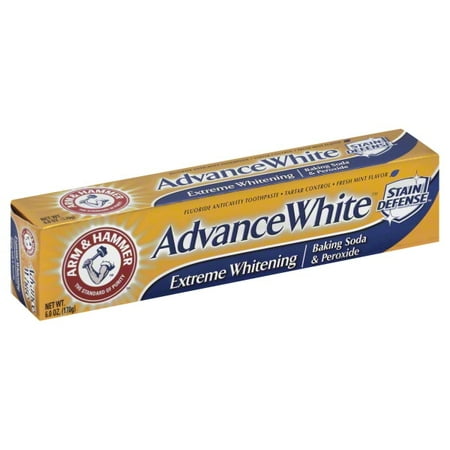 MSRP :

$6.67





Sale :

$3.48

Sold & shipped by Walmart
Product Description

Additional Information

Reviews
Product Description
Arm & Hammer Advance White Stain Defense Extreme Whitening Baking soda & Peroxide. Arm & Hammer Advance White is specially formulated with refined dental grade baking soda to give you a noticeably whiter, brighter smile. Baking soda gently removes plaque and surface stains with a deep cleaning action. High levels of peroxide target tough set-in stains with extra whitening power. Plus stain defense:To help prevent new stains from setting. Questions or comments? Call 1-800-786-5135 Mon.-Fri.
Additional Information
Arm & Hammer Advance White Extreme Whitening Toothpaste, Fresh Mint, 6 Ounce
Reviews
Giggles55513
Great Tooth Paste! Smile whiter, mouth cleaner!
I'm so picky with my tooth paste that I have been buying children's bubble gum flavor tooth paste for the last few years. However, I received a free sample of Arm and & Hammer White Extreme Whitening with Stain Defense from Smiley360. I will be honest I had my doubts thinking that it might get too foamy for me to use and be too minty. This tooth paste was wonderful! I loved the taste of the tooth paste. In my personal opinion it tasted like dinner mints and was not an over powering mint flavor like other brands. The tooth paste was not too foamy either. My teeth and gums are sensitive and this tooth paste worked well for me. I also drink lots of soda and sweet tea. The tooth paste (after the first day of use) showed a difference and made my smile brighter with each day I used it. I definitely love this tooth paste and I will buy it in the future. I received a free sample of ARM & HAMMER Advance White Extreme Whitening with Stain Defense from Smiley360.
AudriaL
Impressed
I recently tried this product, and I must say that I like it. It has a clean and fresh taste. My mouth also does not feel sticky and foamy after using it, like most toothpaste I have used. As far as whitening, I have not seen any major results or any noticeable differences, so the jury is still out on the whitening. However, with prolonged usage, it is possible that I will be able to see differences. Additionally, I am sure that this product is comparable with other products. Lastly, it does a great job of keeping my mouth clean, which is the most important thing in my opinion. In all, I would definitely purchase this product again, and I would also highly recommend to others. "I received a free sample of ARM & HAMMER Advance White Extreme Whitening with Stain Defense from Smiley360."
BargainShopper1986
Great toothpaste
First off, yes there is a strong taste of baking soda but it's Arm & Hammer so that's expected. The baking soda taste is pretty strong, especially if you're used to really minty flavored toothpaste but over time I find I don't notice it as much. My teeth were noticeably whiter after about a week. It works as well as any of the other whitening toothpastes in the same price range I think. I thought this was a little better though because I noticed I have much less plaque build up through out the day (which used to be an issue for me and other brands didn't seem to solve this problem as well). I also notice my breath seems fresher longer and my teeth and mouth feel cleaner in general for longer as well. I would recommend this toothpaste and I would also buy it myself in the future when I run out. (I received a free sample of ARM & HAMMER Advance White Extreme Whitening with Stain Defense from Smiley360.)
ChillWriter
Hygienist recommended
This particular toothpaste was recommended by a dental hygienist who cleaned my teeth. She was outstanding and wise, and specifically recommended this toothpaste for multiple reasons, including whitening safely. Not the greatest-tasting, but that is a small sacrifice for healthy teeth and gums.
Cenazwiffeyx3
:)
This toothpaste is great. The first few times I used it,I thought it tasted horrible but shortly after,I got used to it..Does whiten teeth and leaves them feeling clean