Arm & Hammer Double Duty Cat Litter Deodorizer With Advanced Odor Control, 30.0 Oz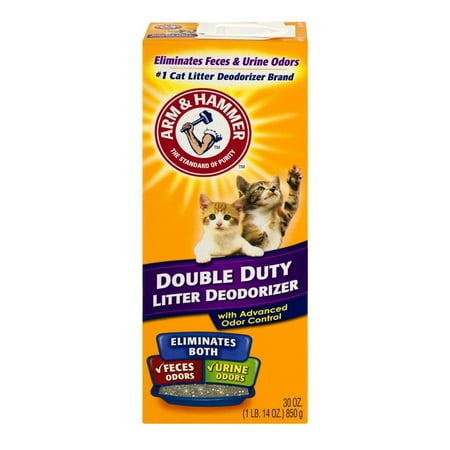 Sale :

$4.01

Sold & shipped by Walmart
Product Description

Additional Information

Reviews
Product Description
Arm & Hammer Double Duty Cat Litter Deodorizer eliminates litter box odors and helps litter stay fresh longer. Powerful moisture-activated baking soda crystals, boosted with odor neutralizers, destroy both urine odor and feces odor on contact. The moisture-activated scent refreshes litter every time your cat uses the litter box. This odor-control cat litter can be used with any litter, including clay, scoopable or natural (scented or unscented), to add extra odor protection to your litter box. Keep your home smelling fresh with Arm & Hammer Double Duty Cat Littler Deodorizer.
Additional Information
Product Features
Eliminates feces & urine odors
#1 cat litter deodorizer brand
With moisture-activated baking soda and odor neutralizers
Carton Made From 100% Recycled Paperboard Minimum 35% Post-Consumer Content
Church & Dwight Co. Inc.,
Ewing, NJ, 08628.
www.armandhammer.com
©2006, 2007 Church & Dwight Co., Inc.
Reviews
Jcoll
Arm N Hammer litter deodorizer
I sprinkle this on the bottom of the box before I put new litter, or more litter in. It really helps with urine odors.
Hope T
I would buy again
Repurchase again and again
JeffG1072
GREAT PRODUCT
I have 2 cats and clean the litter box every morning ..and sometime..twice a day. I have tried everything ...regular baking soda...air freshener... cleaning more often..nothing works to keep the area smelling clean. Then I tried a box of this and..it works great....goes farther than regular baking soda....and smells good. I have ordered 4 boxes on line from Walmart..and will order more when these run out....in about 2 months... Great value..great price.
ssdfds
i really would recomend this item
my neighbor introduced me to this product and then i read the directions on how to use it so i sprinkled it in some clean litter then i mix it up and i love the smell of it no more stinky house and it works with all kinds of litter i use the scoop way with amonia sheild and it makes it really smell so good once you get this product you will be going back to buy more
Helden
You Replaced one Bad Odor With Another
Every clumping lit6ter clumps--that's what I expect. What I didn't expect was my whole house smelling like I had spilled a gallon of cheap laundry detergent on the rug. Arm and Hammer should REMOVE not replace bad odors. My cats don't even like it. Would YOU like peeing in a box of perfume?