Arm & Hammer Cat Litter Deodorizer With Baking Soda, 20.0 Oz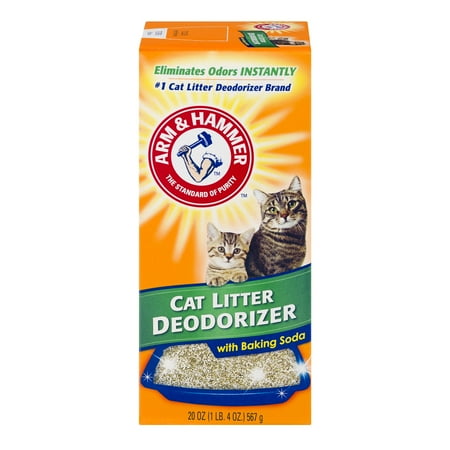 MSRP :

$5.82





Sale :

$2.24

Sold & shipped by Walmart
Product Description

Additional Information

Reviews
Product Description
Keep the litter box first day fresh with this Arm & Hammer Cat Litter Deodorizer. It has activated baking soda that helps keep the litter box odor-free for longer periods of time. The dependable cat deodorizer eliminates odors instantly on contact. It has a moisture-activated scent that refreshes litter every time your cat uses the box. Patented technology helps prevent urine clumps from sticking to the litter box. Use this product with any litter (clay, scoopable or natural; scented or unscented) to add extra odor protection to the litter box. It is veterinarian recommended and is perfect for everyday use. Keep your home fresh and clean with this trustworthy Arm & Hammer Cat Litter Deodorizer.
Additional Information
Arm & Hammer™ Cat Litter Deodorizer With Baking Soda.
The Standard of Purity™.
Eliminates odors instantly.
#1 Cat litter deodorizer brand.
20 oz (1 lb.
4 oz.).
567 g.
Reviews
Black3
WOW very strong
Please only put a VERY SMALL amount in the box or around it. I put way to much, my cats would not even go in it, because it was so strong. So start slow then wait a few minutes and add what you think you need. It smells good and definitely works on the odor. One carton should last a long time.
juliat
New scent in DOUBLE DUTY is TERRIBLE...
For YEARS I have bought the A&H Cat Litter DOUBLE DUTY Deodorizer. I just bought 2 new boxes and have to throw them away. They have changed the scent. Before it was a great soft scent and now they have changed it to an overbearing sickening sweet powerful scent. It takes your breathe away. Makes me sick to my stomach and a headache. Cats would not go into the litter box the perfume smell was so strong. Why companies have to change products that are already working I'll never know. I will NOT be buying anymore A&H DOUBLE DUTY. It would be nice if the company paid attention to the reviews and brought back the old original smell. Some people (and animals) cannot handle strong overbearing sweet smells.
janeaaron40503
Great product!
My cat's litter box always had an unusually strong ammonia-like odor, even after cleaning and deodorizing it. Arm & Hammer Cat Litter Deodorizer with Activated Baking Soda takes that odor away completely. It has a light, pleasant fragrance, is simple to use, and I highly recommend it to anyone dealing with litter box odors. I don't like to be without it!
LoveMyGoldfish
Great product!
I use scoop-able litter in my cats litter box, and even though I scoop it everyday or every other day, it will still have a bad odor to it. With this litter deodorizer, it takes that odor completely away! It has a very nice pleasant fragrance to it and will take away any odor from the litter box. Highly recommend if you use scoop-able litter!!
Jasmin
Excellent!
This is amazing for getting rid of that stinky odor. Nothing else has worked for me! I have been using this since I got my cat 2 years ago. It has a strong scent which I love! A little goes a long way. It helps eliminate those tough odors that linger in the litter box.This usually lasts me about a month.(thats just me) I high recommend this! I got my sister to use it for her cat as well.