Arm & Hammer 2X Ultra Clean Burst Liquid Laundry Detergent, 210 Oz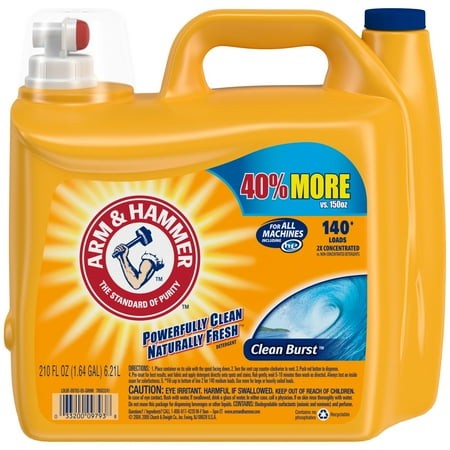 MSRP :

$59.84





Sale :

$9.98

Sold & shipped by Walmart
Product Description

Additional Information

Reviews
Product Description
Want to get your clothes really, really clean? Arm & Hammer Liquid Laundry Detergent with 2X Ultra Clean Burst will do the job. The power of Arm and Hammer baking soda will get your clothes powerfully clean.This naturally fresh and light formulation produces a powerful clean and a lovely, fresh scent. 210 ounce container washes 140 loads. No Phosphates.
Additional Information

Arm & Hammer 2X Ultra Clean Burst Liquid Laundry Detergent, 210 oz:
Item Type: Liquid Laundry Detergent
Brand: Arm & Hammer
Manufacturer Part Number: 33200-00106
Arm & Hammer Ultra Clean Laundry Detergent cleans approximately 140 loads
210 oz
Reviews
txaggiegirl87
Arm & Hammer 40% More Clean Burst
I've been using Arm & Hammer products for some time and have had great outcomes UNTIL NOW. This detergent is used in my front-loading HE washing machine. This recent container of detergent is turning my clothes blue or leaving them with multiple blue spots. Their must be some sort of dye in this liquid (it is blue detergent) that is permanently ruining my beautiful clothes. After noticing this discoloration, I put my clothes thru a rinse and spin cycle, but didn't improve..still ruined. Soaked in my kitchen sink in white distilled vinegar...still didn't help! I'm so disappointed and angry now about all the clothes it has ruined. Yes, it has occurred in multiple loads. The weird thing is it seems to have only discolored clothes on the COLD SETTING...these are my delicate items, some were brand new that I washed on delicate setting and then lay flat to dry! I've never ever had anything like this occur with the previous A&H liquid detergents before! Not sure what is going on here, but they definitely NEED TO address this issue NOW. Maybe it is only THIS 210fl oz liquid detergent container with this problem. I SURE HOPE no one else experiences this.
CrudonBottle
Works well but goop everywhere!
My clothes are clean and all is well, but the latest bottle gets all this soap crud collecting around the rim of the cap and on the sides. It crumbles and falls when I move the bottle, and is a pain to clean up. This has not happened with prior bottles, so maybe I just got a dud.
CBetty
Great Product
My husband, 4 children, & I are athletes. I've tried everything to get the stink out of our clothes. All the expensive brands never fully removed the sweaty smell from our workout gear. Then I tried Arm & Hammer based on its label. It promised to completely remove smell & stains. It cost a lot less than the detergents I usually try, so I was skeptical. IT WORKED!! After years of mixing brands & sprays, trying to freshen our sweaty work out clothes, I finally found the perfect, affordable solution. It only takes a cupful of detergent to cleanse & freshen a load of clothes, saving our family money on laundry soap & buying new workout clothes. I get MORE soap for LESS money. Super Satisfied with this product.
SaturnGal
Awesome Product
I have searched high and low for a laundry product that cleans well and doesn't smell like a perfume factory! I've tried all the major brands, and even went with no scent detergent, but really missed having that clean smell. A friend recommended this product and it is perfect. Just enough light scent to give you that clean fresh smell, without making me sneeze from the heavy perfume odor. Clothes are clean, and now smell fresh as well!
Butchsmom
Awesome Product
Excellent results for the money! Will continue to use this product.