Arm & Hammer Double Duty Clumping Cat Litter, 40 Lb.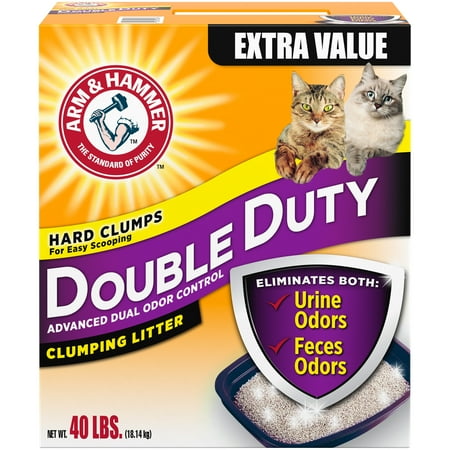 MSRP :

$15.98





Sale :

$14.26

Sold & shipped by Walmart
Product Description

Additional Information

Reviews
Product Description
This cat litter features advanced clumping.
Additional Information
Destroys Urine & Feces Odors Instantly
Powerful Moisture Activated Baking Soda Crystals Eliminate Odors On Contact
99% dust free & low tracking
Rock-solid clumps let you remove the source of odors easily
Fresh Scent Refreshes Litter Every Time Your Cat Uses The Litter Box
Reviews
RAP92630
It's all about the CAT'S
I don't know , I'm not a CAT but they seem happy . I clean there boxes every 3 days
MyOpinion714
Life Saver!
I have multiple cats and I have used many different kinds of litter and hated them all! It was always a) No odor blocking (although the packaging would claim that it did that) b) the litter granules were tooooooooo small so every time the cats would get out of the box it would be as if there was sand or dirt everywhere c) would never clump as well as the box would claim it to do This litter though is amazing! it blocks the odor which I love because if you have multiple cats you know how much that box gets used in a day (smelly smelly smelly!) but with this litter I don't smell a thing and my house continues to smell fresh and clean. Also cleaning is perfect because it clumps really well and the granules of litter are a perfect size not too big so it's not like rocks but not too small where it gets everywhere when they get out of the box. Basically if you have a cat or multiple cats this litter is the one to go with!
Lorinzo
Heavy Weight Champion
This is the worst of the hard clumping litters. They missed the mark in trying to eliminate the dust by making it heavy and more absorbent. It did not eliminate the dust. You have to shake the scooper more so with this litter because it is thick, and shaking it creates a dust cloud. It packs hard, but you will still have small clumps that break off. There is a semi dry mucky build-up at the opening of the litter box and on the sides, that needs a metal spatula to scrape off. Because of it's heaviness, it makes it twice as hard. The two features I hated the most was the overwhelming perfume, and that the litter was heavy. The heavy perfume didn't always mask the outhouse smell of an indoor litter box. When I was sick and sensitive to odors, this perfume made me want to throw up. The weight of the litter, made sifting the litter box, a bigger chore and I dreaded it, because it was too heavy. It was also hard getting it in the house and into the litter room. I appreciate them trying to improve the litter, but this was not a winner for me.
Andrea
This stinks!
I keep wondering why the litter smells so bad even though I've cleaned it but this litter smells bad. I usually buy the unscented version and I won't make this mistake again.
Jbailey
Not worth buying
If I could rate 0 stars I would. This litter doesn't hard clump it turns into a slurry of litter which is absolutely disgusting. The smells is so overwhelming that doesn't cover the smell it needs to just mixes with it. And it's more dusty than not.