Arm & Hammer Double Duty Clumping Cat Litter, 26.3 Lb.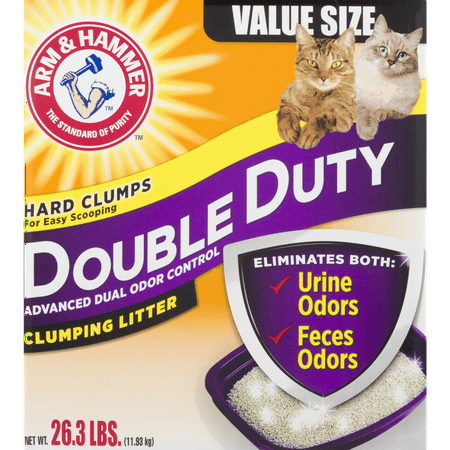 MSRP :

$23.01





Sale :

$11.69

Sold & shipped by Walmart
Product Description

Additional Information

Reviews
Product Description
Arm & Hammer Double Duty Clumping Cat Litter protects your home against urine and feces odors. The hard clumping formula makes scooping easy!
Additional Information
Arm & Hammer Double Duty Clumping Cat Litter, 26.3 Lb.- Hard Clumps- Eliminates urine and feces odors- Easy to scoop
Reviews
Helden
You Replaced one Bad Odor With Another
Every clumping lit6ter clumps--that's what I expect. What I didn't expect was my whole house smelling like I had spilled a gallon of cheap laundry detergent on the rug. Arm and Hammer should REMOVE not replace bad odors. My cats don't even like it. Would YOU like peeing in a box of perfume?
Sunshine
Not Clumping
Bought this about a month ago and it does not clump. The odor control is great but the litter does not clump.
UnhappyWithTheNewFormula
Great litter turned BAD!!!
I have no idea why you changed your formula! This cat litter used to be a fine, beach sand like litter that would actually clump and hold together and had fantastic odor control. The last several boxes I bought have had larger, fine gravel like litter that doesn't clump well or hold together, and the odor fighting properties are nearly non-existent! I had continued to buy this litter after I noticed the change hoping that I had just gotten a bad batch. That no longer seems to be the case, as several months and boxes later the litter remains the same new mixture. I may as well buy a brand (which I won't name here) that costs half the price, and performs exactly the same as this new formulation does (meaning it doesn't perform at all). What a shame. I have used this litter for 9 years and absolutely loved it! Guess I'll be finding myself a new cat litter to use.
MikeTheMangla
Waste!
Ok. Let me say I am not one to leave a review or bash a product unless it's awful. I purchased this litter for my new kitten and within 1 day my entire 1300 sq. Foot house smelled of death. Not even urine or feces. Just awful cat litter. It was so bad I had to buy a bathroom exhaust fan and set it over the litter box and run the vent tube outside (patent pending, haha). Anyway. Dumped it and bought the cheap scoop away multi cat and have not used the fan one time in 4 days. Save your money on this arm & hammer called cat litter. There toothpaste and Detergent work great though!
Alex
New formula?
I started buying Double Duty about a year ago when I first adopted my cat. I was highly impressed by how little litter was tracked through my home and how well it worked to reduce odors. However, the box I most recently bought is completely different. The litter is powdery, and while it's still doing a good job not being tracked through my home, dust billows up from the box and all over my scoop and the floor every time I clean the box. It also seems much less effective at masking odors than before. I have to wonder if the formula has been changed. If it has, it's not nearly as good as it used to be. I will no longer be buying this. In fact, I am considering throwing out my mostly full box.