Arm & Hammer Clump & Seal Litter, Multi-Cat 28lb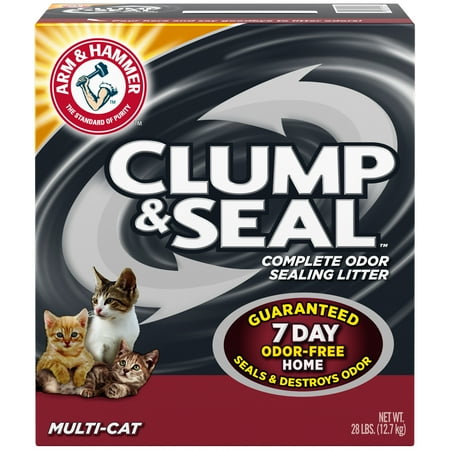 MSRP :

$47.52





Sale :

$15.34

Sold & shipped by Walmart
Product Description

Additional Information

Reviews
Product Description
Give us 7 days. We'll give you an odor-free home, guaranteed. ARM & HAMMER Clump & Seal Multi-Cat Litter is the biggest advancement in cat litter history. No other litter forms a tight seal around odor and destroys it with unique odor eliminators and ARM & HAMMER Baking Soda. It's so effective, millions have switched!
Additional Information
7 day guarantee. Experience the confidence of a 7-day odor free-home—guaranteed.100% Dust Free, No more dust clouds when pouring or scooping.Seals and destroys odor. Moisture-activated Micro-Granules form a tight seal around cat waste odor, and heavy-duty odor eliminators plus ARM & HAMMER Baking Soda destroy sealed in odors on contact.No crumbly clumps. Plant-derived particles help create rock solid clumps for easy scooping.Multi-cat strength. Specially formulated for multiple cat households.
Reviews
chuckbrons
I keep coming back to THIS brand.
I haven't tried EVERY single other brand but..... I have tried out more than a few of the cheaper brands and so far they don't quite match up to this one. They ALL claim virtually dustless but none actually seem to meet that claim, but A&H Clump and Seal has come the closest in my trials. Even Arm & Hammer's regular style ( in the Yellow box) isn't as good as this one for clumping. I tried one brand that started out looking good ...Very low dust, lower price, BUT.... At cleaning time the clumps tended to often break off in smaller pieces that go through the sifting scoop. All in all, this brand has the most virtues that I'm looking for. One trick I've learned is... Start off initially with a DEEP amount. ( 4-5 inches. ) It takes a couple more minutes of search and sift but keeps any urine from messing up the bottom of the pan, and mostly keeps it in several big lumps . Other than starting off, you don't end up using any more because this stuff has lasting power.
biskits
THE best scoop able cat litter on the market!
Cats don't like strong scents in their litter, yet manufacturers keep on putting it in, obviously to help control odors. There are very few low scented scoopables on the market, but the Multi Cat fits the bill in my opinion.
vb1313
Great product, terrible packaging
I really wanted to send this message directly to Arm & Hammer rather than leave it in a review that probably doesn't get read, but the "contact us" portion of this site has serious security issues. So here we are. The actual litter would have received a 5 star rating, because it is the best at controlling odor and the most dust-free of the products I've tried. My only complaint in this regard is that it is much more expensive than the other products, but I guess you get what you pay for. The reason I'm going with 3 stars is because the packaging is awful. I can't get into these boxes to pour the litter no matter how hard I try. I've broken all of my fingernails and a knife trying to get that silly flap open to pour the litter. I usually end up taking the box to a male neighbor or friend and ask them tor rip into it for me. It seems ridiculous that the company can't package it in a way that is easy to open. I'm really surprised not to see more complaints about this problem.
Squirrellady
Great product, terrible packaging
I have two indoor cats and have been trying different cat litter to try to find one that is not so dusty.... so far this id the best one i have found.. the other ones i have tried left a cloud of white film on the furniture all the time, it was terrible. Im really happy that i tried Arm and Hammer Clump and Seal Litter gor multi cats!! My cats like it too, its kinda like sand, so they dont have a lot stick to the bottom of their feet whrn they exit the litter box , which is awesome too.!!!!😀
Jfoster19
No one ever knows we have cats!
This is our go to litter. We have 3 cats and this litter masks the smell almost completely unless you are right by it and it's time to change the litter! There's really no dust, clumps fantastically, and my cats like it. We've been using it for almost 3 years now. I've tried a couple other litters and the textures of said litters and smell was...atrocious. This is the best we've found! It's economical compared to other name brands, but still a little pricey. Especially when you go through litter fast, but it's worth it for the fact that it covers smell!