Arm & Hammer Clump & Seal Multi-Cat Litter, 28 Lb.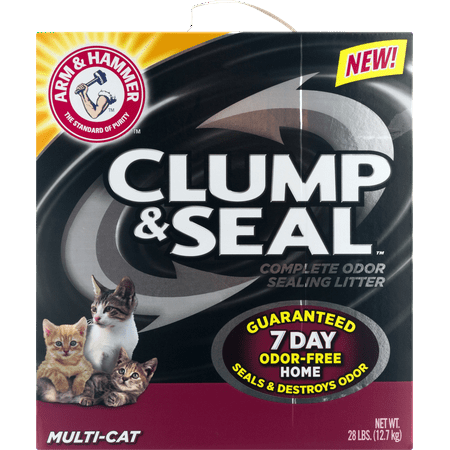 MSRP :

$15.28





Sale :

$14.34

Sold & shipped by Walmart
Product Description

Additional Information

Reviews
Product Description
Welcome to the Arm & Hammer Clump & Seal Fan Club! Congratulations! Join your fellow cat lovers in making the switch to the greatest litter ever created! Visit us on Facebook or at clumpandseal.com for: Special offers; Product information; Reviews from cat owners who have made the switch! And after you have made the switch to Arm & Hammer Clump & Seal, be sure to tell us how it feels having an odor-free home for 7 days.
Enjoy a 7 day odor-free home, guaranteed!
This new kind of cat litter first seals, and then destroys odors. Extra-Strength formula for Multi-Cat homes. Sealing: A proprietary blend of moisture-activated Micro-Granules forms an odor-containing seal around urine and feces. Destroying: Then a powerful formula with heavy-duty odor eliminators plus Arm & Hammer Baking Soda destroys sealed-in odors on contact. Plus...your cat will love the new, softer feel.
Additional Information

Arm & Hammer Clump & Seal Multi-Cat Litter, 28 lb:
Guaranteed 7-day odor-free home
Clump & Seal Litter seals and destroys odor
No crumbly clumps
Ultra-low dust
Low tracking
Advanced odor eliminator
Extra-strength formula
Suitable for multi-cat homes
Available in a 28 lb box
Reviews
ccl3
loved it until recently
I switched to this brand of litter 2 years ago and loved it. It was a great product and worked wonderfully at sealing odors, has been low dust/traction, and does a great job at clumping. I have been very pleased with this product until recently. However, the last several boxes that I have bought have been much lower in quality. The litter itself is a different color, and the dust is unreal. I had to change my return air vent after only a few weeks, because it was absolutely filthy. While I love my kitties little paw prints, I don't appreciate seeing them all over my shiny hardwood floors, and unfortunately I have seen an abundance of dusty paw prints lately. I have 3 XL litter boxes that I fill with clean litter routinely. So, I purchase a lot of litter, which is a costly investment, and I don't know if it's worth investing in this product anymore. Not sure if they have changed the formulation of ingredients, or if I have just gotten a bad lot of litter with my last 2 purchases.
RE Wallace
Put to the Ultimate Test and Passes!
I was living in my RV temporarily for over two years with two of my daughters cats as they trekked off to college. My RV was NEVER meant for that kind of stay, it's only 24 foot! But there we stayed, cat poop and me within a ten by roughly four foot area of forty square feet. Thank God Arm and Hammer came out with this product in the black box so timely as it was! I switched from their regular cat litter and the results were incredible! In fact, I'm listening to ACDC's "Back in Black" as I write this, befitting the mood of the power of Clump and Seal in removing the odors. Back in a home, I thought I'd try to go back...no-no-no! This - I said to myself, This, will never do! I am back on the black. No, I didn't get paid for this although I am a writer. Ps. I had never had cats before, so how was I to know you didn't walk them like dogs without leashes? They did, in my ignorance, and I have become known as "Cat-Man" and "the Cat Whisperer' as the cats don't know any better either apparently! Meow.
Cat Lover
OMG - The BEST Litter EVER!!!
As a lifelong cat owner (indoor only cats since the early 80's), I've tried SO MANY litters over the years that I've lost count. My search is finally over as this is THE best litter ever! We have two cats. Our 21-year old Tiger shares my home office/studio with me. Because she isn't as mobile as she once was, her litter box is right in here with us. As hard as I tried to keep her box clean, there was never any mistaking the fact that there was a litter box in very close proximity - that is, until I recently discovered Arm & Hammer Clump & Seal! I could hug whoever invented it! "Our" office/studio is now completely odor free - ALL the time (and Tiger is a cat who stopped covering her 'business' years ago!). The clumping action is superb! It is a breeze to keep her box clean and fresh for her (and me!). Thank you SO much. My lifelong search for the perfect litter is finally over! I just wish I could give more than 5 stars!!! Don't ever change anything about it!
HK45
Do NOT waste you hard earned money
I tried this on a wing and a prayer... We have two cats (Devon Rex) 8.5 lbs each. Not 15 lb Russian Blues. I've never thought I'd say this about and Arm and Hammer product...Awful.. First day didn't even come close to living up to the advertised 7 day odor free. I grew up with multiple cats (outdoor) and we still had a cat box.. it was cleaned daily. Our cats today, 90% indoor, 99% during winter. Cat box is checked and scooped constantly...I did the poop-scoop today (07, Nov, 2014, 0545 am, and again at 0745) The litter stinks... if you don't scoop just right the clump fall to pieces. You can smell the box before you get into the room.. When I came if from work (11pm) I could smell the box...NOT A GOOD SIGN The litter it's self is close to beach sand.. Everyone knows cats are not gentle little diggers... and we have a large box...this 'sand' fly's like nothing I've seen I would highly recomened to you...cat lovers, and it pains me...don't buy this litter
jfro718
BEST LITTER EVER!!
Well first let me see that Clump and Seal litter is outstanding. I am not one to write reviews and realize most reviews are made up from the consumer. I assure you this is not the case. I had to write a review about this litter. We made the switch about a year ago and about six months ago we found a few local stores were out of it a we went into panic. Thankful stores have been fully stocked and I will never buy another litter. I've noticed a few critical reviews about an annoying "sweet smell" from the litter that some don't like. I disagree completely but I think they may be talking about the "multi cat" as to the "fresh home". Personally I buy one of each every time. As weird as this sounds I actually enjoy scooping the litter box now. There is never a bad smell, no dust (I used to wear a mask for our old litter when scooping), and clumps and seals perfectly. Don't change a thing guys! You got a winner here!