Arm & Hammer Pure Baking Soda, 4 lb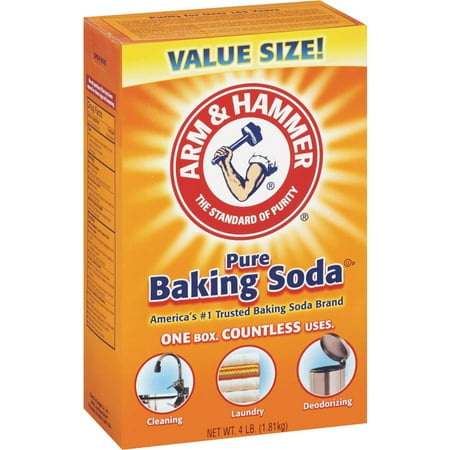 MSRP :

$36.56





Sale :

$2.48

Sold & shipped by Walmart
Product Description

Additional Information

Reviews
Product Description
This Arm & Hammer Pure Baking Soda 4.0 lb box is a convenient size to use for baking, and it has practical applications for use around your home. It temporarily protects and helps relieve minor skin irritation and itching due to poison ivy, oak, and sumac. Arm & Hammer baking soda is safe and natural with no additives for fillers. Place a box in your refrigerator to trap odors and keep your appliance fresh smelling for weeks. It can be used as a cleaning product for many surfaces too.
Additional Information
Baking Soda, Pure, Value Size!
Other Information: (Antacid:) Each 1/2 teaspoon contains 616 mg sodium. Misc: The standard of purity. America's No. 1 trusted baking soda brand. One box. Countless uses. Cleaning. Laundry. Deodorizing. Purity for Over 165 Years: It's true that all baking sodas must meet minimum quality standards before they can reach the consumer, but despite popular belief, all baking sodas are not made with the same level of care. For over 165 years, Arm & Hammer Baking Soda has exceeded quality standards to deliver a product that maintains a commitment to purity and quality. That places Arm & Hammer Baking Soda in a category apart from any other baking soda. Our purity meets the most stringent requirements and conforms to pharmaceutical and food code standards around the world. Not every baking soda can make that claim. Because we understand it's important to you, Arm & Hammer Baking Soda is committed to making sure that what you put into your body and use in your home is as pure as it can be. Visit us at www.armhammer.com for more useful ideas you can count on from a product you trust. As always, Arm & Hammer Baking Soda is the natural and affordable solution for cleaning and freshening throughout your home. For a fresher cleaner home. Arm & Hammer Baking Soda is pure, safe and natural. For Fresher, Cleaner Clothes: Improves your liquid laundry performance. Add 1 cup with liquid laundry detergent for cleaner, fresher clothes. For Scratchless Cleaning: Scrubs away stains and grease without scratching. Use in the Kitchen: sinks; counters; ovens; refrigerators; coffee pots; microwaves; pots & pans; stainless steel; china. Use in the Bathroom: Will safely remove tough stains, and lift off dirt and soap scum. Sinks; counters; tubs; showers; toilets; tile, grout & more. For Household Deodorizing: Absorbs and eliminates odors on contact. Garbage pail; carpets; disposals & drains; litter boxes; dishwasher (between uses). For Pur and Natural Personal Care: Relaxing Bath: Add 1/2 cup into your tub for a refreshing bath or foot soak. Fuller, More Manageable Hair: Add 1 teaspoon to your shampoo once a week. Invigorating Yet Gentle Facial Exfoliant: After washing face, apply a paste of 3 parts Baking Soda to 1 part water in a circular motion (avoid eye area). Rinse for a fresh, clean face. Visit armhammer.com for more baking soda tips and special offers. The Arm & Hammer Money Back Guarantee: We unconditionally guarantee 100% satisfaction. If you are not satisfied in any way, please call our Consumer Relations Department toll-free at: 1-800-524-1328, 9am - 5pm ET. Box made from 100% recycled paperboard (minimum 35% post-consumer content).
Reviews
16Furbabies
litter box dooty
I have 8 cats and have to maintain 6-9 litter boxes. I HAVE to use baking soda! It helps keep the ammonia smell down tremendously. I usually buy the Family Dollar store brand because it is cheaper than Arm & Hammer but I couldnt pass this deal up. As long as my cats arent allergic to it & ill continue to get the 4lb box of A&H (one of my cats had a severe allergic reaction to the clover valley brand baking soda. )
abearwhocares
ARM & HAMMER 4pound BAKING SODA
This is the best cost per pound currently offered by Walmart. 1 lb and other sizes cost more for the-- identical-- product. such a useful product from internal to external. read about hundreds of uses on the internet. i use to soften water and detergent removal with some in a final washer rinse. great soak for smelly clothes or tennis shoes. good to sprinkle dry on carpet--let it sit a bit and vac away. add to your swimming pool to adjust alkalinity cheaper than fancy name brands which are just --baking soda!! cat litter loves it!.. but cat might sneeze as it is so finely processed-- but safe. IT IS NOT THE SAME AS WASHING SODA!! similar but WASHING SODA is HIGHLY HEATED baking soda-to change the chemical composition....100% pure baking soda can go into your body--washing soda SHOULD NOT- too alkaline!!! used this product for years and always have a supply stocked. also soothing on a skin rash-diaper rash or bee sting.
SweetKentuckyRose
Wonderful product
Arm & Hammer Baking soda is a fantastic product. Add to washing machine, and it removes all odors, smoke, unine, BM, sweat, everything. I let my clothes soak for 20 min in machine 1st. It takes chlorine smell out of swim wear or scuba wear. It is great for brushing teeth and leaves mouth feeling fresh. Great for cleaning around house too, and it does not scrape or damage porcelain. Great product to have at home.
JGRG727
Can't believe how well it works!!
I received a sample of Arm & Hammer baking soda and a book with over 100 ways to use it. I am amazed that there are so many uses. I love it in the fridge and I've always used it there. Now I use it in my cats litter box to freshen it up. I put it on the carpet before I vacuum. I now keep this large 4LB box in my cabinet at all times. I love Arm & Hammer Baking soda!!
LiveRock
4lb for the price of 1lb
Was expecting the 1lb regular size box and was surprised to see a much larger one. Thought it was a mistake at first. Was happily surprised to find out it wasn't. It works great for laundry, cleaning, and carpets, not just cooking. I'll use it up in no time.