Arm & Hammer Pure Baking Soda, 4 Lb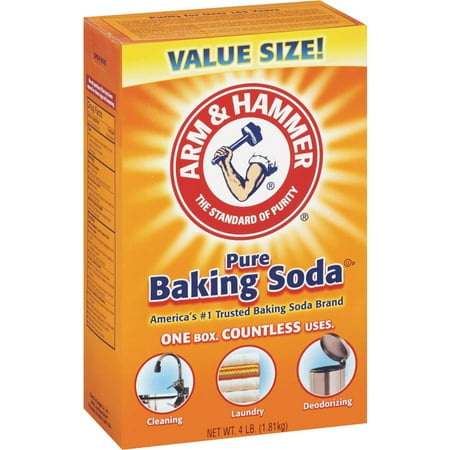 MSRP :

$36.56





Sale :

$2.24

Sold & shipped by Walmart
Product Description

Additional Information

Reviews
Product Description
The 4lb Arm & Hammer Baking Soda package has countless around-the-home uses. Place it in your refrigerator or trash can and it will absorb odors and keep the air crisp and odor-free. You can even use this baking soda for laundry cleaning purposes. This pure formula from Arm & Hammer does not use additives or fillers so you receive a pure and powerful product.
Additional Information

Arm & Hammer Pure Baking Soda, 4.0 lb:
1 box, countless uses
America's #1 trusted baking soda brand
Arm & Hammer refrigerator baking soda traps odors in the fridge
Can be used to relieve skin irritation
Multiple cleaning applications throughout the home
Laundry deodorizing
Pure baking soda with no additives or fillers
Reviews
Unknown Customer
Arm and hammer baking soda
I use the baking soda several ways Love the product.
16Furbabies
litter box dooty
I have 8 cats and have to maintain 6-9 litter boxes. I HAVE to use baking soda! It helps keep the ammonia smell down tremendously. I usually buy the Family Dollar store brand because it is cheaper than Arm & Hammer but I couldnt pass this deal up. As long as my cats arent allergic to it & ill continue to get the 4lb box of A&H (one of my cats had a severe allergic reaction to the clover valley brand baking soda. )
abearwhocares
ARM & HAMMER 4pound BAKING SODA
This is the best cost per pound currently offered by Walmart. 1 lb and other sizes cost more for the-- identical-- product. such a useful product from internal to external. read about hundreds of uses on the internet. i use to soften water and detergent removal with some in a final washer rinse. great soak for smelly clothes or tennis shoes. good to sprinkle dry on carpet--let it sit a bit and vac away. add to your swimming pool to adjust alkalinity cheaper than fancy name brands which are just --baking soda!! cat litter loves it!.. but cat might sneeze as it is so finely processed-- but safe. IT IS NOT THE SAME AS WASHING SODA!! similar but WASHING SODA is HIGHLY HEATED baking soda-to change the chemical composition....100% pure baking soda can go into your body--washing soda SHOULD NOT- too alkaline!!! used this product for years and always have a supply stocked. also soothing on a skin rash-diaper rash or bee sting.
SweetKentuckyRose
Wonderful product
Arm & Hammer Baking soda is a fantastic product. Add to washing machine, and it removes all odors, smoke, unine, BM, sweat, everything. I let my clothes soak for 20 min in machine 1st. It takes chlorine smell out of swim wear or scuba wear. It is great for brushing teeth and leaves mouth feeling fresh. Great for cleaning around house too, and it does not scrape or damage porcelain. Great product to have at home.
JGRG727
Can't believe how well it works!!
I received a sample of Arm & Hammer baking soda and a book with over 100 ways to use it. I am amazed that there are so many uses. I love it in the fridge and I've always used it there. Now I use it in my cats litter box to freshen it up. I put it on the carpet before I vacuum. I now keep this large 4LB box in my cabinet at all times. I love Arm & Hammer Baking soda!!