Arm & Hammer Clump & Seal Litter, Multi-Cat 38 lb.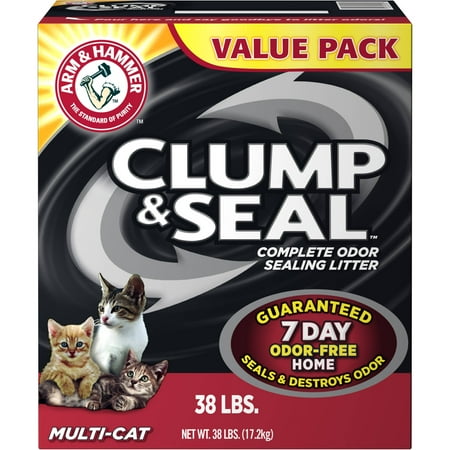 MSRP :

$58.3





Sale :

$19.37

Sold & shipped by Walmart
Product Description

Additional Information

Reviews
Product Description
Arm and Hammer Clump and Seal Multi-Cat Litter is the biggest advancement in cat litter history. A proprietary blend of moisture-activated Micro-Granules forms an odor-containing seal around urine and feces. Then a powerful formula with heavy-duty odor eliminators plus Arm and Hammer baking soda destroys sealed-in odors on contact. Plus, Clump and Seal Multi-Cat offers an extra-strength formula specially formulated for multiple-cat households.
Additional Information
7 day guarantee. Experience the confidence of a 7-day odor free-home—guaranteed.
100% Dust Free, No more dust clouds when pouring or scooping.
Seals and destroys odor. Moisture-activated Micro-Granules form a tight seal around cat waste odor, and heavy-duty odor eliminators plus ARM & HAMMER Baking Soda destroy sealed in odors on contact.
No crumbly clumps. Plant-derived particles help create rock solid clumps for easy scooping.
Multi-cat strength. Specially formulated for multiple cat households.
Reviews
MeganG
Best Litter ever
After switching to this brand, I'm so much happier. It clumps well and never smells. We clean out the box once a week, and the only time I start to notice a smell is the day I have to clean the box. The red box is better smelling than the blue box (I only have one cat though). And avoid the light-weight kind all together... it's super messy, sticks to my cat, and ends up all over the house. I like the smell of the light weight the most, but it's way way way too messy. I love that there is almost no dust with this as well, so when you pour it, you don't feel like you have to hold your breath. I use half a box to fill the litter if I'm completely changing it, then for the next three weeks I just clean out the box and add litter. The fourth week is a new box. Keeps the cost down, and it's good enough litter I don't have to worry about the smell between the two full replacements. Highly highly highly recommend.
cancer74
Cat litter
This cat litter is amazing, I feel. I've had cats my entire life. I've used clumping litters for over 20 years and I have yet to "smell" the litter box since switching to this. To be fair, we only have two spayed female cats. The litter box does get scooped regularly. I think that's imperative no matter what brand of litter you use. I also throw the whole batch out every 6 months, and wash/dry the litter pan. But this stuff really binds together- better, it seems so I feel like there's less waste. We initially tried it because we had moved and needed to keep the litter box in my daughter's bedroom closet. Never noticed a smell (other than the perfumed scent of the litter itself) in that tiny space during the entire 6 months we had to keep it there. It's worth the extra money to me. I've noticed I am buying litter less frequently since switching to it.
Telecoman
Great litter
Best clumping litter I have found so far. Tracks some but not as bad as some I have used. Texture is fine like sand. Covers odors good. Only down side if you can call it that is that the clumping uses a fair amount of litter so you replenish it more often, but not enough to break the bank. Price is good if you buy the largest box you can get.
Debb
Best for Controlling Odor
I have used Clump and Seal since it came on the market. I have 4 cats inside and and this is the best litter for controlling odor. The 38 lb cartons are a pain, but I have them delivered, cut open the tops and use a scoop to put the litter in the cat box.
Deb
Best Litter I Have Ever Used
This is a great litter, and the only one I will buy now. Has great odor control, and nothing sticks to the bottom of the litter box!! Try it, I don't think you will be disappointed/