Evenflo Big Kid Sport High Back Booster Car Seat, Goody Two Tones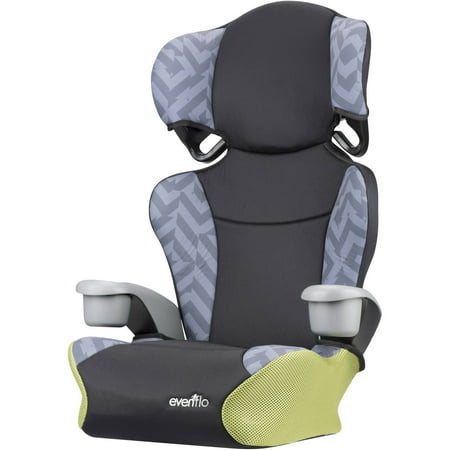 MSRP :

$29.88





Sale :

$25.5

Sold & shipped by Walmart
Product Description

Additional Information

Reviews
Product Description
The Evenflo Big Kid Sport Booster Car Seat gets your child excited about sitting in a booster seat! With 6 height positions, the back adjusts as your child grows, keeping the side and head support in the proper position. It also transitions into a no-back booster. Your child will love the comfortable padding around the head and body. The dual cup holders will keep drinks and snacks close.
Additional Information
2 Seats In 1 — removable back for easy transition to a no-back booster
Easy one-hand, 6-position height adjustment to accommodate growing children longer
2 cup holders for drinks
Machine-washable pad keeps seat looking clean
Side Impact Tested: meets or exceeds all applicable Federal Safety Standards and Evenflo's Side Impact Test Standard
Designed and tested for structural integrity at energy levels; approximately 2X the federal crash test standard
Energy absorbing foam liner provides added safety and comfort
For use as High Back booster (with backrest)

Weight

: 40-100 lbs

Height

: 44-57 inches

Age

: Child is at least 4 years old and child's ears are below top of child restraint headrest
For use as No Back booster (with backrest)

Weight

: 40-100 lbs

Height

: 44-57 inches

Age

: Child is at least 4 years old

Questions about product recalls?
Items that are a part of a recall are removed from the Walmart.com site, and are no longer available for purchase. These items include Walmart.com items only, not those of Marketplace sellers. Customers who have purchased a recalled item will be notified by email or by letter sent to the address given at the time of purchase. For complete recall information, go to Walmart Recalls.
Reviews
ZACHMOB
Weight description IS CORRECT
I was very disappointed after I read the reviews stating the description by Walmart is inaccurate. Since I really liked the price I went to Evenflo.com and verified that without the back the weight requirement is 40 lbs, but with the back on, the weight requirement drops to 30 lbs. Since this affects our kids, I'm attaching a screen shot so no one has to take a strangers word for it. If you only glance at the picture you will see the 40 lb specification centered, but take a moment and look to the far left where is states back booster 30 lbs A clip at the top back on the seat to secure it in place after the seatbelt is removed would help the kids get out a little easier. Just a observation. Well worth the money.
Jessiee
PSA!!! INCORRECT HEIGHT REQUIREMENTS
I read the reviews about the incorrect weight listed...but a big problem is the incorrect height requirements that are listed. Not only is the height requirement that is listed on Walmart website 38-57 inches, it also says this on the EVENFLO website! Imagine my surprise when a big warning sticker on the car seat, AND the instruction booklet say that for use WITH and WITHOUT backrest, the height requirement is 44-57 inches. I called Evenflo and they recognized the discrepancy and have referred the matter to upper management. Per Evenflo Parent link representative, the 44-57 inch height requirement is what should be followed. PLEASE READ THIS FOR THE SAFETY OF YOUR CHILD!
runningwthsizors
Would definitely buy this seat again.
This booster does exactly what we need. We bought it but I wasn't sure if it would have to be returned because the size says 44" but my granddaughter is 42 1/2" an it fits her perfectly. The difference in whether it fits or not may be in the length of the child from shoulder to hips and from hips to feet. She is 16" from the tops of her shoulders to her hips, while seated. The seat has better padding than some of the others I have looked at plus the height of the seat is higher than some, making it easier for her to see out. The seat cover is a little difficult to put on, but if you follow directions exactly, it goes on a lot easier. Its not my favorite color and there should be more than 2 options ( this color and pink and I didn't want pink so it can be later used for my grandson) but I'm more worried about safety than color. Some of the reviews say it does not attach to the vehicles seat and while that is right, if you leave the seat belt through the top of the booster seat, it does help to hold it into place. I know this is a detailed and lengthy review but I went through many reviews for a lot of seats and even bought 2 other seats and returned them because I couldn't find enough information on them before they were purchased and they were not right for us so I hope it helps. We are all in this to keep our babies safe so all I can say is no matter which seat you buy, put it together and give it a trial run BEFORE you go anywhere to make sure it's the very best option for you and yours.
neighner
Easier to self buckle
We tried out this one and 3 other ones more expensive than this in our car and this one was the easiest for my 6 year old to buckle herself in with. Something about the belt guide with any other seats made it hard for her to pull the seatbelt through the guide. With this one the belt slides through the belt guide easily. I like that it has the cup holders on the armrest compared to the Evenflo Amp version of this because it doesn't take up leg room if she has a cup. With the Amp it did. The only negative I have with it is that it does not have latch to hold it in place when not in use to prevent it from being a projectile in a crash. But she just buckles it in when she gets out to hold it in place.
Kelb
Good price but feels a little flimsy
This seat is only for kids 4 years or older who weigh over 40 pounds. There are no latches. It's for a kid who can strap into a seatbelt themselves. The price is great and we have purchased two other Evenflo seats for younger kids and have liked them far better than this one. Pros include removable cover for easy cleaning and washing of the whole cover. For the price, it's worth it. It's also versatile and lightweight. You must strap seat back into seatbelt when child leaves the vehicle so it doesn't become a projectile. Only con is it seems a little flimsy with the removable back on but it has to meet all federal safety requirements so I'm sure it is actually safe.