Evenflo Maestro Harness Booster Car Seat, choose your color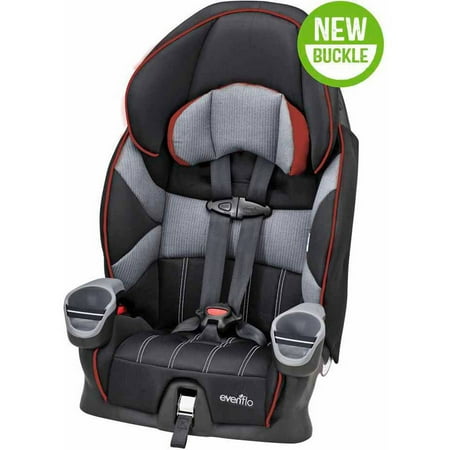 Sale :

$87.49

Sold & shipped by Overstock
Product Description

Additional Information

Reviews
Product Description
The Wesley Evenflo Maestro Harnessed Booster Car Seat features an innovative headrest design that allows the vehicle belt to self-adjust to your child's height while in booster mode. Enhanced sidewalls and head support provide comfort and safety for the child. Sporty style elements appeal to children, as will the integrated cup holders with flexible stripe design. The Wesley Evenflo Maestro Harnessed Booster Car Seat accommodates children ranging from 22 to 110 pounds. This combination baby booster car seat provides an exceptional value for a seat with such a wide array of innovative features.
Additional Information

Evenflo Maestro Harnessed Booster Car Seat, Wesley:
5-point Harness: for a child 22-50 lbs and 28-50" tall; tops of their ears are below the top of the child restraint headrest; at least 1 year of age
High Back Booster: for a child 40-110 lbs and 43.3-57" tall; tops of their ears are below the top of the child restraint headrest; at least 4 years of age
Converts from 5-point harness to booster for use with vehicle seat belt as child grows
Make adjusting easy with the upfront harness and 2 buckle positions
Energy absorbing foam liner provides added safety and comfort
Removable head pillow maximizes child's comfort
Machine-washable car seat pad keeps the seat looking clean
Integrated cup holders for convenience
Assembled weight: 11 lbs
Dimensions: 20.5"L x 19"W x 27"H
Equipped for LATCH and tether systems
This baby booster car seat meets or exceeds all applicable Federal Safety Standards and Evenflo's Side Impact Test Standard
The Wesley Evenflo Maestro Harnessed Booster Car Seat has been designed and tested for structural integrity at energy levels approximately 2X the federal crash test standard
Questions about product recalls?
Items that are a part of a recall are removed from the Walmart.com site, and are no longer available for purchase. These items include Walmart.com items only, not those of Marketplace sellers. Customers who have purchased a recalled item will be notified by email or by letter sent to the address given at the time of purchase. For complete recall information, go to
Walmart Recalls
.
Reviews
MusicCityMomma
Looks good, but difficult to buckle/unbuckle
This seat really looks nice. The dark red trim matches our car perfectly -- I was afraid it was going to be a brownish red from the online picture, but it's brighter than I thought. The two cup holders are also nice. I do have two complaints though. The buckle is not the old style, as shown in the photo, but is a newer style instead. It is too difficult for my four-year-old to fasten by himself. He could buckle himself into his old Evenflo seat, so it's disappointing that with this new seat we have to revert back to buckling him in ourselves every time now, rather than simply tightening up the straps after he's buckled himself in. I even have trouble getting it unbuckled myself. The other issue for us is that the straps dig into the side of his neck. We've tried moving the shoulder straps up/down a slot, but they are still tight there as well. Our son is very thin, so I can't imagine this seat fitting a larger-sized child comfortably. We're hoping that soft strap covers will help. If not, it looks like we'll be looking for another seat.
UmLnL
Good booster seat
I purchased the Devon model a couple of months ago, which is the same like this one but slightly different colors. I'm happy with the seat. It meets my expectations. It is light weight, stylish, ready out of the box (just install cup holders in seconds) and most importantly, comfy for my 2 yr old. I like how easy it is to adjust the belt, it slides easily to loosen or tighten the belt. The cup holders are sturdy and won't pop out on their own like some flimsy ones I've seen. I read negative reviews about the buckle button. It is not that bad. IT IS harder to use than my previous carseat, ( you have to push the button hard to unbuckle it) but I noticed that most booster carseats I checked at different stores are like that as well, i think it is for safety reasons, so that toddles won't unbuckle themselves! Any way, the buckle becomes easier to use with time. I also read negative reviews about the straps digging on the child's neck. That is true! But it is not a big deal. I'm using soft strap shields which protects my child's neck. Unfortunately, this seat is not very comfy for a sleeping child, but so are most booster seats, unless you buy the bulky ones with the recline feature!
Ohburton
Excellent!!!
I received this car seat for review and it couldn't have come at a better time. I was looking for a new car seat for my sitters and actually bought a graco that I had to return due to my 18mth old didn't like and it was a fight to get him in. Let me start with I love the weight of the Maestro, since I'm normally carrying kid and car seat into sitters house. This seat is lighter compared to most. The straps are easy to adjust, and I'm very happy he can stay in 5 point harness until 50lbs then you can take straps out for use as highback booster with seat belt. The best thing is he lets me put him in with no problem and he looks very comfrontable. He likes the cup holders one for his cup and one for his toy car that he takes every where. The cover seems to be easy to take off if it needed to washed. I'm very happy with this car seat and am looking at buying one now for my other sitter so I don't need to transport between. If your looking for the basic seat that functions and protects then this is it . [This review was collected as part of a promotion.]
Luisa
Awesome
Great, I love it. The cup holders come handy, the price is right, the color is neutral (shush didn't have red accent lines). The chair is very secured to the car and does not move at all which makes me feel safe. I wish the padding around the head was bigger so my kids neck would not hang while sleeping but I am just going to have to get a neck pillow like the ones you use in the planes. It looks like it will clean easily. It shipped 2 days free! Walmart is the cheapest place to purchase this chair. I checked every where. I had a nice expensive second hand car seat that was expired and recalled. This chair is affordable, safe, good looking and will convert to booster later :)
dlhvaughn
Awesome seat for bigger kids!
This is the 3rd Maestro I've purchased (one for grandma's car, one for grandpa's car, one for dad's car). My daughter rides comfortably with no complaints. She's 4 years old, just under 40lbs, but not quite ready for a belt positioning booster. I love that the internal harness goes to 50lbs. When she outgrows the harness, the seat can be converted to a belt positioning booster. The seat itself is lightweight and installation with the car's seat belt was a snap. We are very pleased with this seat!