Evenflo ExerSaucer Doorway Jumper, Owl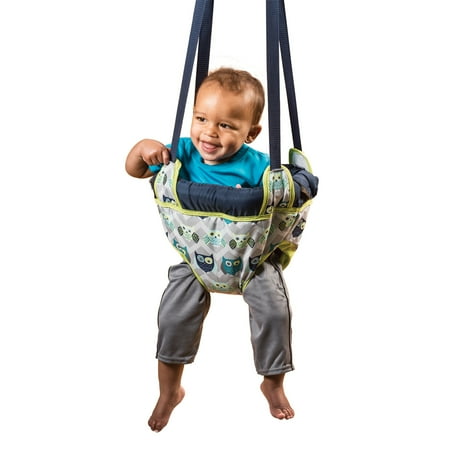 Sale :

$22.99

Sold & shipped by Walmart
Product Description

Additional Information

Reviews
Product Description
This doorway jumper stimulates baby through jumping fun. It provides entertainment and exercise for baby without taking up all your floor space. The framed seat fully surrounds the child providing comfort and the sturdy door-frame clamp provides a secure fit in most interior doorways. Parents can feel comfortable knowing their child is protected by a fully-enclosed spring that prevents the child from touching the spring. Because this doorway jumper is easily packed, it is also great to take on the road for playtime anywhere and it's easy to wipe clean when you're finished using it.
Additional Information
Evenflo ExerSaucer? Doorway Jumper, Owl
Reviews
HappyBaby
My son loves it!
My 4 month old loves it and he loves to swing in it. I was a bit nervous at first because I didn't know how safe it was considering it just clamped to the frame of the wall but my son loves it!
JMS460
Okay fir the price
The jumper seat itself is kinda small and tight. so I can't see my grandson using ivery lomg. The disegn makes it hard for him to put his arms together. But he does like the jumping action and It is well made and easy to put together.. Hindsight i would have paid a little more for the larger type jumpers but they are more than double the price. So for now this one will do. It is a quality product and well made but just small.
TxBoyMom
Awesome Jumper
This jumper is awesome! My 6-month old son absolutely loves it, and I loved the price and design. His nursery colors are navy, bright green and grey, and this design fit perfectly. The picture is 100% accurate so there was no guessing if we were going to like the design. The jumper was super easy to put together and the instructions were easy to follow, yes I read the instructions! My son went to town in this jumper, he was entertained for hours. We also have a Fischer-Price jumperoo he likes, but for some reason he really loves this jumper! We also attached a few teething rings for him while he jumps. Overall, great product for a great price that your child will just love to use to jump.
alyssa
Good product
My 6 month old daughter absoloutley loves it but the reason i gave 4 stars instead of 5 is because there is a rather loud squeak from the spring and shes only 16 pounds.
Chris
Best Toy yet
My wife was a little skeptical when I told her I wanted to buy this for our son. Even when I first set it up I didn't know that it would be a good thing. I remember he kind of just sat there and looked around the first few times we put him in there. Let me tell you things quickly changed though. This has become his go-to toy. I don't go anywhere without it. He likes to spin and jump in circles. This thing keeps him occupied for at least 20 minutes each time we put him in it. He has many other more expensive toys and this simple toy is by far his favorite. One thing that helps is having a wide doorway. I wouldn't feel comfortable with him using it in a standard size doorway. The way he jumps in wide circles would never work. Thankfully we have a wide enough area with French doors for him to do his tricks. He started using it at six months old and now at ten months he still loves it daily.