Evenflo Big Kid Sport High Back Booster Car Seat, Grand Prix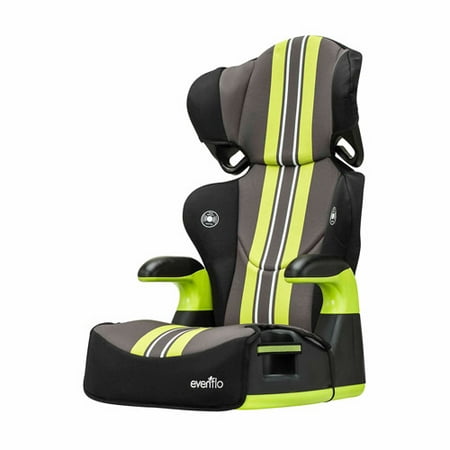 MSRP :

$29.88





Sale :

$29.5

Sold & shipped by Walmart
Product Description

Additional Information

Reviews
Product Description
The Evenflo Big Kid Sport Booster Car Seat, with dual cup holders, will keep drinks and snacks close. The one-hand full-body adjustment allows the seat to be positioned at six different heights for a correct fit, and allows the seat to grow with your child. The removable back allows the seat to transition to a no-back booster when your child is ready.
Additional Information
Evenflo Big Kid Sport High Back Booster Car Seat, Grand Prix:High back booster mode from 30 to 110 lbs and 38" to 57" tallNo-back booster mode from 40 to 110 lbs and from 40" to 57" tallRemovable back for easy transition to a no-back booster1-hand, 6-position height adjustment to accommodate growing children longerRemovable and washable seat pad2 elastic cup holdersAssembled weight: 10.5 lbsDesigned and tested for structural integrity at energy levels approximately 2X the federal crash test standardQuestions about product recalls?Items that are a part of a recall are removed from the Walmart.com site, and are no longer available for purchase. These items include Walmart.com items only, not those of Marketplace sellers. Customers who have purchased a recalled item will be notified by email or by letter sent to the address given at the time of purchase. For complete recall information, go to Walmart Recalls.
Reviews
Unknown Customer
Evenflo Big Kid Sport High Back Booster
My 5 year old son would give this a 5 star rating. He likes it especially the fact that it has his favorite color on it. However... I would give this a 3 star rating... Recently we were rear ended by a person paying attention on their phone. We were at a red light, complete stop, waiting on green. They fortunately weren't going very fast but it still lurched our van. Fortunately my son wasn't with us as he would've been closest to the impact in the back but my 3 month old daughter and 2 year old daughter were with me. Our car was lurched almost into the oncoming traffic. My daughters were scared but OK, thanks to proper car seats and strap placement. I received whip lash. Upon inspecting my van, I began to remove his seat to get to the back/trunk area, as my van was hit hard enough to where my van trunk door (automatic) will not open, I realized how flimsy this seat was and when i picked it up, the back came right off. When i pick it up, I can bend it to an extent. I honestly just don't feel secure about this seat anymore and wish I had the funds to buy a firm/strong seat that wont bend (like my daughter's seats) if i try to bend it. The price is great! I read the reviews here before purchasing and thought it was a good seat and it was in my son's favorite color... but the saying is true, you get what you pay for and I wish I could go back and just spend more money on a stronger seat.
Elgato1777
Good
Deliveri fast and pick up easy
Suzanne
Best value for the money
There are 4 sets of these seats, one for boys and one for girls in our family. Now there is no constant swapping car seats between parents and grandparents. Over the last 2 years, they've held up well. They're easy to assemble, easy to keep clean and are lightweight enough for travel. The newest version has a stowaway handle to facilitate carting it around an airport if you don't have the travel bags for them - I did for the older version which had no stowaway handle. They'll last until the children no longer need anything but seat belts because they transition to booster seats. When that occurs, they now have a strap feature that adjusts to help properly situate the shoulder harness for maximum protection and comfort. The negative that comes to mind is that they could use more padding for both safety and comfort. As it stands, they remain a very good value for the purpose and money.
Lacora
Simplicity
I just purchased this car seat for my son and we love it! The seat is in a box with three pieces to assemble which is supper easy to put together. You do not have any screws or anything such as that. All you have to do is snap the three pieces together. I had a little hard time snapping the top two parts so my husband had to assemble that for me. The cushion is held on by tiny strings that you have to hook. The strings make it easy to take the cushion on and off for cleaning. The color is more of a neon green than a yellow. The top part of the seat is adjustable so the seatbelt will fit the child properly. Although this seat is cheap compared to others it has plenty of cushion. The only thing I don't like about the seat is that it sits in a straight upright position. It would be nice if the seat would tilt back a bit when in the car.
Grandparents
Outstanding Car Seat
I checked the Consumer Reports reviews prior to purchasing this car seat and it was rated very highly. After purchasing it I can see why. We bought it to transport our grandson in our vehicle without having to swap out car seats with my daughter every time we picked him up. It was extremely easy to install and is a great hit with our grandson. He loves the feel and ride of the seat. I would highly recommend it to anyone looking to purchase a reasonably priced booster seat.