Evenflo - Tribute 5 DLX Convertible Car Seat, Saturn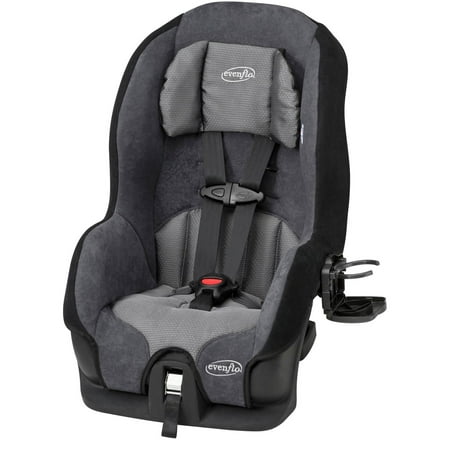 MSRP :

$64.99





Sale :

$49.99

Sold & shipped by Walmart
Product Description

Additional Information

Reviews
Product Description
Ensure safe seating for your little one in the car with the Evenflo Tribute Convertible Car Seat. It is designed to meet all the Federal safety standards and Evenflo's side impact standard. This Evenflo convertible car seat comes with multiple shoulder harness positions to offer the right fit for a long use. The 5-position harness secures your child to the seat at all times. It features integrated head and body pillows and dual-positioning foot recline that offer comfortable seating. They are removable and washable. This baby car seat comes with a latch for easy installation in your car. You may choose to use it as a rear-facing or front-facing car seat. The Tribute Convertible Car Seat can accommodate children between 5 and 40 lbs in the rear facing position, and 22-40 lbs in the forward facing position.
Additional Information
Evenflo Tribute 5 Convertible Car Seat:
Rear Facing: 5-40 lbs
Forward Facing: 22-40 lbs
Meets or exceeds all applicable Federal safety standards and Evenflo's side impact standard
Designed and tested for structural integrity at energy levels approximately 2X the federal crash test standard
Multiple shoulder harness positions for a better fit and longer use
EPS Energy absorbing foam liner
Convertible car seat with 5-point harness
Dual-positioning foot recline
LATCH equipped for easy installation
Upfront harness adjustment and buckle release allows easy and convenient adjusting
The integrated and plush head and body pillows will allow your child to ride in comfort
Assembly required
Product weight: 11.65 lbs
Reviews
JulieAndToddler
Lightweight, but too short for long rear facing
Pros: lightweight, narrower base, medium installation difficulty, easy harness adjustments, removable cup holder, fabric seems easy to clean Cons: Too short so toddlers outgrow it quickly, no shoulder protection from harness, thinly padded cover fabric, doesn't fit level rear-facing in my Honda sedan, my average-sized 20 month old is nearly too tall for it already (his head is within an inch of the top and it should be at least two inches below). This lightweight car seat would be great for a kiddo who is a little smaller, and for a car backseat where you want space for people/other car seats. Also, I plan to keep my kiddo rear-facing for as long as possible, and he's too tall for that in this car seat. A forward-facing toddler may fit it just fine! Also, as installation goes, it's just as challenging as the other car seats in terms of getting the seat belt through and tight enough. But, because the car seat is so lightweight, it's easy to maneuver and switch from one car to another! [This review was collected as part of a promotion.]
Dufflebag_Bonnie
Best compact buy!
I've been using this for a little bit over a month for my son and he loves it. He sits up higher like a king. The design is compact so say goodbye to bulkiness. It's a room saver! [This review was collected as part of a promotion.]
TaxiCabRider
Lightweight seat needed for taxi travel in NYC
I purchased this car seat as I am a foster mother and must use cabs to sometimes take my 13 month old to the agency for visits. Needed something just for that purpose and so this seat was a great fit. It is lightweight and easy to carry. It is somewhat difficult, however, to loop the seat belt through the bottom for installation but not impossible. I don't know that I would recommend this seat for day-to-day use. Just seems to be extremely basic and not the safest on the market. But, again, in my situation it is perfect. I am always seated right beside my little one in the cab so I can keep a close eye on him while in the seat. My real complaint with this purchase, however, would be that when the package arrived from Walmart.com it was the seat within a box. Clearly it was returned by someone else - there was no packing materials, no instruction manual and there was a clip that was missing. Fortunately these things were not needed - and I needed to begin using the seat immediately.
StrawberryCris
Great value!
I have had my first son in this seat since he was 7 months old and will turn 3 in a few weeks! He loved it from day one. It is simple to install & move from car to car if need be. I have never had a problem with the harness or even with using the seat belt. It is a bit annoying to have to take the harness through all the holes to wash it, but once you do it once or twice it takes no time! As others have mentioned-the cup holder feature is funky, but i ended up just hot glueing it on! I also have a small car-Chevy Cobalt so I worry how the fancy BIG seats will fit in my car now that I have another little one about to switch into a convertible seat, but since i loved this one so much, I think i will just buy the same one again!!! It isn't fancy, but the safety ratings are good and it is a great functioning seat & that's all that matters to me . . .
None
Carseat
I really like the car seat, it's not heavy like some other ones and cannot beat the price. It also have some cushion to it. But one thing I didn't like much is the stand on the bottom where you can make the car seat tilt straight and slanted it didnt have a spot where you can push it in. Because when you are hold it up the stand going back and forth. But overall my son loves it and I'm like it.