Hartz Home Protection Odor-Eliminating Dog Pads, 100ct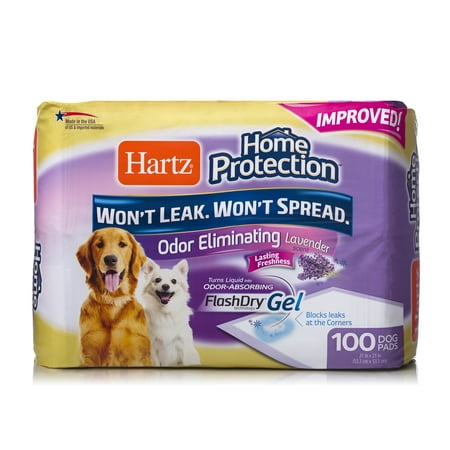 MSRP :

$24.99





Sale :

$22.44

Sold & shipped by Walmart
Product Description

Additional Information

Reviews
Product Description
Hartz Home Protection Dog Pads 100-Count are highly absorbent and won't spread or leak while you potty train your pet. These pads eliminate urine odor and have a light, fresh fragrance. Only Hartz dog pads are made with Flash-Dry technology that instantly turns liquid into a gel, preventing leaks that can damage your floor or carpet. In addition, they are specially treated to transform unpleasant odor into a clean scent. The dog urine pads have a very quick-drying surface that prevents tracking. These pads are ideal for training puppies or assisting aging dogs. Forget soggy, smelly newspapers and wet paw prints tracked through the house, and train your puppy or dog with these pads.
Additional Information
You'll enjoy these features from using Hartz® Dog Pads:
Won't leak and won't spread
Turns liquid into odor-absorbing FlashDry® technology gel
Blocks leaks at the corners
Each dog pad measures 21" x 21"
Reviews
Colleen
I swear by these
My daughter has a small dog that she crate-trained from 3 months old and since she was working at the time she started potty training her on these wonderful pads. She's going to be 2 yrs old and has only had a couple of accidents and that was only because she ran out. I order them online for Store Pickup the same day and it works out great.
Jackiek
Odor free
I've tried several kinds of puppy pads but always had a strong odor, but these are great. Good size for a 12lb Morkie.
Clarenceculpepper
Odor free
They are good but a little pricey. My dog is trained to use the pad because I'm disabled. I used a different brand and got almost twice the product for about the same price.but I can't find them anywhere. These work fine for my Clarence.
Clarenceculpepper
Love these Training pads!
I was able to try these pee pads thanks to Smiley360. We generally just use the plain ole type of pee pads because my older dog tends to have accidents so they are great to keep around the house. Well to my surprise these smelled really good. The smell actually last for a while too so it is a nice scent to have in your home. It isn't over powering either. Not only do they smell great, but they work great too. They seem to really hold the pee in the pad and it doesn't go onto the floor. I have used some other brands and hand to really clean my floor up after I threw the pad away. With these my floor looks just as nice and that makes me very happy! I wish they were just a little bigger I have used some other brands the pads were bigger, but that is just a minor thing. They work great and smell great too!"I received a free product for the purpose of my review. Opinions are 100% my own."
xocheena
Finally something works!
I have two 5 week old puppies, and purchased this item at my local Walmart. I was excited when I read that they added a Fresh Lavender scent. No one likes the smell of urine. And I was also intrigued by its claim that it turns the urine into gel. When I got home the pups immediately went on the pad and did their business. There were no leaks, or smells. I was thrilled. I will be purchasing these from now on. They are wonderful to have for training purposes or if you have an inside dog. Good Luck! I hope your experience is as good as mine was.