As Seen on TV Cloud Pets 12" Bear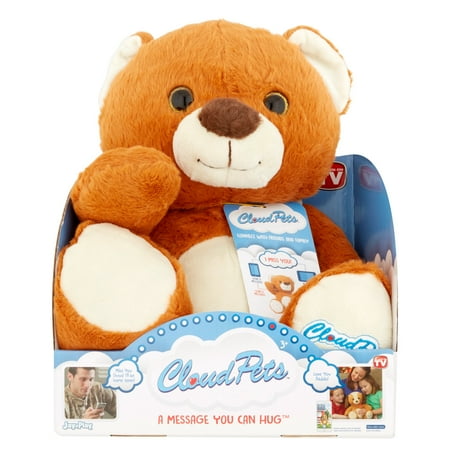 MSRP :

$39.99





Sale :

$18.99

Sold & shipped by Wiz
Product Description

Additional Information

Reviews
Product Description
The Cloud Pets 12" Bear is ready to help you stay in touch with the ones you love, no matter where you are. Cloud Pets make it easy to send a message you can hug to the most important people in your life, right from your phone or tablet. Parents, grandparents and loved ones can record a message from anywhere in the world and send it to a Cloud Pet instantly. When the Cloud Pet gets the message, its heart starts to glow. Squeeze its paw and the message will play. Squeeze its other paw to record a reply.

Sending messages to and from Cloud Pets uses the free CloudPets iOS or Android app. Cloud Pets use Bluetooth technology to send and receive messages from compatible smartphones and tablets. Only invited family and friends can send messages to Cloud Pets, keeping parents in control.
Additional Information
Cloud Pets 12" Bear:
Send messages from anywhere to your Cloud Pet
When the CloudPet receives the message, its heart begins to glow
Squeezing your Cloud Pet's paw plays the message
Squeeze its other paw to record a reply
Use the free iOS or Android app to send messages
Must be within approximately 30' of a compatible device to receive messages
Compatible with Apple iPhone 4S, 5, 5C, 5s, 6 and 6 Plus, iPad 3, 4, Air, Air 2, mini, mini 2 and mini 3
Compatible with Samsung Galaxy S4, S5, Nexus 6, 7 and 9, HTC One M7 and M8
Compatible with select other devices running iOS v7.1+ or Android v4.4.0 (KitKat)+ with Bluetooth Smart (Bluetooth 4.0/LE).
Batteries not included. Requires 2 AA batteries. Do not forget your Energizer Max batteries to complete your Cloud Pet!
Reviews
Ams0431
Easy to use!
I was very skeptical to purchase this bear after reading the reviews, but I figured I would give it a shot. I read the description and it clearly states which phones are compatible with the software. It is very easy to use and does not require to be plugged in. It works using Bluetooth and a master phone that is near by. My husband is military as well and can send messages to our son through the app from anywhere as long as he has service or internet access. Basically you approve who can send messages to the pet. Once someone uses the app to send a message, the parent or guardian receives a notification that there is a new message. You then approve the message and send it to the bear by pressing the send button. SIMPLE! The Bears heart lights up and then the child can listen to the message and even send one back. The receiver receives a notification they have a new message. SIMPLE, SIMPLE, SIMPLE! The instructions are very self-explantory.
Aquadelle
Not a very intuitive toy
We got this product to work after several tries, but beware you will have to troubleshoot. I'm also cautious because I don't have faith that it will continue to work. I can't recall the last time I purchased something so difficult to set up. The directions need to be clarified and more detailed. They also don't specify exact steps so you will have to do trial and error a lot. It also wasn't abundantly clear at first that you need to have the cloud pet connected to a nearby device before the person traveling can be connected to the cloud pet. For those reasons I've given the toy a fair rating. Whoever is responsible for the writing and communication on the product ought to be fired. My daughter had wanted this from the moment we saw the commercial since my husband travels for work, but I'm not sure I would spend the money if I had to do it over again. Be very wary before purchasing. I've read many reviews from many places that don't recommend this product and I agree that until it's upgraded, you might not want the hassle for you and your child.
dragynflye
Don't break your kid's heart
My husband is in the military. He is about to deploy and our 7 year old daughter is very upset. We saw the Cloud Pet commercials and thought it would be a great way to help her cope while Daddy's gone. She was so excited when she saw it, her whole face lit up. And then she was absolutely devistated that we have to return it because for some reason, despite what the website and instruction manual both say, it is not compatible with my husband's phone. Now we are consoling a sobbing child. Thanks, Cloud Pet.
OTMama
For under $10 sure, otherwise skip
I got this on Black Friday for $3 from another retailer. Knowing I spent so little I also immediately upgraded to the $5 app. All in at $8 I didn't mind the troubleshooting. The animals are adorable. Super soft and cuddly. The components are small so it doesn't feel like you are cuddling an electronic toy. These are a nice size. The app is ok. There's not much you can do with it though. You can play songs (lullabies) and one game. And send voice messages- which is a multistory process. It took my 6 year old several times to figure it out- you get the message on the iPad, send it to the bear, play it on the bear, record your own message on the head, send it to the iPad, send it to the other person. It's tedious. My 4 year old gave up on it pretty quickly. I did however like that I could prerecord a message for my daughter when I was going to be gone- after I got it on there all she had to do was press the button on the animal. Messages can only be 10 seconds long- but that was enough to say something cute. For the price I paid I was satisfied with the product- but I certainly wouldn't pay into the teens, twenties or thirties for it. The developers really should have taken more time on the app to make it less clunky and give more interactive content.
KJO3191
Worse Toy Ever And False Advertisement
I bought this for my 5 year old daughter for Christmas because she wanted her and I to send messages to each other while she's with her dad because he doesn't let us talk on the phone. She opened it up and was so excited and was all ready to take it to her dads when I realized on the back of the box in very small writing you have to be within 30 feet of the CloudPet to send and receive messages so she couldn't use it for the 10 days that's she's going to be with her dad!! I am so upset this product is terrible I am so mad because this totally ruined my daughters Christmas!!!