Kolcraft Cloud Lightweight Easy-Fold Umbrella Stroller with Canopy, Spring Green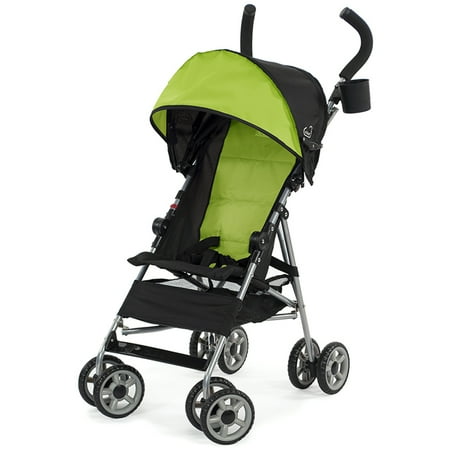 MSRP :

$28.97





Sale :

$25.99

Sold & shipped by Walmart
Product Description

Additional Information

Reviews
Product Description
The Kolcraft Cloud Umbrella Stroller delivers standard features in the form of a travel-friendly umbrella buggy. Weighing in at just over 11 lbs, this lightweight easy-fold stroller features a convenient storage basket and cup holder, as well as a cool-climate roll-up portion for increased air circulation and headrest.
Additional Information
Extended Sun Canopy and Rear Hood
Compact 1-Step Fold to Make Travel a Breeze
40 lb Maximum Child Weight
Lightweight design perfect for traveling
Extended sun canopy provides sun coverage and UV protection
Weight: 9.5 pounds
Manufacturer warranty: 1-year warranty
Reviews
SamsMom2169
The Best Simple Stroller EVER!
I purchased this online and had it shipped to my mother's house out of state for our visit out there. I loved it so much that I purchased another one today for every day use! Here's a pros and cons list: Pros: -lightweight -super easy fold -slim/small when opened or folded -locking canopy for those curious pulling hands -vented back for hot weather/covered for cold -does decent over dirt and grass (horrible in sand/small rocks) Cons: -"storage basket" is more like a spot to stuff a small blanket or maybe some diapers and a small pack of wipes (but I just strapped my diaper bag around the handles) -cup holder pops off fairly easily -horrible through sand/granite/small rocks, but that's to be expected This is the BEST umbrella stroller ever. It's just so easy to fold, load up, and store. love love love it! -
Shutter8108
Just as good as the Jeep strollers
Great stroller, its compact, and comes in a cute color. It's as stable and durable as the Jeep strollers, but lower price. It was easy to assemble, good directions. Happy I bought it, probably will buy another as a backup. :D
MKSGLewis
Exactly what I was looking for!
Been looking for an umbrella stroller that would be sturdy and last long but also not too pricey. This fit the bill since I got it on rollback. I love the color! Easy to assemble no tools required. The stroller works great. Easy to push with the front wheels that swivel. I like the mesh for warmer days and the seat cover converting into a small head pillow. The canopy works great and it covers my son's head and eyes from the son when he's sleeping. The small storage basket under I mostly use for toys and light, thin, jackets. I was a little skeptical with the wheels since like most umbrella strollers, they're made of plastic. However, it seems to be holding up pretty well with my son's weight (40 lbs) and built. The one star minus of giving this a 5 is because of the height. I am 5'2" and I sometimes find myself hunched over and my feet kicks the wheels at times. As for hunching over, one advantage of it is I do become aware of my posture and get my back straight up again. Overall, I love the product and am satisfied with it.
kb0iaa
Survived Bangkok, Thailand!
For the price, this is a great stroller. It survived our trip to Bangkok, Thailand and made getting around with our little one much easier. It's really nice that it folds up and is lightweight. There is a little storage room underneath the seat and that is nice too, just needed to remove most of what was stored there to fold it up. When we received it, it was noticed that the wheels were totally plastic and that was a little concerning, however, it didn't seem to matter. The wheels performed flawlessly and continue to have no problems. The only negative thing is that I have to say is that I wish the canopy was connected to the stroller a little better as it did become unattached on one side, though only when handled a little more roughly when getting it ready to put into a taxi. It reattaches easily though and otherwise the canopy worked great for keeping rain and sun off of our little one. If you are looking for a great performing stroller that is low cost - I totally recommend this one!
Blakestersmommy
Not as great as their old Jeep branch
...........but better then a $10 umbrella stroller............ 10 years ago Kolcraft had a Jeep branded umbrella stroller. That is no longer on the market and this is the closest thing. The Jeep was very similar with the netted back, better shade then standard $10 umbrella stroller and the taller handles. What this is lacking from that model is the reclining seat, while it was only a inch or two it was very helpful. I still have my old one, minus the shade and cup holder and I haven't compared but another thing I had loved was that taller people(dads) can push this b/c of the extended handles and the extra space in between the wheels while walking, this has my feet bumping wheels. Eventually i'll pull it out and see. Also the shade on this is funky, has snaps, but also extra fabric, what is all that for? and you can't close it w/o taking the shade off or you'll bend the plastic supports. I wish they'd just come back out with the original jeep, even the little side pockets were awesome and I reckon i'll be switching it out.