Coty Airspun Translucent Extra Coverage Loose Face Powder, 2.3 oz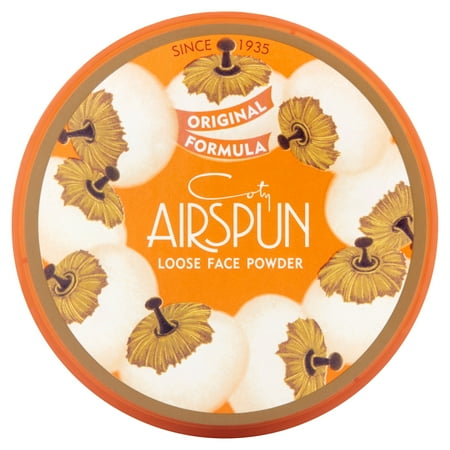 MSRP :

$11.05





Sale :

$5.97

Sold & shipped by Walmart
Product Description

Additional Information

Reviews
Product Description
If you are looking for Extra Coverage, this Coty Airspun Loose Face Powder contains tints that are spread throughout the powder and are designed to lay flat and evenly on your skin, providing you with a flawless finish. This translucent loose face powder can be used as a foundation or to set make-up in place as a finishing agent. Not only is this loose makeup powder long-lasting, it is dermatologically tested.
Additional Information
Coty Airspun Translucent Extra Coverage Loose Face Powder, 2.3 oz
Reviews
NaeNae80
Affordable and amazing!
This stuff is pretty darn good if you are looking for a super fine powder to set your makeup without creasing. I use it for "baking" my under eye area and highlight areas and I've never had my under eye stay that bright and not creased and not look cakey ever! This is a great option if you don't want to blow $40 on the Laura Mercier translucent setting powder. The only drawback to this product is the overwhelming smell. It smells like an Avon product from 20 years ago. It reminds me of old lady perfume. But I knew this going in and it doesn't bother me or give me headache after its applied. In fact, you don't even really smell it after a few minutes of wear. This is the reason it's not 5 stars. You also get A LOT of product in this container. So, if it EVER runs out, I will buying it again.
rhetoric86
Give credit, where credit is due!!
oh my goodness,i will be raving about this product like im being paid for it. however, i'll keep it simple. i have the oiliest skin, i believe there is out there. My t-zones starts to shine before i even leave the house. You name it, i've bought it. "oil free this and that, High end vs drug store" some works for an hr tops,some did not usually the ones i spent $30 or more for. Now this loose powder, a beauty guru i follow on social media uses. she did not mentioned how good it is for oily skin,all she said was it set your makeup really well. i was looking for a setting powder anyway,so there you go. i went for it. i mean whats $5 more compare to what i've already spent. i put this on, almost everyday after i do my makeup. Around 7 AM , i would be coming back home 8pm sometimes later. Before this product, i have to retouch my makeup throughout the day. because my nose my forehead get crazy shiny. furthermore it breaks me out by the end of the week. so i would carry these oil blotting papers,that you can just tap on the oily spots without using more makeup. i would use at least 20, and i wish i was exaggerating. i bought these little papers from drug stores,online 5,6 at a time. Now, i ONLY use ONE (1) for my nose, around mid afternoon. sometimes if its a busy day, i go without it. My face looks just like it did, when i left that morning.
longswimmer
Wonderful finishing powder
I have used this powder for years and now find it hard to get except at Wal Mart. At 57 years old, I use a light moisturizer, light foundation, then finish with Coty powder using a large powder brush. People always remark about my skin and makeup. The powder sets your look beautifully and keeps looking wonderful all day.
Fashionsistar
Have been using for 30 years! Hard to find now!
I have literally been using this powder for 30 years. And before that, my grandmother used it all her life. It's actually funny that the packaging still looks the same as the ones I remember in my grandmother's dressing area as a child. Unfortunately, it is very hard to find now, which makes me nervous that Coty might discontinue making this. I PRAY NOT! I have never worn liquid foundation and don't know what I'd do if this product was not available to purchase. I searched ULTA for anything comparable and you can find loose powder in about a quarter of an ounce container for $20! I may be exaggerating a tad, but you get the picture. I am spoiled by Coty and cannot recommend it enough!!!!!!!!!
ShopsAlot505
love it
Love it. This is by far the best setting powder I have ever used. . It really makes all the difference. I love how my makeup looks when I use this to set it. My makeup last much longer then usual with this compared to others. I am actually very fond of the scent lol. I really love retro scents like this. I think its very feminine and makes me feel happy when I use this. I was scared that the color would be too light for my medium tone, like most "translucent" shades are, but this is pretty good. It sets my makeup and does not change the shade or leave a white cast to my skin. (it can if I apply too much though) I use a fluffy powder brush to pat and gently buff this in. I also like the puff that comes with it and use it for a touch ups which I hardly ever need to do when I use this. I only removed a small portion of the sticker covering the holes so that too much powder does not come out.