Grabber Hand Warmer, 40 Pairs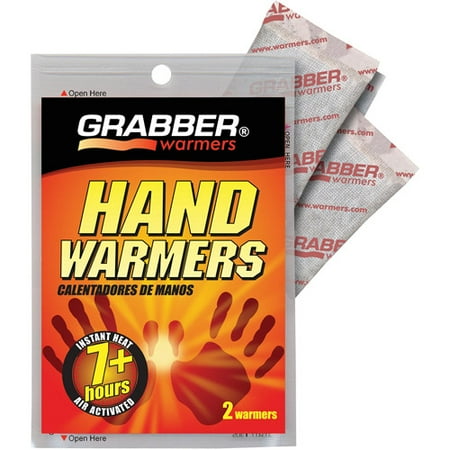 MSRP :

$9.348





Sale :

$1.99

Sold & shipped by Security Pro USA
Product Description

Additional Information

Reviews
Product Description
Air-activated Grabber Hand Warmers keep hands and fingers toasty for over seven hours. No shaking or kneading is required; just open the package and put the original hunting hand warmer in your glove or pocket for a few minutes to start the process. Hand warmers are standard equipment for skiers, snowboarders, hunters, campers, hikers, birdwatchers or anyone who enjoys outdoor activities when the weather is cold. These in-glove hand warmers are also widely used as portable, long-lasting heat therapy. If you suffer from cold, sore hands and fingers as a result of arthritis, Raynaud's, lupus, scleroderma, Sjogren's, myalgia or just poor circulation, Grabber Warmers provide soothing warmth. Don't let the weather or your joints keep you from going outside. Whether you're watching the sunrise on a frosty winter morning or tearing it up on the slopes, you'll be glad you brought your hand warmers along with you.
Additional Information
Grabber Hand Warmer, 40 Pairs:40 pairs per boxLast 7 plus hoursAverage temperature: 135 degrees F (57 degrees C)Maximum temperature: 156 degrees F (69 degrees C)Warmer dimensions: 2" x 3.5"
Reviews
Handwarmer
Did not receive what I ordered
While I have not used the product, what I received was not what I ordered. I ordered 2 cases of 20 pairs for a total of 40 pairs of handwarmers. What I received was 2 pair of handwarmers. The packing slip total $ amount and the product description were correct for 2 cases (40 pair), this descrepancy should have been caught when filling the order. I just hope that my replacement order is accurate and I that I receive them in time for their intended purpose.
Redberry38
Did not receive what I ordered
BEWARE!! I received ONE pair, rather than 40 pair. They need to resolve an error on their website. The product is good and what I expected it to be. I had to get a refund and buy them in store.
CatpawsQ
Did not receive what I ordered
Bought these for my elder father who takes a chill even on the hottest days in summer. Item is seasonal. Not available in store in summer. Due to untreatable poor circulation, his hands shiver with cold...these help warm him until the chill passes. So happy we found them and can buy in bulk. Sent to store. No shipping fees. Perfect. He will be 96 in a few months!
NKAinPGH
Pretty good hand warmers
I would prefer them to get about 10 degrees warmer, but they work OK. The 40 pair pack was a good value.
ChrisinOH
Not 40 pairs
Either the description is incorrect or the warehouse people are clueless. Received only one pair with store pickup. Promptly returned.