Nature Made Magnesium Tablets Twin Pack, 250 mg, 200 count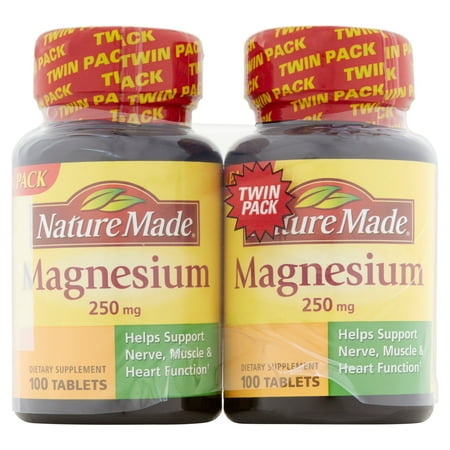 Sale :

$9.03

Sold & shipped by Walmart
Product Description

Additional Information

Reviews
Product Description
The Nature Made Magnesium 250mg Twin Pack includes two 100-count bottles of magnesium supplements. They're completely free of artificial colors, preservatives, starch, yeast and gluten. Taking magnesium tablets as a dietary supplement can promote healthy nerve and muscle function.
Additional Information
Product Features
Color derived from natural source - no synthetic dyes
Gluten free
No artificial flavors
No preservatives
No yeast or starch
www.NatureMade.com
Reviews
daughterisaprincess
Helps Nerve & Muscle Function!
My title for this product is exactly why I take Magnesium. I take a lot of medications that affect the nervous system and mucscular system and I have read many great things about magnesium. I take it to keep my nervous system healthy. I'm in no way claiming that it cures anything. It is my belief that if you can help any of your body systems in any way, be it by replenishing by water, vitamins, or herbs, to maintain a heathier you, do it. Walmart has a great value on Magnesium and other vitamins. I get them all at Walmart.
kgmo
If need Magnesium good, cheap brand
Recommended to me like it, easy to take and inexpensive . Should read up on Magnesium benefits or talk to your doctor if you should take--if so good brand to take.
exwalmershopper
I am getting priced out of this product!
It is actually 5 stars for the product but only giving it 3 because it is nearly doubled in price the last few years so I found another Magnesium supplement on Amazon recently.
engineer113
Why they don"t publish composition
This is magnesium oxide, which the body absorbs poorly, but is the cheapest, so nowhere on this page will you find that out- Magnesium Citrate or Chloride will tell you so because they are more expensive... .
bootzy
Finally! Something that really works!
The older I got the more I kept getting finger cramps, toe cramps and deep muscle charlie horses in my legs and thighs. I told my doctor I had tried everything, researched it online, took potassium, and otc meds that said was for leg cramps. She said, well, I went to Dr. school and you should take 250mg. magnesium. At first I was disappoionted, the 1st month I seemed to have less but not a whole lot less. I stuck it out and by the end of the 2nd month I was cramp free! What a relief! It will be part of my daily routine fo the rest of my life.