Repo! The Genetic Opera (DVD)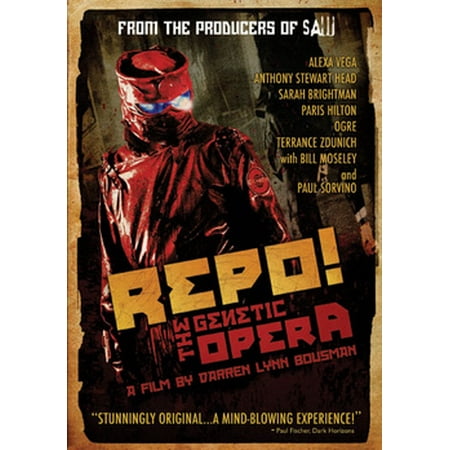 MSRP :

$7.94





Sale :

$7.29

Sold & shipped by Walmart
Product Description

Additional Information

Reviews
Product Description
Begun in 2002 as a Los Angeles stage production by writers Darren Smith and Terrence Zdunich, REPO! THE GENETIC OPERA was designed as a gory, comedic Grand Guignol to appeal more to club goers than fans of musical theater. One fan, aspiring director Darren Lynn Bousman, who has since worked on the SAW franchise, vowed to one day direct a film version of the show. Six years (and five SAW films) later, he has made good on his promise with a bizarre, gory, and unique piece of work that is as sure to entertain as it is to polarize it;s audience. In the year 2056, following an epidemic of human organ failure, the GeneCo Corporation owned by the mafia-like Largo family-grows and installs new organs on a massive scale. Starring Paul Sorvino, Anthony Head, Alexa Vega, Sarah Brightman, Bill Moseley, Director Darren Lynn Bousman Special Features: Widescreen Audio: Dolby Digital 2.0 English.
Additional Information
Repo! The Genetic Opera (DVD)
Reviews
contaMANant
UPC : 031398104353 - Repo! The Genetic Opera (DVD) - PickPanda.com
"Repo" is trully an accomplished piece of modern art. I'm not typically a musical kind of guy, but this film really has something special going on. From the brilliantly written songs, to the engrossing story, the wonderful acting, great black humor, and of course...the gore (this is a Bousman movie, after all), it will keep you glued until the end. The way Bousman directed this really tells me this was more of a labor of love than any of the "Saw"s ever were for him. Buy it.
danetrain05
Amazing movie. Great music
I heard about this movie a few months before it was finished and I loved the idea of a futuristic world where everyone had organ failure and a single company rose to help the people, for a price. If you missed a payment, they passed a law where the company, GeneCo, could repo the organ, killing you in the process. The movie looks gritty because the future isn't a happy place. Graverobbers and prostitution are rampant and a street drug knock off of Zydrate (futuristic morphine) is hooking people left and right. The cast was perfect with Sarah Brightman and Paul Sorvino, two of the best opera singers out there as Blind Mag and Rotti Largo respectively and newbie Alexa Vega as Shilo. Support by Anthony Head, Paris Hilton, Bill Moseley, Nivek Ogre, and Terrance Zdunich this movie rounds out as amazing. Sidenote: Paris Hilton haters, it took most of the people I work with and every one of my friends to spot who Paris portrays. She doesn't look like herself so don't base an opinion just off of her being in the movie.
prinnycook
Do not overlook this Movie
Repo is a movie that you can watch over and over again. While this is not for everyone for those who do watch it you will be singing the songs for days. Do not listen to the negative reviews on other sites get this movie it is a cult classic.
Namtraheiram
A wonderful buy!
If you like rock and opera, this is perfect for you! This is also a great movie for any "Rocky Horror Picture Show" fans. Great characters by talented actors, catchy songs, and a wonderful plot make this a perfect movie for any cult classic lovers. :)
repogirl
Repo The Genetic OPera
If you are a fan of Clock work orange in my opinion you will enjoy this. I watched it with my teen age daughter and we both liked it