HoMedics FB-50 Bubble Bliss® Deluxe Footspa with massaging bubbles to relax and rejuvenate,FB-50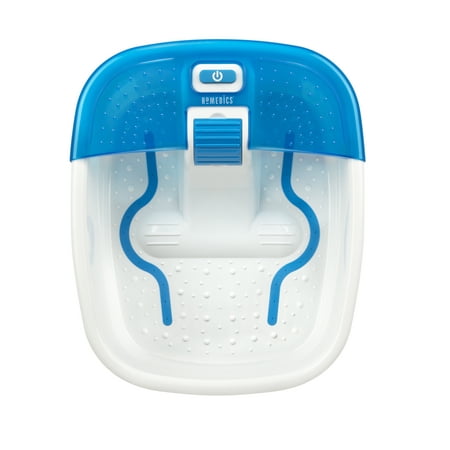 Sale :

$23.97

Sold & shipped by Walmart
Product Description

Additional Information

Reviews
Product Description
At the end of a long day, the HoMedics Bliss Foot Spa offers a luxurious way to relax. Have your own spa experience at home with the Deluxe Foot Spa. The spa has multiple functions and raised nodes to give you a thorough, gentle foot massage. Relax and rejuvenate your feet with this bubble foot spa, which features effervescent massage bubbles. The HoMedics Bliss Foot Spa also provides soothing water jets, a heat maintenance system and three acupressure attachments that allow you to customize your massage. With the spa's toe-touch control system, you can conveniently adjust the functions of the Deluxe Foot Spa to your liking. Additionally, this bubble foot spa has an integrated splash guard to help prevent splashing and spills.
Additional Information

HoMedics FB-50 "Bubble Bliss" Deluxe Foot Spa with massaging bubbles to relax and rejuvenate,FB-50:
Rejuvenating foot massager with effervescent massaging bubbles to relax and refresh your feet
Raised nodes for a gentle foot massage
Three acupressure attachments for a customized massage
Heat maintenance technology
Convenient toe-touch control
Integrated splash guard helps prevent splashing and spills
Ideal for both men and women
Reviews
Steelchipper
Didn't do what I expected
What I liked about this item was it said With Heat on the box. To me that means With heat. When I opened it the instructions said "will not heat cold water If you want a warm spa experience fill with warm water" . Okay a little different than what the outside of the box indicated but at least I won't have to keep adding warm water . I filled it to the line with warm water and turned it on and within about 5 minutes the water was not warm at all anymore. The bubbles were okay but they should remove the "With Heat" statement from the box
Amela
GOOD BUY!!!
I have been looking up a lot of foot spas on Amazon and Walmart.com/ many options and bad reviews. I really needed something soon, so I went directly to Walmart and grabbed the first and only foot spa I saw on the shelf. I was fascinated on how well this foot spa worked when I got home. I like my water ICE COLD because my feet swell up after long days of work and the cold water really helps, along with Epson Salt. The BUBBLES WORK for me, perfectly. This is the second night I'm using the foot spa and I love it. Bottom line is, give some products a chance, if I read all these reviews I would have not bought it and would still be in pain.
RaGa2007
"With heat"
I purchased this product because it is advertised on the box as a deluxe foot spa with heat. Once you remove the product from the box there is a sticker telling you to add the temperature of water you like because the device won't heat cool water. Fine, ok. Well after just a few minutes the water goes to room temp so it obviously doesnt help to keep warm/hot water warm either. Other than the bubble feature this is the equivalent of soaking your feet in a roomy bucket. Also, I purchased the Johnsons foot soak to use with this, thanks to the bubble feature it fizzled and foamed and threw bubbles all over the floor. I probably shouldn't have turned it on and left the room for a minute though so my bad, but heads up to anyone else who wants to use the bubble feature with the Johnsons foot soaks.
RaGa2007
Doesn't work
Zero bubbles. Just makes a lot of noise. Looked up and tried every "fix" online, and still no bubbles. Waste of money. Returning tomorrow. Included a picture of it "running" so you can see that there are no bubbles. Might as well just buy a plastic tub, and fill it with hot water, lol. Would give zero stars if possible.
MeMyselfAndI
It quit blowing bubbles after a few uses.
Over the past few months, I'd only used this on occasion to soak my aching feet using a cup of epsom salt. I always rinsed it out and gave it a cleaning each time I was done using it. Like the other reviewers say, it does get cold kinda fast. The thin plastic walls do not retain the heat very well, plus the heater on this thing is weak, not even sure why they bothered to put one in, it barely works. When I fill up a small bucket at the sink, I take a big thermometer and measure the temp of the hot water and get it as hot as I can stand it which is around 125 degrees then I pour it in the foot bath. My problem now is that the bubbles are barely coming out now, it's almost as if there were none. I hear something running to make the bubbles happen but only a few pop up and weakly, the bubble making motor must be fried already. Gonna try and return this junk to get a better one. It's cheap quality, bottom of the line, what do you expect from something that barely cuts the mustard. You get what you pay for, a big disappointment. It's worth it to spend 10 or 15 more for a quality product that'll work good and last you.