HoMedics Bubble Bliss® Deluxe Footspa with massaging bubbles to relax and rejuvenate,FB-50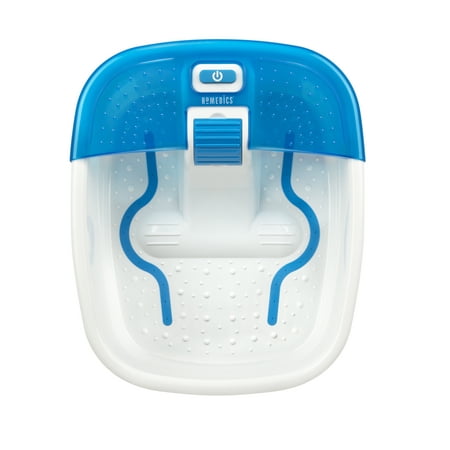 Sale :

$23.97

Sold & shipped by Walmart
Product Description

Additional Information

Reviews
Product Description
At the end of a long day, the HoMedics Bliss Foot Spa offers a luxurious way to relax. Have your own spa experience at home with the Deluxe Foot Spa. The spa has multiple functions and raised nodes to give you a thorough, gentle foot massage. Relax and rejuvenate your feet with this bubble foot spa, which features effervescent massage bubbles. The HoMedics Bliss Foot Spa also provides soothing water jets, a heat maintenance system and three acupressure attachments that allow you to customize your massage. With the spa's toe-touch control system, you can conveniently adjust the functions of the Deluxe Foot Spa to your liking. Additionally, this bubble foot spa has an integrated splash guard to help prevent splashing and spills.
Additional Information

HoMedics FB-50 "Bubble Bliss" Deluxe Foot Spa with massaging bubbles to relax and rejuvenate,FB-50:
Rejuvenating foot massager with effervescent massaging bubbles to relax and refresh your feet
Raised nodes for a gentle foot massage
Three acupressure attachments for a customized massage
Heat maintenance technology
Convenient toe-touch control
Integrated splash guard helps prevent splashing and spills
Ideal for both men and women
Reviews
Amela
GOOD BUY!!!
I have been looking up a lot of foot spas on Amazon and Walmart.com/ many options and bad reviews. I really needed something soon, so I went directly to Walmart and grabbed the first and only foot spa I saw on the shelf. I was fascinated on how well this foot spa worked when I got home. I like my water ICE COLD because my feet swell up after long days of work and the cold water really helps, along with Epson Salt. The BUBBLES WORK for me, perfectly. This is the second night I'm using the foot spa and I love it. Bottom line is, give some products a chance, if I read all these reviews I would have not bought it and would still be in pain.
Amela
Doesn't work
Zero bubbles. Just makes a lot of noise. Looked up and tried every "fix" online, and still no bubbles. Waste of money. Returning tomorrow. Included a picture of it "running" so you can see that there are no bubbles. Might as well just buy a plastic tub, and fill it with hot water, lol. Would give zero stars if possible.
sophia777
doesnt work but relaxing
Dosent keep heat bubbles are soft but if u have no money to buy a good one it still relaxing just put hot as u can handle water
Kamila
DO NOT BUY THIS PRODUCT!
Heat and bubbles doesn't work at all. Loud noise only. Zero stars if you ask me but wasn't the choice.
Janika
DO NOT BUY THIS PRODUCT!
I just bought one from Walmart and I'm using it now. I started off with hot water because of the product reviews that I saw on Walmart's website about how the water is not heated. My feet have been in it for about 10 minutes and my water is now a touch warmer than cold. If you're looking for something soothing, relaxing, and something is soak your feet in I would recommend buying this item but if you're looking for what I was looking for something to massage your feet, soak your feet in, and the water remain warm I would recommend purchasing another product.