HoMedics SS-2000 Soundspa Relaxation Sound Machine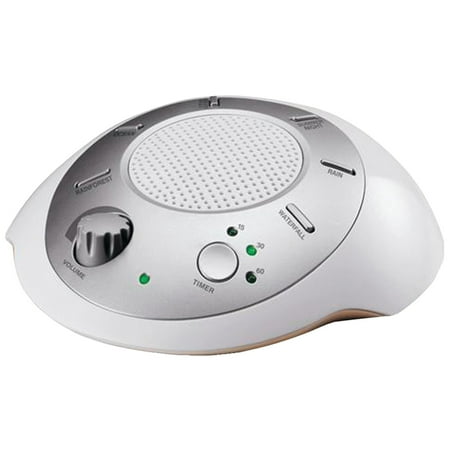 MSRP :

$19.99





Sale :

$18.99

Sold & shipped by Walmart
Product Description

Additional Information

Reviews
Product Description
The HoMedics SS-2000 SoundSpa creates a peaceful sleep environment and helps you fall asleep faster and wake completely rested. With six soothing, natural sounds, our SoundSpa is also the perfect addition to a nursery. The rhythmic sounds create a feeling of comfort and help calm your baby to sleep.
Additional Information

Homedics SS-2000 3-Pack Sound Spa Relaxation Sound Machine:
Soothing sleep aide
Travel sound machine has 6 digitally recorded nature sounds
Relaxing sound machine uses rhythmic sounds to promote a relaxing environment
Battery or adapter operated
15-, 30- or 60-minute built-in, auto-off timer
Portable design
Easy volume control
Sound Spa portable has a compact and lightweight size
Helps to create an atmosphere that is more peaceful and restful
Easy to take with you in a suitcase
Listen to the sound of rain, rain forest, ocean and other peaceful noises
Helps to put you to sleep faster
Reviews
BaileysGirl09
Great for a sleep aid for infants and kids!
We started using this white noise machine when are son was 5 months old and now that he is almost 2 we still turn it on every night for him :) It is a great tool to help little ones sleep! Check out the video review that I've uploaded here to listen to the different options on this sound machine!
GirlBehindTheCamera
Good for the price!
My husband and I have had a digital alarm clock that includes several different nature sounds. We listen to the babbling brook on it for years about every night. However, it only stayed on for an hour and then automatically turns itself off. So we wanted to find a sound machine that would play continuously throughout the night, and I found this portable HoMedics Soundspa Machine at Walmart.com. It's reasonable price and stays on for as long as desired. It has a timer option if you prefer but I'll probably never use that part of it. It makes different sounds, rain, thunder, ocean waves, a brook, and summer night. The summer night is the one I normally keep it on since it sounds similar to our old alarm clock with the babbling brook. The sound quality on this new portable sound machine doesn't seem to have as clear a sound as compared to my old one, but at least it plays continuously through the night as wanted. It's also nice that it's portable and I can take it with me on trips.
redhead94
Really 4.5 stars, but still SO GOOD!
I wish I could give this 4.5 stars. I really like this sound machine. It gives off a good amount of sound and I feel like my 2.5 year old is sleeping better because of it. We most recently moved our 2 year old from his infant nursery to a "big boy room" with more space, and that room just happens to share a wall with the livingroom and kitchen, so getting him to go down for the night was hard because he could hear EVERYTHING that was going on while trying to put him to bed. Now this sound machine drown all the noise out!! The only thing I do not like about it is the "white noise" selection. My husband says it is fine, but I almost feel like it is more static radio-y than white noise. Which maybe that's what white noise is, idk. But I prefer the ocean waves over any other noise option. The water brook one is good as well. But there's something about the ocean one that calms my son down. And for the price you can't beat it!
KAHOW
Awesome!
My other white noise machine broke and I found that I was unable to sleep without some sort of sound in the room. I downloaded a few free apps on my phone, but they had a very electronic sound that did not help me sleep; and it obviously ran the battery down quickly. I bought two of these, one for myself and the other for a friend. We both love it! There's 6 different sounds to choose from, though I just keep mine on white noise. They all sound realistic too, not electronic like the phone apps. You are able to adjust the volume and it can get pretty loud, if that's something you'd need. There are also timers, but I haven't used those; I leave mine on the entire night. There's a nice feature in that it can be plugged in or run on batteries, so it's easy to take with you wherever you need it. Very light and small, so it doesn't take up much room and isn't an eyesore. Overall, great product and I would definitely buy again!
jbgood75
Not Good!
I just bought this yesterday and was really excited about using it. I usually have a really loud fan that blocks out other noise in my apartment complex and puts me to sleep. I am going out of the country for 2 weeks and since I can't take my fan I liked the fact that this product was portable and battery operated. I thought I would test it out and used it while I was studying last night. First off the sound quality is not the best--I need my white noise to be loud, but the higher you turn the volume up the more the speakers crackle, so I had to keep the volume at a medium level. Then about an hour or so of use it made this god awful high pitched screaming noise--like electronic interference. It did this twice in a span of 5 minutes when on the ocean sound. I switched it to the rain sound and had no more issues until I went to bed--I was jarred awake at midnight from high pitched interference. Wow, so much for a good nights sleep!!