Nongshim Shin Ramyun, 4.2 Oz, 10 Ct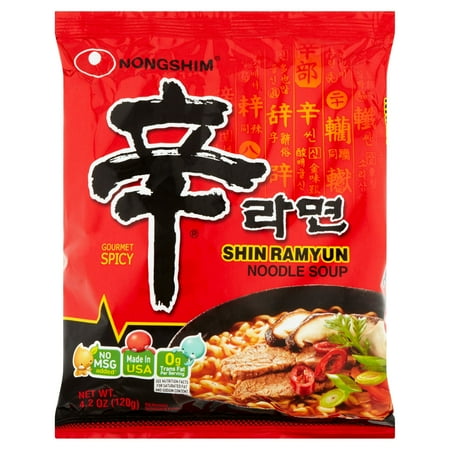 MSRP :

$15.9





Sale :

$9.88

Sold & shipped by Walmart
Product Description

Additional Information

Reviews
Product Description
Nongshim Shin Ramyun Noodle Soup is an instant chicken noodle soup that combines chewy noodles with spicy beef broth. It has a delicious bold flavor. These instant noodle soup packets, 4.2 oz, contain no MSG. For variety, try adding your favorite toppings like frozen veggies, cheese or meat to the soup.
Additional Information
Nongshim Shin Ramyun, 4.2 Oz, 10 Ct
Reviews
JM
UPC : 031146023981 - Nongshim Shin Ramyun, 4.2 Oz, 10 Ct - PickPanda.com
One of my favorite noodles ever, Top Ramen is trash compared to the Korean and Japanese brands like Nongshim and Sapporro. Ever since moving out of Hawaii, the lack of Asian markets specifically Korean markets and even a bigger diverse Asian isle at walmart where I live now has been a bummer especially when I want a taste of home. Since Asian products are hard to come by where I live, the asian markets have a tendency to increase the prices of their products on shelves. Hence a 5 pack of these noodles at the closest asian market near me cost a good $7-8 with tax, so I was glad I was able to find these on Walmart online for a steal. Only downside I have is that it is sold out sometimes. As long as walmart carries these, then I'll forever buy it.
Malcom
The best noodle soup in the entire universe
Boil water, put in the noodle and powder soup, add one egg, cook it for 4 minutes, then you get the best noodle soup in the entire universe
Pregnanthungrylady
Delish
will definitely order more in the future. i love spicy noodles. these are awesome
PatriciaNY
Spicy but flavorful!
I was introduced to this soup by a friend from Korea, and I have been in love ever since. This soup is HOT. It isn't a mild hot, this is hot HOT, so you need to keep that in mind. The one thing I can tell you about this soup is that it may be HOT but it is packed with FLAVOR! Some soups are hot and all you taste is hot...not this soup. It is hot but it has so much taste and flavor, you'll forget about the heat and want another package! I DEFINITELY recommend it!
TheGoldenEagle
Hot ramen noodles
OMG! Don't use anywhere near the entire flavor packet(larger one of two) or you will die : ) SO hot you may run the the shower to drink some water(better at least have some ice water handy). If you like extremely hot food/peppers this is for you. Clears your sinuses alright. I like hot stuff just not HOT stuff. Now that I only use 1/4th the packet of powder it's not bad. The noodles are good as well as the dried herbs packet. There are so many recipes for ramen noodles online that it's amazing.