Quaker Instant Oatmeal, Lower Sugar Maple & Brown Sugar, 10 Count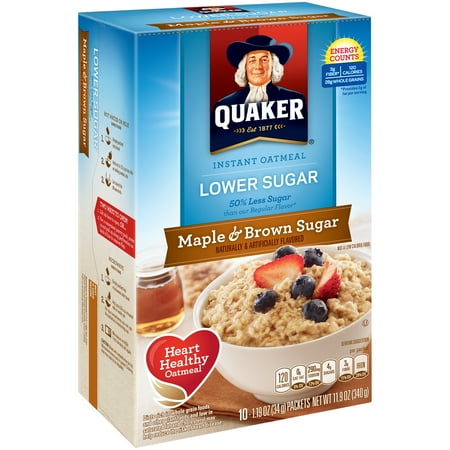 MSRP :

$8.99





Sale :

$3

Sold & shipped by Walmart
Product Description

Additional Information

Reviews
Product Description
The Quaker Maple and Brown Sugar Oatmeal, 1.19 oz, makes for a delicious breakfast. You get 10 single-serve packets in each box, so you can make multiple servings as you need. Each pack is just 120 calories for a diet-friendly meal. This lower-sugar oatmeal has only half as much sugar as regular oatmeal.
Additional Information
Help fuel your morning with a hot bowl of Quaker Lower Sugar Instant Oatmeal, made with 100 percent whole grains and half the sugar of regular Quaker Instant Oatmeal Maple and Brown Sugar.* Enjoy the flavors of maple and brown sugar with these easy-to-prepare single-serving packs. Even on your busiest days, you can help fuel your family with a wholesome breakfast option that's ready in just 90 seconds. Each box includes 10 individual packets. With Quaker Lower Sugar Instant Oatmeal, you'll enjoy hearty, whole grain oats with the classic flavors of maple and brown sugar. It contains 50 percent less sugar than regular Quaker Instant Oatmeal.*
Reviews
newdivide
I love this stuff
I have Quaker instant oatmeal for breakfast, at work, every day. It gives my brain fuel to concentrate. It also helped lower my cholesterol, it can help you too!! Smiling in Phoenix KOno
AnAmericanFamily
Quick healthy breakfast
This is a great product for someone looking for a quick healthy breakfast. The thing I like best about these is that there are 10 separate packets inside so the oats stay fresh after I open the box. I boil water in the tea kettle then when hot enough I pour it over a bowl of these and let them steep for a bit. Sometimes I add a bit of milk to them which helps cool them down a bit. I really like the maple and brown sugar taste. It warms me up quick when I come in from the cold for lunch and it fills me up when I have a bowl for breakfast. I have used them for overnight oats but this flavor is best served hot in my opinion. If you are counting calories, lowering your cholesterol or simply just want to eat healthier I would suggest trying these Quaker oats. They are a great alternative to the sugary cereals out there and they are quite easy to make. You can have a bowl of Quaker oats ready by the time your coffee pot is done brewing. And if you are okay with some sugar you can sprinkle the top of your oats with a bit of sugar to sweeten them up even more. There are many recipes you can use these in so try a box and experiment. I am sure that you will come up with something great.
Scrutiny
Great Oatmeal
I wasn't sure if instant oatmeal would taste as good as cooking it on a stove, but the instant really surprised me. It says to add 2/3 cup of water then microwave for a minute. I just poured two packages in a bowl, added 2/3 water and cooked two minutes. Then I added 2/3 cup milk and two tablespoons of Smart Balance Whipped butter into the bowl then cooked another two minutes, and it was great. Oh, I first bought instant oatmeal for my mother to try. She's in her eighties and its difficult for her to stand and cook. She hasn't tried it yet. I bought it to try before I sent some to her. I buy it all the time now. Its easy to cook on the truck, fast, too. I tried Walmart brand, Great Value, and its equally as good. I'm buying Great Value brand now because its just as good, offers a nice variety pack, and I can save money all at the same time.
Amy M
Disappointing
I bought this not knowing about the Sucralose - as a Registered Dietitian, I am always looking for products with lower sugar. This product is WAY too sweet (I couldn't even finish the first packet), and the Sucralose is simply not necessary - would use dried fruit instead if it needs more sweetness.
HSteed
Less Sugar, more SUCRALOSE
I was really disappointed to see that these "lower sugar" products simply had an artificial sugar substitute. I also felt deceived by the packaging which eluded to this product being less sweet, not artificially sweetened.