Mainstays Twin Over Full Metal Sturdy Bunk Bed, Black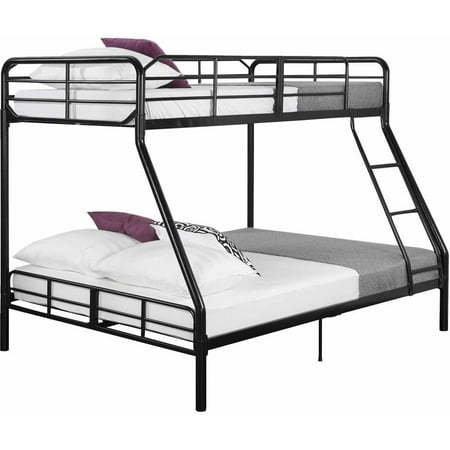 Sale :

$179

Sold & shipped by Walmart
Product Description

Additional Information

Reviews
Product Description
The Mainstays Twin Over Full Bunk Bed is elegant and functional, making it a perfect addition to any size bedroom. The contemporary design and durable steel frame is an ideal fit for rooms with modern decor. Designed with safety in mind, this bunk bed includes full-length guardrails and a sturdy ladder. The space-saving design allows you to maximize your room space as well. The Mainstays Twin Over Full Bunk Bed can make a great choice for your kids' room as it increases the fun during bed time.
Additional Information
Pair this Mainstays twin bunk bed with your choice of bedding and mattresses to create an attractive, comfortable space for sleep (other pieces sold separately).

Mainstays Twin Over Full Bunk Bed:
Contemporary design
Twin/full bunk bed with sturdy metal frame
Secured front ladder
Includes safety rails on top bunk
Accommodates 1 twin and 1 full-size mattress (both sold separately)
Maximum mattress thickness for top bunk is 6"
1-year warranty
Bunk bed dimensions: 77.5"L x 56.5"W x 60.5"H
Box dimensions: 43.5"L x 29.5"W x 7"H
Weight limit for upper bunk: 200 lbs
Weight limit for lower bunk: 450 lbs
Model# 4055019W
Mattresses sold separately. See our assortment of mattresses.
Reviews
TF55
You get what you pay for...
I purchased this bed for my girls, ages 5 and 7. 9 months later, the welded bracket came off and I'm left with a $179 pile of junk. It is poor quality, held together by flimsy metal and bolts. My kids weigh about 50 and 65 pounds each, so I don't think the weight limit was being pushed too far... I called the store about a return, and since it was over 90 days, the customer service rep literally said "you will need to just throw it out". What? Who says this? Way to stand behind your products Walmart and take care of the customer! Pay a little extra and get something that will actually last. It would be nice if a business actually understands customer service and accepting returns on defective products. (Cough, cough Costco)
lovie81
Perfect for small children
I have a toddler and this is his first bed I must say I was a little unsure yet I followed my husband suggestion. Well my toddler so LOVE THIS BUNK BED...he sleeps at the top and its very safe for him to sleep up there for he sleeps like the second hand on a clock he sleeps all over the bed. Now where to step up on the bar to climb to the upper bunk there a little skinny and slippery for me so I decided to get some stair grip tape to give him some grip support so as he climb up those two bars he will have a grip (especially with the socks on). However again my son LOVE THIS BUNK BED. As for putting it together my husband did it while I was at work and he said it was a little time consuming YET well work it especially if you have your child sleeping on it you want it put up right.
cholmes05
DO NOT BUY THIS BED!!!
We purchased this bed less than a year ago, and most of the metal on the bottom bunk buckled. My son only weighs 140 lbs and it is rated to hold up to 450 lbs. There is no way all that metal should have buckled but it did. The company did refund us the full amount back and we had to sign a release of liability form. This company does not have parts to replace what was broken. Also if you do purchase this bed, KEEP THE RECEIPT in case you need to get a refund! For your child's safety, please do not purchase this bed!!!!!
foxie
Do not buy this bed.
This bed do not hold up with body weight. For someone who has 160 pounds I could not believe this bed bend. I wish I had seen the reviews I'm now reading since the screws and bars on the bed came apart. I am extremely disappointed. now i have to invest in another bed for my children. A waste of money. in pic added you will see bars loose and middle stand which is bent out of shape and screws no longer hold. Have to use a can to hold the center of the bed up until im better able to purchase an entire new bed. so disappointing
Choycee
Love it
I had previously purchased a wooden set of bunkbeds and I thought they woould last because they was made of wood . but i was wrong. They broke with in the 1st 6 months. So i purchased my 1st set in. October of 2015. I found out how sturdy they was so i purchased a second set a few weeks ago... I had shopped around a b tried to fine the BEST price... And of course it was at Walmart i love the space saving option...