Mainstays 6 Inch Innerspring Coil Mattress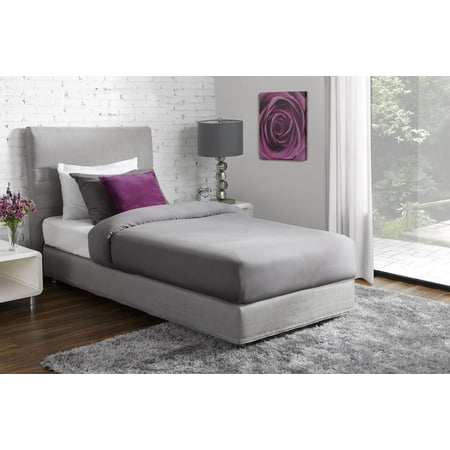 Sale :

$99

Sold & shipped by Walmart
Product Description

Additional Information

Reviews
Product Description
The Mainstays 6" Coil Mattress offers comfort and convenience with its ergonomic design. It has a bright white color that stands out and looks crisp and clean. It features 13.5-gauge tempered steel coils that provide maximum support for a sound sleep that can be relied upon. It meets federal flammability standard CFR 1633, providing quality and safety. The Mainstays mattress is made with a certified eco-friendly foam manufacturing process that prevents volatile organic compounds from being released into the atmosphere during the production process. This twin-size mattress is compressed, vacuum-sealed and boxed for easy shipping. It makes a nice fit for platform beds, allowing for versatility in placement. The foundations and bed frames are sold separately. With its manageable size, it will fit even in small rooms for an extra guest bed or child's room.

Additional Information
The bed is made to last for many years. Let the Mainstays 6 Coil Mattress add comfort to your home.Mainstays 6" Coil Mattress
Reviews
WorksHardForTheMoney
Exceptional Value
We bought 2 of these for the new Elise bunk beds for our daughters' room. We didn't want to spend a fortune nor did we want to get one of those cheap foam "pads" that are often recommended for bunk beds. The way these arrive is fantastic, all shrink-wrapped and in a relatively small box about the size of a pack n play box. The box even has wheels and a handle which made getting it into the house really easy. I know that may seem like a silly thing to comment about, but it was definitely convenient. Taking the mattresses out of the boxes and watching them unroll and fill out was a family event. I had my husband #260lbs# lay on one and they were comfortable for him so they will be great for our girls which are 50 and 35 lbs. Keep in mind you are buying an INEXPENSIVE mattress so don't expect wonders, but the value of these is really great. They will work perfectly for us!
julwisc
Full size on antique iron bed
We purchased this full-size mattress to use on an antique iron bed frame/springs in our guest room. It's very comfortable, so we're pleased with this purchase. Since we're using it on an antique bed, the 6" depth is perfect to complete the look. I expect this mattress to hold up for many years, as our guest room will likely be used a maximum of 10-12 days per year.
KJCaston
Exceeds expectations!
I purchased this along with another mattress for a set of bunk beds for my 6 and 3 year olds. I was a little alarmed by the packaging at first, you wouldn't think it would fit into a box the size of a pack n play - but you'd be surprised! It comes rolled and tightly vacuum sealed and slowly takes shape upon opening. It was very clean and I found it pretty comfortable, as did my kids. I didn't expect so much judging by the price, but figured if I didn't care for it, I'd return it for something else. We are pretty happy with this so far!
MomaTawn
Good enough for kids bunk beds or guest bed.
You can feel the springs easily but my kids don't feel them when they lay on them. They fit on our bunk beds and will do nicely for a first big kid bed. I have lain on it to help my youngest fall asleep and if I had to sleep on it for a few nights it would be fine. But as far as a long term bed for an adult....some might be uncomfortable. But it was a nice surprise to have them be this nice for the price.
Toomanykidsandanimals
Kids like it, not for Grownups
Pros - Price, cheap to use for kids that just got passed Potty Training. (actually use the WM Autodrive Cargo Liner as a bed liner for bed wetting.) - Fits perfectly in the Mainstays Bunk Beds - My kids have slept on these for 6 months and no complaints. Cons - Not for adults, I'd rather sleep on floor than sleep on this bed. If you are over 100 lbs springs sag quite a bit Don't be alarmed when the bed is mailed in a little box, it expands nicely