Mainstays Black Metal Arm Futon with Full Size Mattress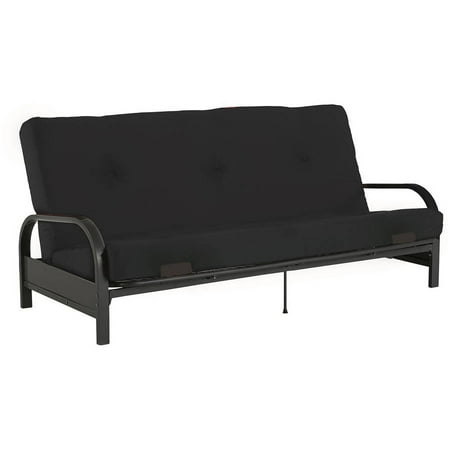 Sale :

$124

Sold & shipped by Walmart
Product Description

Additional Information

Reviews
Product Description
The Mainstays Black Metal Arm Futon with a 6" Mattress offers the best of both worlds; it has a stylish, contemporary design and brings functionality to almost any room in your home. It serves as a sofa for extra seating in the daytime and doubles as a comfortable bed when additional sleeping space is needed for nighttime. It is quick and easy to convert. This contemporary futon features a comfortable mattress with a soft cotton twill cover. It comes with retainer clips that prevent the mattress from sliding, along with retainer covers for a decorative touch. Its sturdy metal frame can support up to 600 lbs in maximum weight. The Mainstays futon comes in multiple colors to help you coordinate it with your existing decor. It makes an ideal addition to apartments, guest rooms and living rooms. It is easy to put together.
Additional Information
Mainstays Black Metal Arm Futon with Full Size Mattress, Multiple Colors:
New and improved: mattress retainer clip covers now included
Contemporary design
Sturdy metal frame
Polyester mattress cover
Use as a bed or as extra seating
Quickly converts to a full size sleeper
Mattresses available in Black, Gray, Red, Blue
Great for apartments, guest rooms and living rooms
Includes mattress retainer clips to prevent slippage
Simple assembly
1-year warranty
Futon dimensions: 77"L x 35"W x 34"H
Sleeping dimensions: 73"L x 52.5"W x 15"H
Carton dimensions: 40"L x 28"W x 24"H
Weight limit: 600 lbs
Reviews
Melphie
I'm Happy!
So I read some reviews about this product before I purchased it, and I found that the reviews overall were very mixed. Therefore, I promised myself that after I purchased this futon, I would write a review and let everyone know what I ended up thinking about it. In my opinion, this is a surprisingly good futon considering the price you're paying for it. I know some people in other reviews talked about the frame not being sturdy or sagging in the middle, but I haven't had any such problem with it. A few other people also complained about the texture of the mattress, but I don't mind it. Granted, it's not silky or satiny-soft, but I don't think it's uncomfortable at all! And as for the actual comfort-level of the mattress - I was very surprised at how comfortable the mattress was. I was half-expecting it to be very hard or too flimsy, but that is not the case with this at ALL. My roommates and I personally find it to be very comfortable. Very cushy! I do wish that the arms of the futon had some kind of soft covering to them, because I'm a person that likes to sit against the arm of a couch or futon while I'm on my laptop, but that's nothing that a few cheap pillows can't fix. Now, I can't speak to the comfort of this futon if it is used as a bed, because that's not why I purchased mine (I just needed something cheap to set up as a sitting place in my apartment living room after I moved), but I would personally be fine with the idea of sleeping on this futon, given how comfortable I find it to sit on. So in other words, if you're considering this futon, I think that this is at LEAST a very good temporary solution if you're thinking of getting something nicer in the future. It's comfortable to sit on and the frame is sturdy. If you're looking for a cheap option, give this one a try!
Kristen
HORRIBLE!
We bought our fouton on May 13th. It's now July 13 and several of the welds have broken, the mattress has become extremely uncomfortable and flat. Screws fall out of it constantly. I find myself screwing them back in. For $100 I could of gotten a used sleeper sofa that would've been more comfortable and better quality. It's just bad.
COZY
What I needed!
I had a junk lobe seat and one of those click clack futons that still sell at Wal-Mart. Both were horribly uncomfortable. I needed a sofa to sit and relax on in my studio apartment. This was perfect. Got it on sale for 98 bucks, also I could fit it in my 2 door coupe straight from the store! All I had to do is open the box and stuff the mattress in the back seat and the actual frame was a tiny box. Totally shoved that in the trunk. Building it took time. I used a drill for the screws. No way could you hand tighten those. But the Alan wrench ones were very easy to use hand tools provided. Once I managed to get it together it was totally worth it. Love how I have space to spread out and watch tv. Very good for so cheap. Made my little living room cozy. If you decide to get this I recommend not ripping up the screw package. It has the numbers under them on the package. Made putting it together a breeze. It's like a blister pack. I had all the parts needed. No issues.
Olivia110375
Good Quality, Good Price
I bought this futon recently and have not been disappointed. I was able to put it together all by my self with no help from a second person. The only tool that I needed to get was a screw driver and all the nuts bolts and junk came in a really handy package; which made it all so much easier to put together and not loose any screws, nuts, or bolts. I can say that I was worried that the mattress was going to be uncomfortable to sit/lay on but was pleasantly surprised to find it comfortable, especially since the futon is doubling for my bed as well as the daily couch in my small space. The only problem that I have with it is that you cant sit on one of the edges or it tips forward on you. The frame just isn't heavy enough to support the weight only on one side, specifically the seat side. Hope this is helpful :) Have a great day!
Unknown
You get what you pay for.
At $98 I wasn't expecting the best. I can sleep on just about any surface (im not picky). Now for starters I would not recommend this as a daily bed. It is uncomfortable and overtime you WILL develop back pain. Now, after about a month of use, the small metal rods that are there to support the so called mattress began to break one by one. Keep in mind I don't weigh that much (155lbs). So, now when I sleep on it there's basically a drop in support where my back is since 12 or so metal rods broke from the middle of the frame. If you want something for a guest or to add to your man cave or whatever, then you can take a chance. As a daily user, I would refrain from purchasing this and purchase either a different (most likely more expensive) futon, or buy a normal bed. Hope this helps.