DHP Kebo Futon Couch with Microfiber Cover, Multiple Colors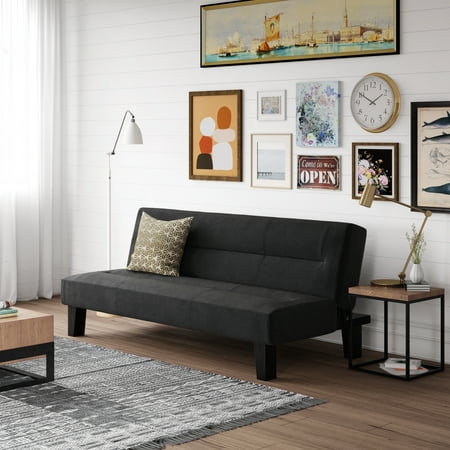 MSRP :

$145





Sale :

$109

Sold & shipped by Walmart
Product Description

Additional Information

Reviews
Product Description
Simple and sophisticated—that's exactly what you get with this versatile Kebo futon from DHP. Its minimalistic design with sleek lines and a microfiber finish matches any décor, and the lightweight futon frame makes it simple to move from room to room and even up and down stairs. Plus the padded feet will keep your floors protected from scuffs and scratches for years to come! Sit back to complete comfort when you read, watch your favorite movie or enjoy time with friends and family. Or use the easy mechanism to lounge back or lie down flat—perfect for overnight guests, extra sleeping space in the den or a more grown-up bed for your teen's room. This modern futon is available in black, charcoal, red, navy, and brown, and can be enhanced to match your style by adding decorative pillows and throws.
Additional Information
Kebo Futon Sofa Bed:Simple and clean designMicrofiber upholsteryFuton converts quickly and easily into a lounger and sleeperPadding under the feet to protect your floors from scuffs and scratchesAvailable in black, charcoal, red, navy and brownEasy assembly requiredProduct Dimensions: 69"L x 32"W 29"HCarton Dimensions: 69.5"L x 39"W x 6.5"HWeight Limit 600 lbs
Reviews
RitzCurel
Smaller than product description
I just pick up this futon from local Walmart. It took about a week to arrive the site, not bad. The box was already look small in the store. I managed to fit it in my SUV to take it home by myself, not very very heavy at all. Easy assembling just like other review says. I bought a red one. It does look modern and nice. When uses as a bed, it feels like extra extra firm mattress with minimum cushion which I like. I do feel the middle of futon is firmer than rest of area, but it feels like a extra support for my back and it feels good. I'm 5'3", was able to lay on it comfortably. The actual measure of this futon is 67"(W) x 37"(D) x 14" (H) not as the measurement states on it's box (69x38x14.5). Be honestly, it's not a comfortable couch to sit. The sitting depth is about 19 inches, not deep enough to sit comfortably on it. No room to add pillow for lumber support. The chair back high is about 16.5in high, not high enough to support shoulder and neck either. I'm thinking about returning it to get a bigger futon to sit more comfortably. Overall, it's a good futon for the price. The only problem is I like it as a bed more than as a couch and I wanted to use it as a couch in my small living room.
Nana
Smaller than product description
I don't like the futon I just have for one week and the sofa is torn I would like to change
1CallmeDae
I like it. Cheap material keeps me from loving it.
Firstly, I did tons of obsessive searching for cheap yet chic futons. I fell in love with the idea of a red one. I find this one here & it seemed perfect. $138 pricing & style coupled with at home delivery sold me. Reviews as a whole, suggested people were moderately happy with this product too. I bought it, got my confirmation, & a day later it was shipped. The very next day it arrived at my front porch (it felt like next day air!). The box is pretty huge & heavy. Once you get it out all you have to do is screw in the legs (which are in a secretive compartment underneath the couch, which could or could not come in handy, just sayin). It's bigger than it looks in photos for some reason. Not a kids couch at all. It can seat up to 3 sizable adults comfortably. It lays flat as well as at a 45 degree angle. It is about the size of a twin bed. I have no issues with it as a bed; it's comfortable. But then I've slept on the floor the past 2 years. I am 5'4 & the couch is almost exactly my height length-wise. Two people could sleep on it in case of overnight emergency, if they're each okay with each getting exactly half the bed. My only GRIPE is the cheap cheap CHEAP material it's upholstered with. If sandpaper & suede had a baby, it would be this material (because I don't know its actual name). It's scratchy, thin, & feels as though it's a material you'd find in a child's school art craft. But not unbearably so. It does soften up after it's been sat on, & is appealing to look at, but on the whole it's cheap & you can tell. So it really depends on what you're looking for & what's most important to you as to whether or not you should get this couch. For me, it'll do for now as I'm in college & have a small room & am constantly broke. The fact that it can be a cute couch+motif & then turn into a bed when I need Z's is perfect.
sdabba
Good value, useful, and satisfied.
This serves the purpose for someone with a need for a smaller, versatile, and semi-comfortable lounger. The back rest can be flat, 45 degrees, or close to 90 degrees. I think the price point is spot on. It is not super soft but definitely a possible location for a decent night's sleep. The charcoal color is to my liking. It is not heavy and can be easily moved by one person. A clever feature that it has is that when you take the plastic legs off, they can be store in a zippered compartment on the bottom of the futon. Semi-unrelated, to my surprise, after choosing the free shipping option it still arrived in two days.
TEXASGIRL1225
First time ordering furniture online
For my first time ordering furniture online, I thought it was a success. I ordered the Charcoal colored Futon. My only issue with it was getting it up the stairs because it was super heavy - so just be aware. I have posted a picture of what is looks like. It is a bit lower than I was hoping it would be and the color is off from the picture. I dislike how the back doesn't fold up -- therefore taking up excess space. It is a little shorter -- so not recommended for those over 5' 3 Overall, I thought this is a great product and I will try to post a picture. I may ad a table as well and decor pillows...