Petmate Handy Stand Cat Litter Scoop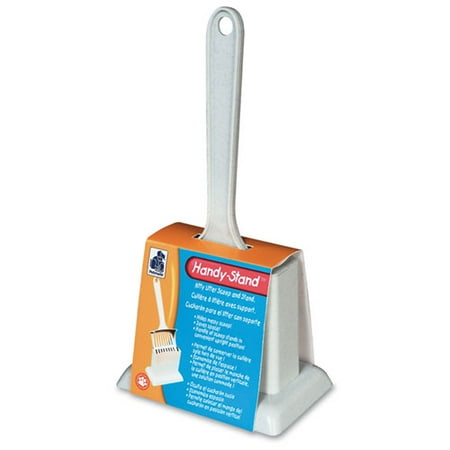 MSRP :

$10.07





Sale :

$10.63

Sold & shipped by Bargains N More
Product Description

Additional Information

Reviews
Product Description
Keep your cat box clean with the Petmate Handy Stand Litter Scoop. It has a flat edge for easy removal of droppings from the box. This cat litter scoop comes with a vertical holder for neat storage and flexible access.
Additional Information
DSKCL LTR SCP PLSTC
PET ACCESSORY
Reviews
Mike
Only slightly better than bare hands
I've been forced to make due with this litter scoop because my wife thinks "it's cute and matches the bathroom". Of course, she doesn't clean the litter box so she has no idea what a poor litter scoop this is. The base is the easiest to cover, so we'll do it first. It's good for three things: 1. looking "cute", 2. Collecting litter and filth, 3. Tipping over and flinging the collected litter and filth everywhere. Done! Wasn't that easy? Ok, on to the meat and potatoes, the scoop. First, the handle. The handle is molded flat so it bends concerningly when you get a full scoop of litter or have to scrape off caked on mess. Mine has started showing that white stress mark that shows up when plastic is bent too much. It's uncomfortable to hold and funnels dirty litter right into your hand, more on that later. Now we focus on the scoop basket. First off, it's shallow...very shallow...almost flat. Each scoop only holds about 1/8 cup of litter, and with a large litter box, it can take dozens of scoops to clean the whole thing. The sides are very short, so any sifting motion just serves to fling litter out of the scoop. The back of the scoop is also short and slightly curved so any litter that spills over the back is funneled by the handle right into your hand...gross. The slots in the basket sifter are too small while the bars are too wide. That means the litter doesn't flow smoothy through the slots so it requires a more aggressive sifting motion, causing litter to spill out everywhere. In summary, this scoop isn't much better than using your bare hands to clean your litter box. Either way, you'll end up with dirty litter on your hands.
Savyshopper4shur
LESS MESS
This is a great concept! I have been looking for something like this for some time. The scoop is on the thin side, so I would recommend smaller scoops at a time. It could easily break if you try to scoop too much at once. I don't think you would be able to get a replacement scoop and you would have to buy the entire stand/scoop again. It is nice having a place to store the scooper and contain the excess litter that sometimes sticks to it. I did not find this in the stores, but use site to store for free!
ishopwallymart
Better than traditional scoops
I saw this and thought I would give it a try. Wow! It really works good. The holes are smaller than my other one allowing smaller clumps to be caught. Then when I am done it goes back in the stand high up on the windowsill. The best part is that it is hidden. No more gross kitty litter scoop just laying around.
INCT
Not that great
After reading the other reviews I bought this. I think the slats are too far apart on the scooper. It is great to be able to hide the scooper itself when not in use. Now I just need to find another scooper with narrower slats that will fit in the container
PATCHES69
Good deal
nice to have kitty scooper out of sight