Petmate Kitty Cat Furniture Condo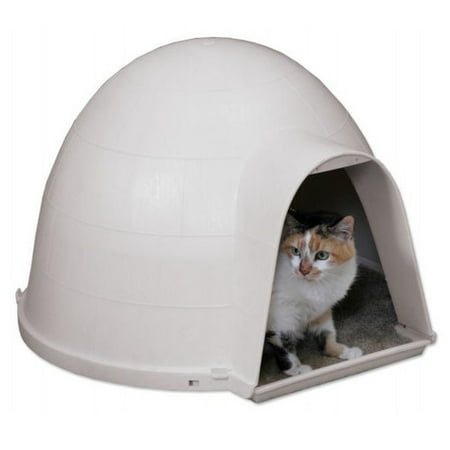 MSRP :

$123.83





Sale :

$92.99

Sold & shipped by Walmart
Product Description

Additional Information

Reviews
Product Description
Give your precious pet a beautiful place of refuge with the Petmate Kitty Cat Condo. This cozy structure is ideal for outside cats. It has a patented dome shape that keeps pets warm in the winter and cool in the summer. The cat furniture condo has durable carpeting for additional warmth and insulation.
Additional Information

Petmate Kitty Cat Furniture Condo:
Superb size for outside cats
Patented dome shape keeps pets warm in winter and cool in summer
Durable carpeting provides additional warmth and insulation from the cold
Carpeting inside the dome cat box also encourages scratching
Door overhang diverts rain and snow away from entrance
Freestanding condo is made of plastic
Easy assembly
Reviews
littleWally
excellent
I have 2 stray cats that I have adopted, they like to be outdoors even in the winter. I wanted to have a shelter for them that would protect them from the cold in winter and heat in summer. It was very hard to find a product and I had built a temporary shelter. One day I was web surfing and found this product on the Walmart website. I had it shipped to the store. The most awkward part of this product was connecting the floor of the cat house to the dome. The holes and slits seemed a bit off. I also had to put in additional bedding so my two cats would really be warm and cozy for the winter. It did take them about 10 days before they felt comfortable using the shelter. Overall I am glad I found this product and the price was great as was the free shipping associated with the store to store delivery.
MPMP
Good little cat house
We bought this house when our cat decided she no longer wanted to come in the house - even when it's cold and/or raining outside. I wasn't sure she'd use it as she's a little picky, but I checked today and I can see cat hair on the little ring bed we put inside. Yay! There's lots of room inside - you could probably snuggle two cats in there. My daughters who are 2 and 4 each fit inside. :) It seems pretty well made and looks like it will last a long time. There were some tabs that were broken when I picked it up, but it didn't seem to affect putting it together. I do think this house is a little overpriced, but it was about $30 cheaper here than other places online. The free ship-to-store helped, too. I'm happy with it!
mmapounder
no tools needed
very heavy duty and i love the fact that it snaps together, the carpet is very nice and for being a small with the dome it could fit a pretty med. size animal, cats like to crawl into small places they feel safe besides that being all snuggle up keeps them warm.
Gbartmi
Outdoor Cat House
A simple, yet effective outdoor cat house. Well made and durable. I wish they would have included a door, or offered one as an accessory...now I will need to hunt one down. A good buy for the money, my farrel cat, Maxx, really like the house; I just added a $6.99 (Walmart) cat bed to the already carpeted floor and he is living life...
Shari0911
nice cat house
I bought this cat house for a beautiful long-haired whit cat with blue eyes that started coming to my back door in May 2011. So far, it hasn't had a thing to do with the house, but I'm hoping that when the winter sets in, the cat will realize that there is some shelter there. I was pleased that the cat house came fully assembled, but it was nearly impossible to get into my car until I took it out of the box in the parking lot. I wish the bottom especially was thicker and had some insulating material on it. I think this beautiful cat must have been born wild as it took me until September to get anywhere near it and still to this day, I can only stroke its back about 3 times while it is eating. When it started coming to my house, I think it was desperate because it was skin and bones and acted as though it barely had the strength to come up the steps to try to eat a little, then it would lay down for awhile then try to eat again. It was so sad - nearly broke my heart and I wanted to try to take it to the vet, but every time I opened the door - it was gone like a shot! Today, it is finally starting to look healthy and is a tiny bit more trustful of me - but if anyone is with me or I move suddenly - gone! I put this cat house on my deck close to where I put the food & water dishes, so hopefully, he/she will discover the house and know it is for him/her.