Petmate 24960 50 Oz White Fresh Water Flow Fountain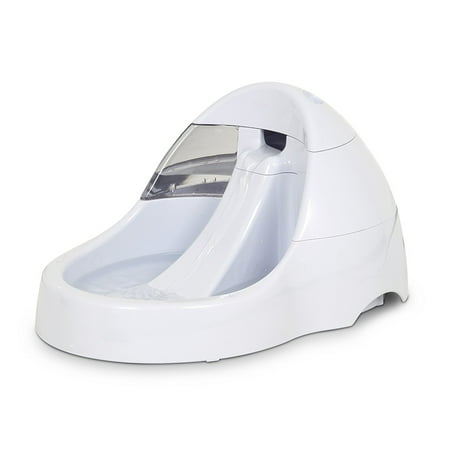 MSRP :

$35.47





Sale :

$23.99

Sold & shipped by Hayneedle
Product Description

Additional Information

Reviews
Product Description
This purifying pet fountain provides naturally cool, oxygenated water for cats and small dogs.
Additional Information

Petmate Fresh Flow Pet Fountain, Medium:

Petmate pet fountain is veterinarian recommended
Holds up to 50 oz of water
Purifying pet fountain includes 2 replaceable filters and a reservoir
AC adapter included with medium Petmate fountain
Please note: regular maintenance and cleaning required for proper functioning
Provides fresh and oxygenated water for your dog or cat
Handy for when you have to leave the house for a while to take care of shopping and other chores
Has a sleek design to blend in nicely with any decor
Reviews
2002ShopGirl
My cat loves it!
My cat never seemed to drink enough water. I gave him fresh water everyday and it never seemed like he drank any, since I got the fountain, I can see the water level drop. He was curious about it at first and tried to play with it, but he got used to it in about an hour. Its handy for me, b/c I dont have to change his water everyday. It filters it for you and he has fresh water all the time. The exact same fountain is at PetSmart for about $10-15 more. Its still a little more than a bowl, but your cats will love it. The only downfall I've seen is just that my cat likes to throw his food in there and I have to clean it more often than most people. Its somewhat of a pain to take apart to clean. but most people dont have a cat as weird as mine!
Deraca
My little boston terrier loves it!
I purchased this about a month ago for my new boston terrier puppy and she really does like it. For the first few days she was initially startled by the noise that it makes even though the sound is so slight that I can hardly hear it myself. But, after getting over being a scaredy-dog she really enjoys having the fresh circulating water and when I give her water somewhere else I have to stir it with my finger to make it move like her Petmate Fresh Flow.
MsKitti
Cats love it!!!
I have to say that my cats love this product!!! It is nice to not have to worry about them drinking out of the toilet and aquarium anymore....except when it runs low. The reservoir is too small to last any length of time for my 3 cats. And when the water level starts dropping it makes awful noises, however it doesn't deter my cats from the getting water from it, they've even learned that if they scoot it some, more water will come through and the machine will quiet for long enough to get some water. Cleaning isn't difficult either, just take it apart, clean it, then snap it back together. Sure, it takes a little bit longer to clean than a regular bowl, but you don't have to fill it nearly as often. With 3 cats, I usually only have to fill it every 3-4 days. And the filters are just as easy as changing the filter in an aquarium (take off top, remove old cartridge, slip in new), and they are cheap as well, maybe $3.00 for a two-pack that lasts 4-6 months.
Luvs2ride
So happy!
I bought this because we were having a problem with our cat splashing the water in her water bowl to the point of getting everything completely soaked. She would then go in her litter box and leave clay and paw prints all over the house. This frustrated me to all ends! I researched online on why cats do this and saw that they like to see water movement and as most people know most cats likes drinking out of a water faucet. So I read the reviews on this fountain and liked what I read. I figured for under $30 I would take a chance. I am no sorry! This has made my life so much simpler that I wish I had bought this sooner! She has only tried to put her paws in it once. Since then she has not. I turned it sideways on a mat and she can easily drink from the fountain part now and she will just sit and watch it besides. You can tell when it needs more water...gets louder. So far it has done the trick and I am so happy! Beats cleaning out a water dish several times a day! Every three or four day I will rinse and add new water.
lovemycattt
LOVE IT!
i read all the reviews here on wal-mart.com & decided to purchase it. site to store is awesome, no need to pay for shipping and it arrived in like 3 days! i wasn't sure how my cat would react to the new water fountain, he was used to a water bowl that i changed daily. but he loves it! he didn't need any time to adjust to it all! he loves drinking right where the water comes out at the top of the ramp, it's cool watching him. i also have noticed that he drinks MUCH more water than he used, which is great because it is much healthier for him. also, male cats are more likely to get urinary tract infections so the more water they drink, the better. it's easy to refill water, either in the reservoir or the bowl itself. though my cat goes through the water within 3-4 days, i don't mind changing it knowing that he is drinking much more than before. i think my boyfriend was a little annoyed that i spent $30 on a "water bowl" but after seeing how much my cat loves it and how much more he drinks, he has agreed with me in saying that his product is WELL worth it :)