Pet Taxi Portable Kennel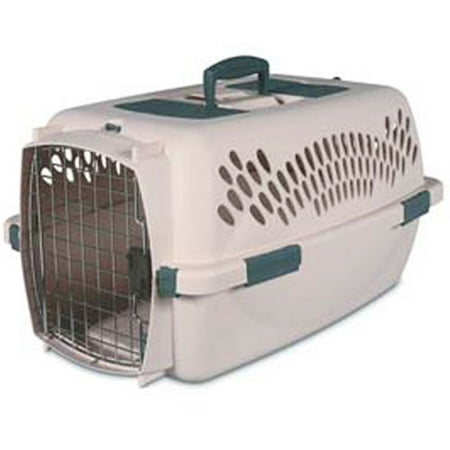 Sale :

$38.99

Sold & shipped by Overstock
Product Description

Additional Information

Reviews
Product Description
Designed to taxi your pet to and from appointments, visits and other locations, this Pet Taxi Portable Kennel features a seat belt slot and shoulder strap eyelets to keep your pet safe and secure during transport. Two storage compartments in this Portable Pet Kennel provide a convenient space for accessories, and a quick-latching system allows you to open and close the pet carrier quickly. Use the Pet Taxi on long road trips, quick visits to the groomers and more.
Additional Information
Pet Taxi Portable Kennel:
Seat belt slot
Shoulder strap eyelets
Safe and secure transport
2 storage compartments for accessories
Quick-latching system
Measures 23" x 15.2" x 10"
Reviews
mom10191981
How in the world?
Somehow my 8 lbs MINI dachshund managed to get out of this kennel...HOW? he CHEWED a hole and in a few hours he was out of it...sturdy plastic? I don't think so.
Terirose22
Love our Pet Taxi!
I had to purchase a carrier for our cat in a hurry as we had nothing to use when he was heading for a trip to the vet. I picked the best one available at Wal-Mart and wow was I surprised! It was reasonable in price, really easy to assemble (my 12 yr. old put it together) and use, and I love that it pops apart for storage. Our 4 cats love having access to it whenever they like for some quiet time or in the event that one pet needs to be seperated from the others. We haven't found the seatbelt slot (maybe ours doesn't have one because it's smaller?) and the "storage compartments" on the top are worthless unless you're looking for a place to throw a handful of dry food, but it fits our pet travel needs perfectly!
satisfiedinTN
Works great
I have used this product with my puppy since he was 9 weeks old to kennel while I am at work. He is now 6 1/2 months and it has worked great! He also sleeps in it every night. He now weighs over 14 lbs. Getting ready to buy the next size!
SailorsWife630
A must have!
I got this kennel when I first got my puppy, and it's the best pet purchase (besides for him) I ever made! He goes in really easily and sometimes will even go in when he doesn't have to and chew on his bone in there. It's really convienent, since it pops apart you can take it on vacation and stow it somewhere until you need it. It's a great little place for my dog to go when I can't watch him for a few hours.
Frankie
Great and safe
Clean look, light to carry yet strong enough for my heavy cat, and the windows causes less stress.