First Alert SA304CN3 Smoke Alarm (Escape Light)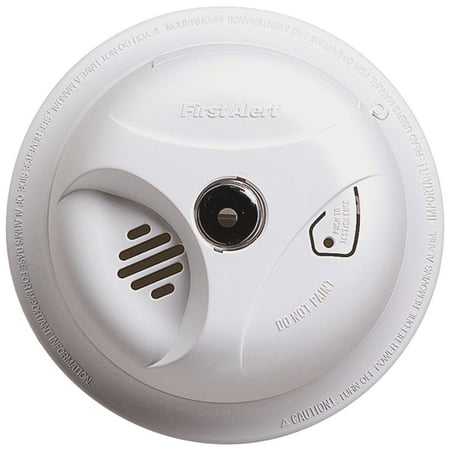 MSRP :

$10.99





Sale :

$17.6

Sold & shipped by ProMax Commerce
Product Description

Additional Information

Reviews
Product Description
Working smoke alarms cut the risk of dying in a home fire by 50 percent, and that's important because a home fire starts every 83 seconds! The faster you know about a fire, the faster you can start moving your family outside. The First Alert Smoke Alarm with Escape Light not only alerts you to smoke and fire with a loud 85-decibel alarm, but also illuminates your path to safety.
Additional Information
First Alert SA304CN3 Smoke Alarm (Escape Light):

Eco-friendly
EZ-access battery door
Easy-to-use mute button
Includes 9V battery
Ionization sensor
Bright fire escape light
First Alert model SA304CN3 a must-have for your home
Reviews
Chary73
Very sensitive alarm
I keep two alarms in my house, one in the hallway by the bedrooms and one in the kitchen. For years I've had another alarm in my kitchen, and it worked fine. Then I thought I'd change brands and purchase this one. It seems that every time I cooked with hot oil (like frying) the alarm sounded. Any little amount of heat from cooking oil set off the alarm. I cook with olive oil which has a high tolerance level to heat, so it hardly ever gives off any smoke. Yet this alarm started shrilling loudly, the escape light went off, and it was hard to silence even after the source of the heat was removed. I thought of moving the alarm out of the kitchen, but it broke. It simply would no longer work even after the battery was replaced. The battery tester didn't work even after I tried three different new batteries in it. It was simply broken in less than a month. I'm replacing this alarm, but with a different brand.
TroyMOGrandma
Very sensitive alarm
A smoke alarm is one of the most important purchases you will ever make for your home! It HAS to be reliable. I bought this smoke alarm at my local Walmart. It did not work, so I even tried a new battery thinking that the battery that came with it was defective. Still would not work. Needless to say, I am returning it. I wish I had checked out the reviews online before I bought it. This was purchased to replace one of my First Alert smoke alarm that died after less than three years of use. I'm very disappointed, as I have always trusted First Alert products. I will not trust them anymore!!!
HamiltonRES
Great Product
I replaced two other First Alert smoke alarms with this product. After installing one and testing it, the light didn't come on. I tried the other one and the same thing happened. I expected to see the light come on as soon as the sound was heard. So, I brought them back for a replacement. The new ones did the same until I held the test button down longer and then the light came on. The instructions say, "Press and hold the Test/Silence button on the cover of the unit until the alarm sounds and the Escape light turns on." I did not hold the button down long enough on the first two units for the light to come on. They were probably OK. I am satisfied with this smoke alarm.
Billll42
Low priced smoke alarm
I got 2. The price was good and the lamp feature is a nice touch.
beans4life
Safety Safety Safety
I purchased 7 of these units and all worked on opening and they we're SO easy to install. 2 screws in the wall. The light might not be bright, it's more a nightlight, but it's something in case of an emergency if your power goes out during a fire. You can grab it off the wall and go. For me it just made sense instead of spending precious seconds fumbling around in a drawer for a flashlight with the batteries probably dead. This product gave me peace of mind.