Planters Roasted Pecans 7.25 oz. Canister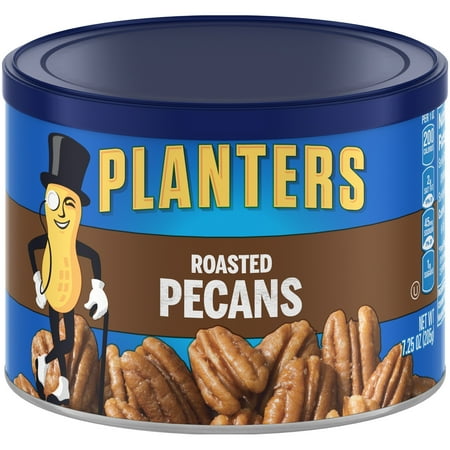 Sale :

$5.98

Sold & shipped by Walmart
Product Description

Additional Information

Reviews
Product Description
Planters Roasted Pecans, 7.25 oz, are a heart-healthy snack. Scientific evidence suggests that eating 1.5 ounces per day of most nuts, such as Planters pecans, as part of a diet low in saturated fat and cholesterol, may reduce the risk of heart disease. These Planter pecan nuts are also a good source of three vitamins and minerals, as well as dietary fiber. In addition, they contain 21g of fat per serving and are also suitable for a Kosher diet.
Additional Information
Planters Roasted Pecans, 7.25 Oz
Reviews
SUE
yummy
yummy. no sweeteners...pecans with a touch of salt. good stuff
Louie
Yummy but expensive
These pecans are really good but it is a really small can so for the price not really a good deal.
ErnestAF
You're going love my nuts
Great for snacking, works for the paleo diet, goes good at BBQs, cocktail parties and perfect for that late night after fornication snack.
WallyWorldGirl4Sure
Delicious!
These were almost as good as my home-made. I couldn't put them down for long. I usually buy my own pecans and shell and then roast them in melted butter and shake a little salt on them and I was about to do so again when I spotted these and decided to give them a try. They were pretty good to say the least! All of them were perfectly roasted and had just the correct amount of crunch, good flavor and no hint of a stale taste to them. I understand the price and considering some of the other places I checked, these were certainly the best price plus shipping but not as economical as buying them and roasting them myself. I would not buy these all the time but in pinch they are definitely the best substitute that I have found so far!
Bidmaster100
Top quality product for the price
I loved these roasted Pecans! They have very light salt and just taste wonderful! Americans are giving up salt and our tastes have changed, I often get nuts that taste like they were prepared in a salt mine, but these did not have that problem. They were fresh, plenty of good solid full sized halves, and delicious!