BLAZER C6350A LED MAGNETIC WARNING LIGHT AMBER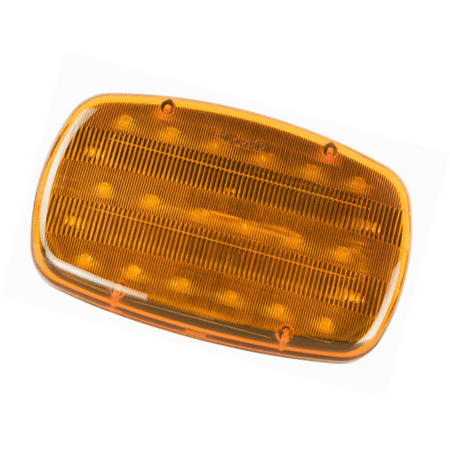 MSRP :

$31.14





Sale :

$21.28

Sold & shipped by My Goods
Product Description

Additional Information

Reviews
Product Description
The Blazer C6350A LED Amber Magnetic Emergency Light is a versatile, multi-function safety and hazard light. The battery-powered light allows the user to easily move the light between applications. The emergency light features 24 LEDs and has dual flash modes: constant on and flashing. The non-scratch, heavy-duty magnetic base mounts to any metal surface. Its compact design allows for quick and easy storage. Applications include road repair safety, emergency and warning, automotive, farm equipment and construction. Blazer International is a leading provider of DOT, SAE FMVSS108 and Canadian CMVSS compliant and approved vehicular lighting products for heavy duty trucks, trailers and RVs. With brands like Blazer, Axxent, BAJA Tough and Radiant Effects; and over 50 years supplying vehicular lighting Blazer International has built a strong legacy of quality, value and customer service. Blazer International is headquartered in Long Grove, IL.
Additional Information
Find the right light for your trailer or vehicle Learn More Blazer C6350A LED Magnetic Emergency Light, Amber:24 amber LEDsNon-scratch, heavy-duty magnetic base for secure mountDual flash mode: constant on or flashRubber gasket sealed and water resistantRequires 4 AA batteries (not included)Dimensions: 1.87" L x 6.25" W x 3.94" H
Reviews
drdolitle
not as pictured
this light like the red one's magnets are not strong enough it will fall off if brushed or bumped and does not have a work light as pictured what you will get is the light thats it magnets need to be replaced with stronger one then you will have a pretty good light i found these lights at a big rig chrome shop with much smaller and much stronger magnets and the light looks and works exactly the same, these are truly just cheap knockoffs of the light i found at the chrome shop
CFISupply
Good cheap light
I bought one for use on our farm equipment. I already had one light that I bought from our John Deere dealer (actually an A&I Product). While this light works fine, the one I received was not as pictured. It did not include the white portion of the light. The magnets are ok, but not very strong. It works for what I wanted, but am a little scared of loosing the light if I hit a bump in the road or field. I'm hoping to find some new magnets to put on it. What is kinda weird, even though there are some differences (like flash speed) between the one I had and the one I got from WM, they work really nice together; really good attention-grabbers.
CFISupply
Good cheap light
I tend to be a person that stops at a lot of accidents. I am a retired police officer/Lieutenant of 28 years. This light is amazing, same brilliance as red/blue led's, and I needed something more than just 4way flashers. This fits the bill perfectly. I would recommend this to anyone, and I will probably order another one. It came within 3 days of order. Excellent service.
Rondeau
Safety / Signal light
This light is very well made, high quality and it's really BRIGHT ! . . I bought two of them and I'm really impressed with their high visibility. . . They have about six or seven different blinking and running patterns as well as steady lighting. I got them so that people in four wheelers can see me and to prevent them from running over me or into me on a cycle, as you know, people always say they can't see a bike or cycle. . . They come with rubber lined mount clamps for handlebars or seat / fork posts mounting. They can sure see me now. . . Get 'em. . . You'll like 'em !
Deeraholic
VERY GOOD!!!!
I bought this for my tractor when plowing snow. The magnets are strong enough to hold the light to the back of the seat just fine, the light doesnt weigh enough to justify stronger magnets. Lights are VERY BRIGHT, excellent visability. This is a must have for safety when plowing.