Vicks Personal Steam Inhaler, V1200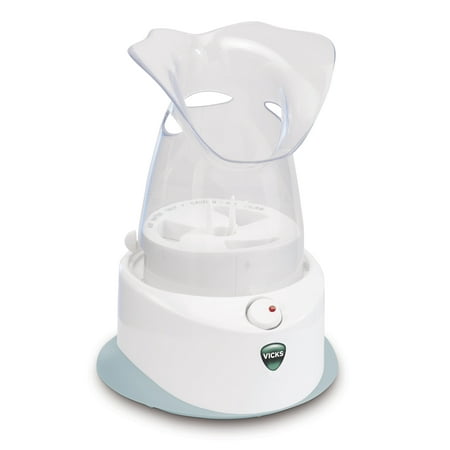 MSRP :

$32.41





Sale :

$28.86

Sold & shipped by Walmart
Product Description

Additional Information

Reviews
Product Description
The Vicks Personal Steam Inhaler provides relief for cough and congestion wherever you go. The small size makes it conveniently portable so it can be used at home or while traveling. It quickly heats water to boiling so you can feel better sooner, while the steam output can be adjusted to fit individual needs and preferences. This personal inhaler also has a soft hood for comfort and ease of use.
Additional Information
Vicks Personal Steam Inhaler, V1200:
Dual scent pad slots for Vicks soothing vapors
Comfortable, soft, flexible hood
Variable steam control
Accessories: Vicks VapoPads VSP-19, VVP-6, VBR-5
1-year warranty
Controlled vapor relief
Personal inhaler helps provide temporary relief from congestion and coughing
Reviews
PC
Great item until...
I loved it. It worked great! It helped my rhinitis due to a deviated septum. Until the plastic tabs that held the top portion to the base started cracking and breaking off. I've bought this in March, it is now November. Still under warranty, right? Yes, it is. I've sent photos of the broken tabs. The plastic became brittle over the months for some reason, so I contacted Kaz, who is the parent company of this Vicks Personal Steam Inhaler. They were polite--mostly because the emails were from a pre-written script. I've sent them all my information: address, photos, copy of receipt, date code that's stamped on the plug of the unit. Then they want me to send it in so they can send me a replacement. So this item was close to $30 but not quite $30 when I bought it. The shipping would have cost me approximately $15 to ship it to Vicks (Kaz) for a replacement. So why should I pay for shipping a defective item to the manufacturer that would cost more than half the price of the unit? I shouldn't be paying for shipping the defective item back to the manufacturer due to a manufacturer's defect. Kaz customer rep told me it's the standard warranty procedure many other major companies use. I've written back to them telling them over the last 20 years, Bionaire/Sunbeam, Oxo, Vornado, Simplehuman, and Waterpik have never told me to pay for shipping a defective unit back to them. If I dropped the unit and broke it, that's my fault. This is a manufacturer's defect (not my fault) and they want me to pay for shipping the unit to them. So before you buy any of the Kaz's line of products, just hope that you will never have to send your unit in because of a manufacturer's defect. Their warranty is inferior to other great companies. They lack the integrity other major companies possess.
Gigi
I love it!
I purchased this item in-store yesterday. I was reluctant to buy it based on some reviews I saw here while researching steam inhalers. But this was the only one in stock and I was sick of being congested. I used it several times yesterday with the sample Vick's pad. Today I'm using plain old steam. It is working like a champ. I do see how someone could get burned fairly easily. I have only used it on the lowest steam setting and it is still pretty darn hot. I keep my face an inch or so above the mask a lot of the time. But it hasn't been a problem for me, it is just something to be mindful of, IMO. I wouldn't let my youngest kids use it, for example (they are 8 & 9 if you're wondering). It is working as well as I had hoped, whigh is better than I actually expected. I am clearing up fast and breathing much easier today!
JLSfromNY
It's ALMOST good!
It's a nice idea. I really need this inhaler for my stuffed up nose and sinuses. I had it's predecessor, The Kaz Inhaler which I loved. There is only one thing wrong with this. The adjustable steam vents only close up just so far to decrease the amount of steam. while holding my nose and mouth area gently against the plastic "hood" it got too hot. After about three uses the skin on the tip of my nose and on the edges of my nostrils got sore and slightly burned from the steam. I now just "hover" over the "hood" and it seems to work for me this way. Perhaps the manufacturer will read this and make an improvement. The old Kaz inhaler closed up completely.
Beebs
Great product!
I've been congested for several days with a really bad cold. I'm about 7 months pregnant and I didn't want to take any meds so I found this! I see that people on here complain about the steam control and how it gets really hot. What I do is cover myself with a small blanket or towel under with the steamer and I don't really put my face in it unless I don't want to. But it works perfectly fine. It's like I'm sauning just my face lol and I do use the vicks pad. So for those who has trouble breathing it because its too hot. I recommend trying it under a blanket. It might be better. Hope everybody feels better cause I am ;)
Mary
Great!
Great, especially for this price. I see no danger getting burned if you use common sense. Allows me to get up during the night and use it, rather than going downstairs to boil a pot of water. Big asset for senior me. A simple lever controls the vent openings and regulates the amount of steam. I set it at mid-point and had not problems, helped my breathing a lot!