Vicks Personal Steam Inhaler, V1200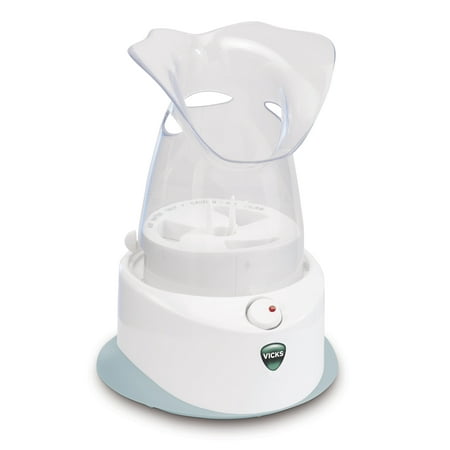 MSRP :

$32.41





Sale :

$28.86

Sold & shipped by Walmart
Product Description

Additional Information

Reviews
Product Description
The Vicks Personal Steam Inhaler provides relief for cough and congestion wherever you go. The small size makes it conveniently portable so it can be used at home or while traveling. It quickly heats water to boiling so you can feel better sooner, while the steam output can be adjusted to fit individual needs and preferences. This personal inhaler also has a soft hood for comfort and ease of use.
Additional Information
Reviews
PC
Great item until...
I loved it. It worked great! It helped my rhinitis due to a deviated septum. Until the plastic tabs that held the top portion to the base started cracking and breaking off. I've bought this in March, it is now November. Still under warranty, right? Yes, it is. I've sent photos of the broken tabs. The plastic became brittle over the months for some reason, so I contacted Kaz, who is the parent company of this Vicks Personal Steam Inhaler. They were polite--mostly because the emails were from a pre-written script. I've sent them all my information: address, photos, copy of receipt, date code that's stamped on the plug of the unit. Then they want me to send it in so they can send me a replacement. So this item was close to $30 but not quite $30 when I bought it. The shipping would have cost me approximately $15 to ship it to Vicks (Kaz) for a replacement. So why should I pay for shipping a defective item to the manufacturer that would cost more than half the price of the unit? I shouldn't be paying for shipping the defective item back to the manufacturer due to a manufacturer's defect. Kaz customer rep told me it's the standard warranty procedure many other major companies use. I've written back to them telling them over the last 20 years, Bionaire/Sunbeam, Oxo, Vornado, Simplehuman, and Waterpik have never told me to pay for shipping a defective unit back to them. If I dropped the unit and broke it, that's my fault. This is a manufacturer's defect (not my fault) and they want me to pay for shipping the unit to them. So before you buy any of the Kaz's line of products, just hope that you will never have to send your unit in because of a manufacturer's defect. Their warranty is inferior to other great companies. They lack the integrity other major companies possess.
less
Good product
It's very good when you feel congested because of colds or flu.
Kellbell
Goodbye Congestion, HELLO Menthol, A Must Have
I ordered this because I have issues with my sinuses and proper drainage, having serious allergies on top of this doesn't exactly help. I got this one week when I could tolerate having both ears "clogged " no longer, I had tried everything else I could . I need surgery to replace my ear tubes and fix this issue but I've delayed it, I was so clogged I could barely hear. Setup was very simple, pour water in, wait 30 seconds and steam is produced, very fast. The soft plastic piece you rest your face on is surprisingly comfortable, there are no sharp edges and it comfortably holds your face. Sounds silly to say but the steam is very hot, so hot in fact I couldn't rest my face on the actual rest too long, it would burn your face. However, leaving a bit of space allows it to do what you need it. I have used this multiple times with a towel wrapped around my head to capture all the steam possible and in roughly 5 minutes, I can actually start to feel progress, it seriously made a difference. I was even more impressed when I used the included menthol strip, HOLY MENTHOL! you have never experienced a mint overload like this in your life. It is so strong it actually burns your eyes at first, again leaving some space and moving ever so slightly over does the trick. This menthol not only worked incredibly but quickly and efficiently, it kept on working long after I was done and made such a difference, I felt it throughout my sinuses. The steam doesn't last too long, maybe 10 minutes but I probably used it longer then recommended anyway. Overall it's easy to use, works efficiently to clear congestion and is made well, it's solid and even after many uses, works perfectly as it should. I highly recommend this product and I feel it's a must have for every household.
Nels201
Cute. Needs bigger reservoir/directional flow top
I get two sinus infections a year ordinarily and maybe a head cold or two. I got this recently, hoping that it would alleviate at least some nasal congestion. For someone with serious nasal congestion that comes with a head cold or sinus infection, the use of this machine is unimpressive and only slightly effective. It's cute and may work adequately for someone with light congestion from allergies (I get that, too) but it's a lightweight when it comes to the tough jobs. I don't like the top part. The way it's designed, you might think it is shaped so you can put your face up close to it but if you do, you will get burned by hot steam and you have to move around to find a good spot that provides enough steam but not too much. Another issue is that the reservoir is tiny and only puts out about ten minutes worth of steam, if that much when it's set for full output which is the only setting worth using. I have received much better results by leaning over the sink with hot water running and a towel over my head. It appears to be well made and like I said, it is cute but it needs a bigger water reservoir and a redesigned top to make the steam go where you want it to go.
Gigi
I love it!
I purchased this item in-store yesterday. I was reluctant to buy it based on some reviews I saw here while researching steam inhalers. But this was the only one in stock and I was sick of being congested. I used it several times yesterday with the sample Vick's pad. Today I'm using plain old steam. It is working like a champ. I do see how someone could get burned fairly easily. I have only used it on the lowest steam setting and it is still pretty darn hot. I keep my face an inch or so above the mask a lot of the time. But it hasn't been a problem for me, it is just something to be mindful of, IMO. I wouldn't let my youngest kids use it, for example (they are 8 & 9 if you're wondering). It is working as well as I had hoped, whigh is better than I actually expected. I am clearing up fast and breathing much easier today!