Vitafusion SleepWell Melatonin Gummies, Passion Fruit, 3mg, 60 Ct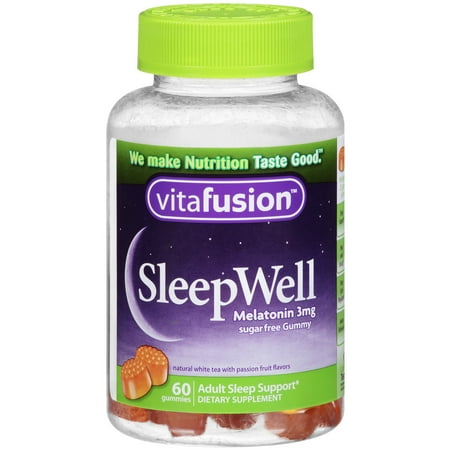 MSRP :

$8.73





Sale :

$8.14

Sold & shipped by Walmart
Product Description

Additional Information

Reviews
Product Description
When you are seeking a good night's sleep that is natural, Vitafusion Sleep Well Gummy Sleep Support for Adults can help you achieve a good night's rest. It has been formulated with 3 mg of melatonin along with other natural ingredients, such as chamomile, lemon balm and passion flower. These gummy supplements are non-habit forming. With all-natural colors and tasty flavors, Vitafusion Gummy for Adults, 60 count, are easy to chew and swallow and have no unpleasant aftertaste.
Additional Information
Sleep Well, for Adults, Gummy, White Tea with Passion Fruit
Dietary Supplement. 3 mg melatonin. Gummy sleep support. Naturally sourced colors & flavors. Sugar free. 2 gummies support: natural sleep - melatonin; jet-lag (helps recovery). Lab tested to ensure quality and potency. This product contains naturally sourced colors and flavors. Contains no gluten (wheat), milk, eggs, peanuts, tree nuts, shellfish, or soy. (This statement has not been evaluated by the Food and Drug Administration. This product is not intended to diagnose, treat, cure or prevent any disease.)
Reviews
auntb0825
Great product. It really works for me.
I have always had troubling getting to sleep and staying asleep. I tried this product and was so pleasantly surprised that it worked and it was a great tasting gummy. I don't feel drugged the next morning. I still have to get up 2-3 times per night but I go back to sleep easily. I am 67 years young and take a boat load of medications. I have been using Sleep Well for 4 months now and have had NO conflicts or complications. I just hope I don't get immuned to it. Love it.
ChiFemale
Good Job So Far
I purchased this product to replace the Sleep Advance Gummies that were apparently discontinued. In the past week since I began using them before going to bed, it appears they work just about as well as the other brand. I'm happy to report that they also have a better flavor than the others.
EPLW
Need help falling asleep?
Some nights I have difficulty falling asleep so I eat two gummy's when I get into bed and 10 minutes later I am nodding off. Love the flavor too!
lucky2too
One gummy...one perfect sleep.
I rarely suffer from insomnia but occasionally I have too much on my mind and just can't fall asleep. Usually I just toss and turn for hours and then fall asleep shortly before the alarm goes off. At the suggestion of a dear friend I decided to try these gummies. I put one on by bedside table in case I needed one. After struggling to find sleep I popped the gummy without having to open a pill bottle or getting up to get a glass of water. I didn't slop water on my bed or get a pill stuck in my throat...I just chewed a pleasant tasting gummy and 10 minutes later I was asleep. When I awakened a couple hours later to make my nightly trip to the bathroom, I did notice that I was groggier than usual, but I fell back asleep right away. I woke in the morning feeling refreshed. I think I will always keep them with me when I travel as I occasionally have trouble sleeping in a hotel.
motorcyclechic
One gummy...one perfect sleep.
I started using these when i couldn't find valarian in the store, they worked great, I chew them up and drink a small glass of.. sleep great..