Vitafusion Adult Women's Multivitamin Gummies, Berry, 150 Ct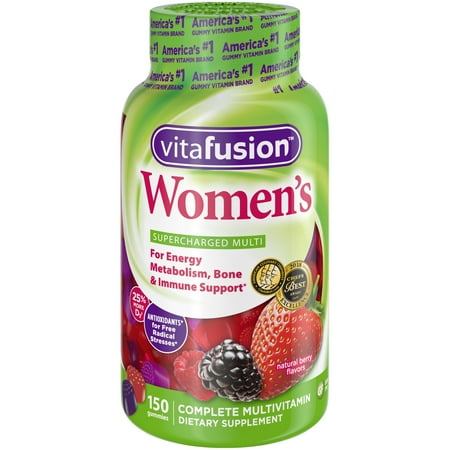 MSRP :

$11.86





Sale :

$9.88

Sold & shipped by Walmart
Product Description

Additional Information

Reviews
Product Description
Additional Information

Vitafusion Women's Gummy Vitamins Complete MultiVitamin Formula, 150 count:
Get the necessary nutrition supplement your body needs with these Vitafusion Women's Gummy Vitamins
Made with naturally sourced flavors and colors
Does not contain any gluten, eggs, peanuts, milk or soy
Vitafusion Gummy Vitamins come in a 150-count bottle
Lab tested to ensure potency and quality
Vitafusion multivitamins packed with vitamin D and calcium
Reviews
LucyR
They are the best!
A week and a half ago, thanks to Smiley360 I am using a free product Vitafusion Women's gummy vitamins. My experience so far with Vitafusion Vitamins has been a rewarding and wonderful. I love the fact that they are not pills. My experience with the pills was nothing nice because many of them are hard to swallow. However, these are anything but easy to chew, are not hard and know tasty. Vitafusion I take my vitamins every day in the morning to start my day happy and energized. I am very happy since I sent Smiley360 free product to give my honest review. Vitafusion keep my vitamins over my fridge to remember tomármelas. Did I say something? I remember to take them every day without having to see them. So you know how happy and excited that I am with this product. My vitafusion fit perfectly with my daily life and my weekend in which I decide to leave my busy life to walk on the beach. It's not like other products that taste bitter and hard. I spent a long time looking for a product that was worth a try and this met all my expectations. I will definitely continue with this product and when it's over I'm going to buy one. I love this product, I recommend !! [This review was collected as part of a promotion.]
TheNayli22
Most try this
I am so happy because finally I have the opportunity to have a great taste multivitamin every morning. I don't like to swallow pills and especially the big vitamins pills, that is why I am so happy with this vitafusion gummies. I also love that this multivitamins are especially for women's and contain extra nutrients for bone support. The taste is great it's a perfect berry combination. I don't feel any aftertaste after eating them, but I always recommend you to chew thoroughly before swallowing and drink water after eating any kind of gummies supplements. I highly recommend this brand and this product. "I received a free product for the purpose of my review. Opinions are 100% my own." [This review was collected as part of a promotion.]
Fathima
Berrylicious gummy vitamin
This is nice berrylicious gummy vitamin for women. Being bored of the regular hard to swallow vitamin pills this is like a treat for me .it like fruity snack that's loaded with the needed vitamins and supplements to support my active lifestyle .i will definitely repurchase and recommend to my friends . Thanks smiley360 for sending me this wonderful vitamin supplement for free .this opinion is mine and am taking this everyday for past 3 week and I feel great and healthy. [This review was collected as part of a promotion.]
Adamiller
Great Vitamins!
I received these a few weeks ago and am very pleased with them. I dont normally take gummy like vitamins so i was a little weary before trying them thinking i wouldnt like them, but i was so wrong. After taking my 1st two i was very pleased and happy with them. They dont leave that vitamin taste in your mouth, they are perfect size and you get the amount of vitamins you need. I will never take anything other than VitaFusion gummy vitamins from here on out. [This review was collected as part of a promotion.]
Sunshine
chewy and yummy
i love these vitamins. what a great idea. i have such a hard time with big, bulky pills that dissolve in your mouth before you can choke them down. but , with these you do not have that problem at all. thank goodness. and thy actually taste good . chewing is easy , we all do it. and i remember so much easier, because i don,t tread taking them. thank you so much for letting me try these . i highly recommend these!! go get yours ! [This review was collected as part of a promotion.]