Vitafusion Women's Gummy Vitamins, 150ct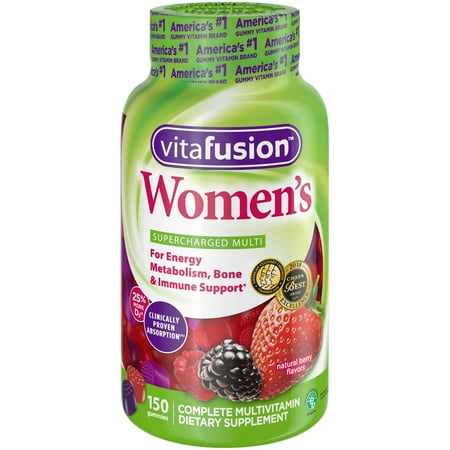 MSRP :

$11.86





Sale :

$9.88

Sold & shipped by Walmart
Product Description

Additional Information

Reviews
Product Description
Additional Information
A complete multivitamin + Antioxidant vitamins C and E specially formulated to support the specific health needs of women
Clinically Proven Absorption[4]
A convenient alternative to hard-to-swallow pills.
Contains NO high-fructose corn syrup, NO artificial sweeteners, NO gluten, NO dairy and NO synthetic (FD&C) dyes
Recipient of the 2018 ChefsBest Excellence Award. The ChefsBest Excellence Award is awarded to brands that surpass quality standards established by independent professional chefs.
Reviews
spicandspan67
vitafusion Women's
I was elated that I was chosen to try vitafusion Women's Energy, Metabolism and Bone Support. First of all, I absolutely love the flavor, it's hard to believe it's a vitamin. I was also quite surprised that the gummy vitamin didn't stick to my teeth and that was a real plus!! I have been taking these daily for about three weeks. I have noticed that I feel better overall and my energy has increased too!! It also helps to know that I am doing something good for my body. We all know that it's best to get what we need from the four food groups everyday, but that's usually impossible and it gives me peace of mind to know that these vitamins help me to do so. I also received a bottle of the Men's vitamins and my son, who is twenty, has been taking them everyday. He too has noticed a difference in his overall health. He takes them everyday!!! Thank you vitafusion for such a superior product!!!! I have told many about these vitamins. My son and I plan on taking these for many years to come!!! [This review was collected as part of a promotion.]
Bryon B
Rubbery
A little rubbery.
ShellyB1202
Taste great, makes taking your vitamins fun.
I received a free bottle of these vitafusion women's multivitamins in exchange for my unbiased honest opinion & review. I liked them. My favorite feature was that they did not taste too sweet, they didn't taste too much like candy. If they did, I might have been tempted to eat too many! They did have a pleasant flavor though, easy to chew, easy to swallow. I love that the coloring they use is derived from natural sources (Purple Carrot Juice Concentrate, Blueberry & Carrot Concentrate) and they contain natural flavors. They did stick together a bit inside the bottle, but that was really a non-issue. I am a vegetarian, I have been for over 20 years now, and I don't always eat healthy. I have a habit of eating pizza and other junk pretty much 7 days a week. I don't always get the vitamins and minerals that my body needs to stay healthy from what I eat, so I'm glad a product like this exists, especially in gummy form. When I take tablets, I often forget to take them daily, but with gummys, I never forget, I look forward to taking them daily! [This review was collected as part of a promotion.]
Geminibz
Love It! Love It!
OMG!!! I bought this gummy vitamin a couple weeks ago and I so love them. I even end up sharing some with my siblings to taste and they so love it that they want me to get a bottle each for them. I used to have a hard time taking those big hard vitamins that I literally just leave them there to expire. I do not hesitate at all to take these gummy vitamins its like i'm eating a little sweet every morning after breakfast jeje. I have some at work also so I can take after lunch since its two per day. I love them cause i consider these gummies more like my little healthy snack!! Kudos to the company who came up with this.
Cowcrazy
Overall Excellent Product with Excellent Results
I was originally taking the adult formula of the gummy vitamins. When I received a free bottle of the vitafusion Women's Formula to try, I was very surprised at what a difference it made! I felt more energy in general and have had a better overall sense of well being. I like the fact that these gummies have a creamy texture which makes them easier to chew and swallow. They are not super chewy like a gummy bear would be, but rather more like a typical fruit snack. The flavors are pleasant although limited to just two choices in each bottle. Overall, though it will cost more in the sense that I will now have to purchase 2 bottles of vitamins instead of just 1, I will be buying the Women's formula for myself and the Men's formula for my husband, instead of just buying the Adult formula. The results are worth the extra money! "I received a free product for the purpose of my review. Opinions are 100% my own." [This review was collected as part of a promotion.]